How-To: The No-Makeup Makeup Look for Fall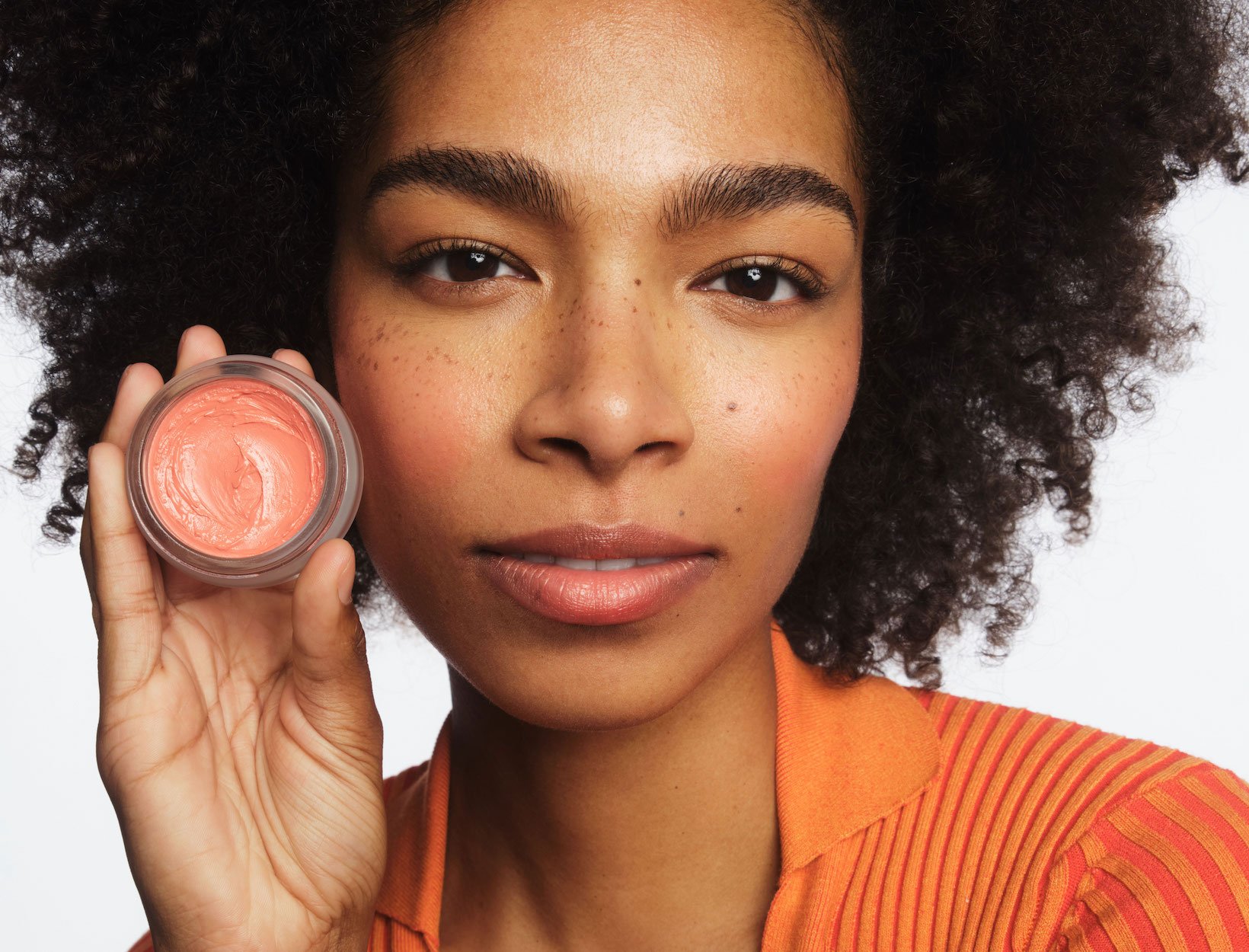 Whether you're slipping on crisp tailored jackets or experimenting with a new bias-cut dress, clean-looking, subtly flattering no-makeup makeup looks especially fresh this season. The key: a creamy, natural-looking flush of color, plus subtle tweaks for brows, lashes, lips, and skin.
These simple steps should take minutes at most and leave you fresh-faced and pulled-together for the entire day.
1. Think Skin Care, Not Makeup
The right routine—exfoliating regularly, applying treatment serums, moisturizing when you need to, and always wearing SPF—leaves your skin glowy, plumped, smoothed, and hydrated so you need less makeup in the first place. And what makeup you do use goes on more evenly (and looks more natural).
Tip: If you use no other skin care, always start makeup with a swipe of eye cream. There isn't a makeup artist out there who doesn't put eye cream on their clients before they begin: It plumps lines, refreshes skin, and helps makeup last. This one is a brilliant gel-cream that brightens and color-corrects as it hydrates.
2. Color Comes Next
A pop of color livens up skin and subtly defines your face so you can wear less makeup overall. This creamy cheek-lip-anywhere balm is made with skin-care ingredients like vitamin C, vitamin E, and superhydrators to nourish your skin as it delivers sheer, natural-looking color. Dab it at the apples of your cheeks, across your nose, and at the brow bones (honestly, put it anywhere you want a bit of color) and blend with your fingers—it takes all of 30 seconds and the invigorated flush you get is sexy, fresh, and flattering no matter your skin tone. Choose your favorite or try GP's three favorite shades for fall.
3. Use Concealer, Not Foundation
Cover redness around your nose, soften under-eye circles, and spot-treat breakouts, pigmentation, and dark spots rather than covering everything with foundation (which doesn't cover as effectively—it functions more to even your skin tone). Apply concealer with fingers or, better, with a brush so you can get the tiniest amount of concealer onto precisely what you want to cover; you can always add more later if you need to. Then, with your fingers, pat—don't rub—to blend.
4. Brush Up Brows
Beautifully defined brows can energize your entire face. Have them shaped professionally once, then use tweezers to maintain. To fill in sparse areas, make tiny hairlike strokes with a slim, precise pencil, then set, lift, and condition your brows with gel.
5. Tint Your Lips with Sheer Balm
Translucent moisturizing color looks polished but natural. This set gives you three gorgeous choices: There's a glazy clear shade, a your-lips-but-better pink, and a translucent punchy red.
EXTRA CREDIT
Define Your Eyes
You might just stop here, but liner and mascara can really wake your face up. If you need a lot of definition or often feel like you have to apply multiple coats of mascara, the way to get the most natural look is with liner: Dot it along the top outer half of your lashes, as close to your lash line as possible, almost as if you were connecting the lash roots with pigment (choose a silky pen or a creamy pencil depending on your preference—both are super easy). When you're through, use a Q-tip to wipe away any excess. Apply your mascara afterward—you'll find you need much less than you otherwise would.
A Touch of Highlighter Can Look Really Natural
Adding a gleamy luminescent highlighter at the high points of your cheekbones, the inner corners of your eyes, your Cupid's bow, or the bridge of your nose gives an extra dose of dewiness and dimension. We love the pretty effect of subtle sheen versus full-on sparkle; the Westman drops smooth effortlessly over skin, and the Ami Cole stick is magic.