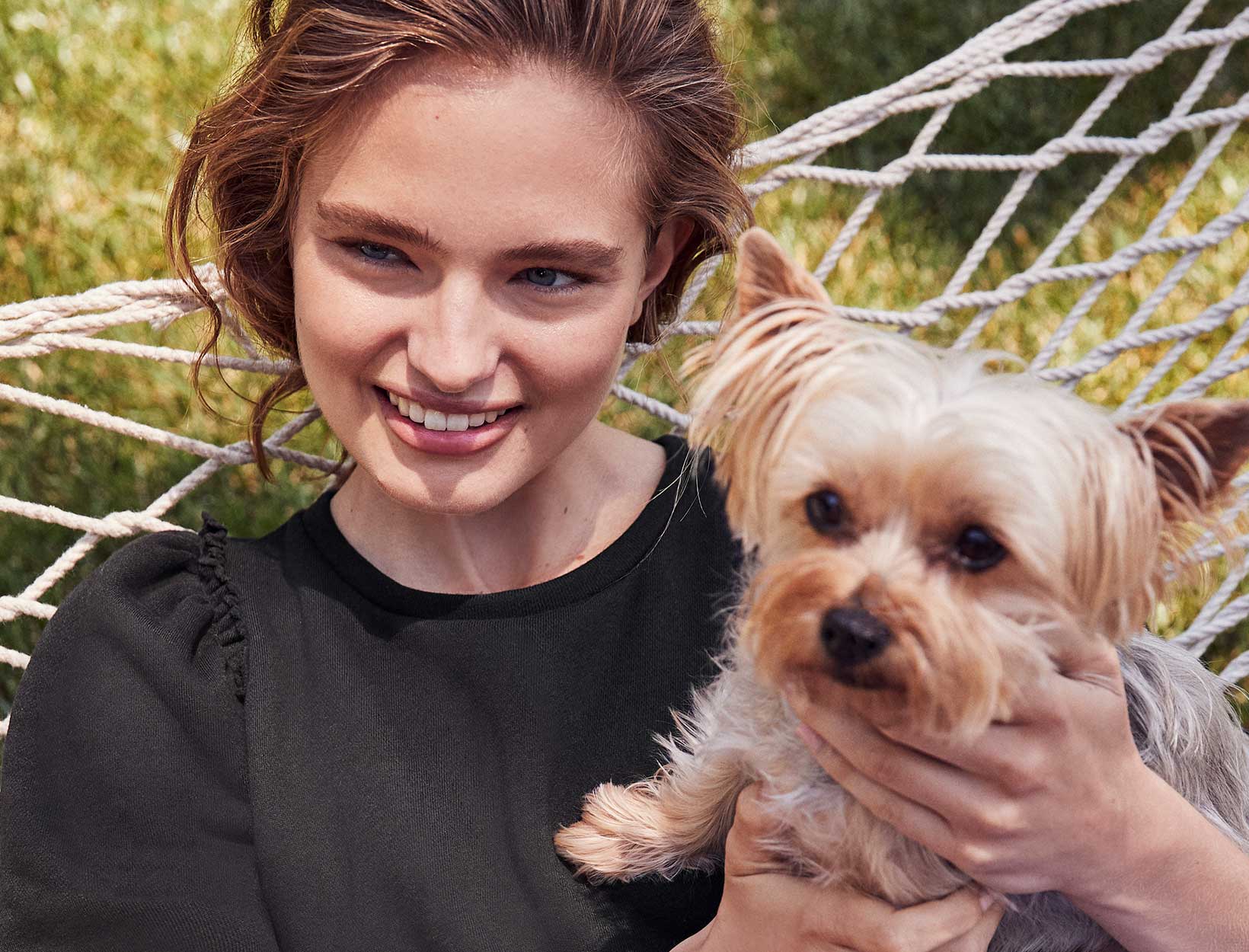 6 Subtly Flattering Essentials
for People Who Hate Makeup
Even if makeup usually looks (and feels) like too much for you or the mere thought of applying it goes against your minimalist routine, these look-better-in-seconds products are something else. They feel practically undetectable, require little to no skill—or time—to apply, and leave you looking fresh-faced and energized.
The real key to looking your best, for makeup lovers and minimalists alike, is great skin care. Beyond that, it's about easy little tweaks: Boost glow by pressing a few drops of a nourishing serum or face oil into your skin, wake up your whole face with a touch of sheer pigment smoothed across cheeks and lips, downplay dark circles or spots with a dash of concealer, or emphasize your eyes with a flick of inky mascara. These are some of the essentials we use every day here at goop—at home, in the office, and even, as you see here on model Anna Mila, at our shoots.
1

glow-boosting oil

Pro tip: Keep your favorite oil in your bag or at your desk at work for an excellent midday refresher. Press a few drops onto skin or over foundation or concealer and the resulting gleam—and energizing effect—is stunning. It essentially refreshes any makeup you're wearing, so you don't need to apply more.

May Lindstrom The Youth Dew

Hydrating Facial Serum

goop, $140

2

easy cream concealer
for dark circles
and blemishes

Bonus: This small compact comes with a really high-quality mirror, so it is makeup-bag gold. (We keep one in the makeup bag and one on the bathroom counter.) It blends like a dream.

Rituel de Fille Ethereal Veil Conceal & Cover

goop, $34

3

Sheer Pigment for
Lips, Cheeks, and Eyes

This is one of those just-bitten colors that works with literally every skin tone we've encountered.

Balmyard Beauty Baby Love

Balm Lip + Cheek Tint

goop, $32

4

Defining Mascara

This is GP's personal-
favorite mascara.

Westman Atelier Eye

Love You Mascara

goop, $62

Trust: Natural-Looking
Foundation Is Worth Investigating

Trust us when we say that a little tinted moisturizer is a great way to get your everyday
SPF or a little extra moisture and smooth your skin (seemingly) imperceptibly.
5

Tinted
Moisturizer

"People always ask me, 'What are you doing differently with your skin?' when I wear this—it's magic, truly. And it has SPF 20." —Jean Godfrey-June, executive beauty director

Beautycounter Dew Skin Moisturizing Coverage

goop, $45