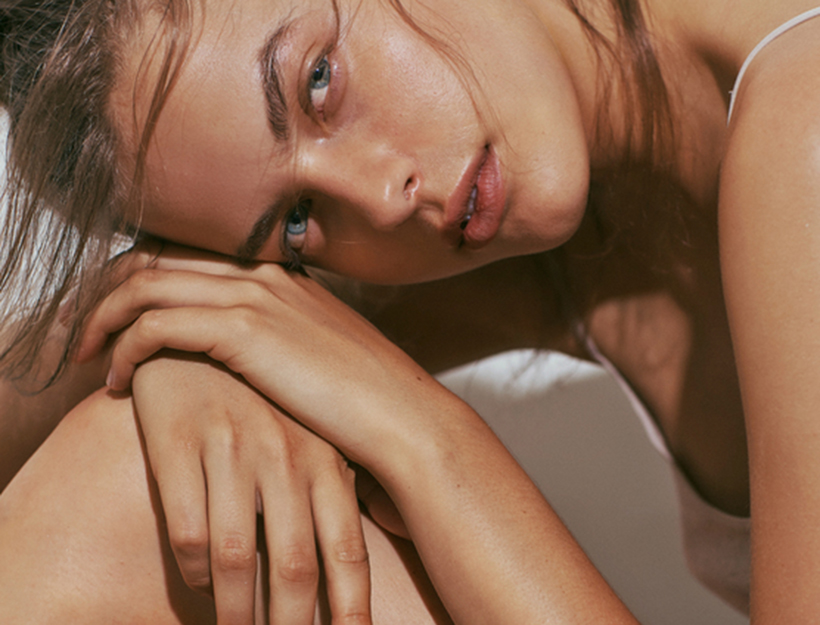 Mastering Summer's
No-Makeup-Makeup Look
The devil-may-care summeriness of a floaty, beachy Lemlem caftan or a gypset-chic Bardot mini from Pampelone looks best with fresh, glowy skin—and not much else. A little goes a long way this time of year, so keep a light touch, and devote serious energy to skincare, which makes all the difference.
"Makeup in summer should be about beautiful, radiant skin," says top makeup artist/Burberry creative consultant Wendy Rowe, whose new book, Eat Beautiful, launched in the UK this summer. "It's about looking your best—but not as though you're wearing loads of makeup."
Accordingly, focus on skincare. Rowe likes facials for her clients: "I love Tracie Martyn in New York, especially her Red Carpet Treatment, or Sarah Chapman's Light Treatment in London."
Prep
You don't need a professional if you're willing to do a few easy steps at home. The most important element is a thorough but gentle exfoliation—at home or on vacation, do it with the goop Exfoliating Instant Facial to clear away salt, sand, sunblock, pollution, sweat, dead skin cells, and excess oil, revealing fresh, smooth skin beneath. Next, plump skin with moisture—May Lindstrom's The Honey Mud mask is beyond amazing, or Rowe likes to do a simple mask with a rich moisturizer—her favorite is Weleda Skin Food—leaving it on for about 10 minutes before wiping it off with a wet washcloth. Oilier skin would do well with a calming, detoxifying mask like the Blue Tansy one from Herbivore, which is heavenly.
Protect
The most important skincare step—clean, mineral-based sunblock—is easily combined with primer or a glowy skin tint in the summer. Or you can mix the two together, which Rowe says give the ultimate glow. "I like to combine Burberry Fresh Glow Golden Radiance with foundation to create fresh, naturally radiant-looking skin." she says. We've put our favorite primers and tints on a sort of continuum, from least coverage to most, below:
Conceal
If you've got a breakout, redness, or dark circles, spot-treat with concealer rather than layering on tint or foundation. The more pigmented the formula, the less you need to use; dab it on with a brush and you'll use even less. Dab only on the spot you want to cover, then pat softly to blend—don't rub, or you'll simply move the concealer off the bit you want to cover and onto another part of your face.
Color
Once your skin is in great shape, you may need nothing else—or add or subtract eye, cheek, and lip options as you please. The most flattering blush option is often a mix of two—mix a bronzer shade with a blush or a neutral, cedar-rose-ish blush with a shade that really pops on top. Rowe likes cream formulas: "I always think cream is more flattering—it's more undetectable. I like Chantecaille's cream blush, and Aerin by Estee Lauder has some really nice colors too," Below, two foolproof cream-blush color combinations:
Eyes
Lashes—unless you're very blonde, always pick black, even in the summer—shouldn't go on too thick unless you're having a major night out. One swipe of Juice Beauty's brilliant mascara should do it. If you feel like your eyes still don't pop enough, ink the very base of your lashes with a bit of black liner; Rowe likes MAC's Blacktrack: "It doesn't move."
Set
If you love to finish with powder, use a brush, not a puff, says Rowe, who's devoted to Burberry's airy formula: "Technology has moved on, so you just don't need that much powder."
Lip
Glowy, healthy skin looks good with just about any sort of lip, from a your-lips-but-better stain/balm like Olio e Osso in Currant—wear it when you're not wanting full-on color, but more a tint—or the sheerly pigmented lip/cheek pots from Tata Harper (we love Very Popular) to a full-on, highly pigmented hot pink like the gorgeous Liquid Lip in Kate from Juice Beauty. Rowe says not to worry too much about lasting power: "Bulletproof options can be very drying on the lips." Indeed, for summer, think super-hydrating, dashed-on, and above all, easy.