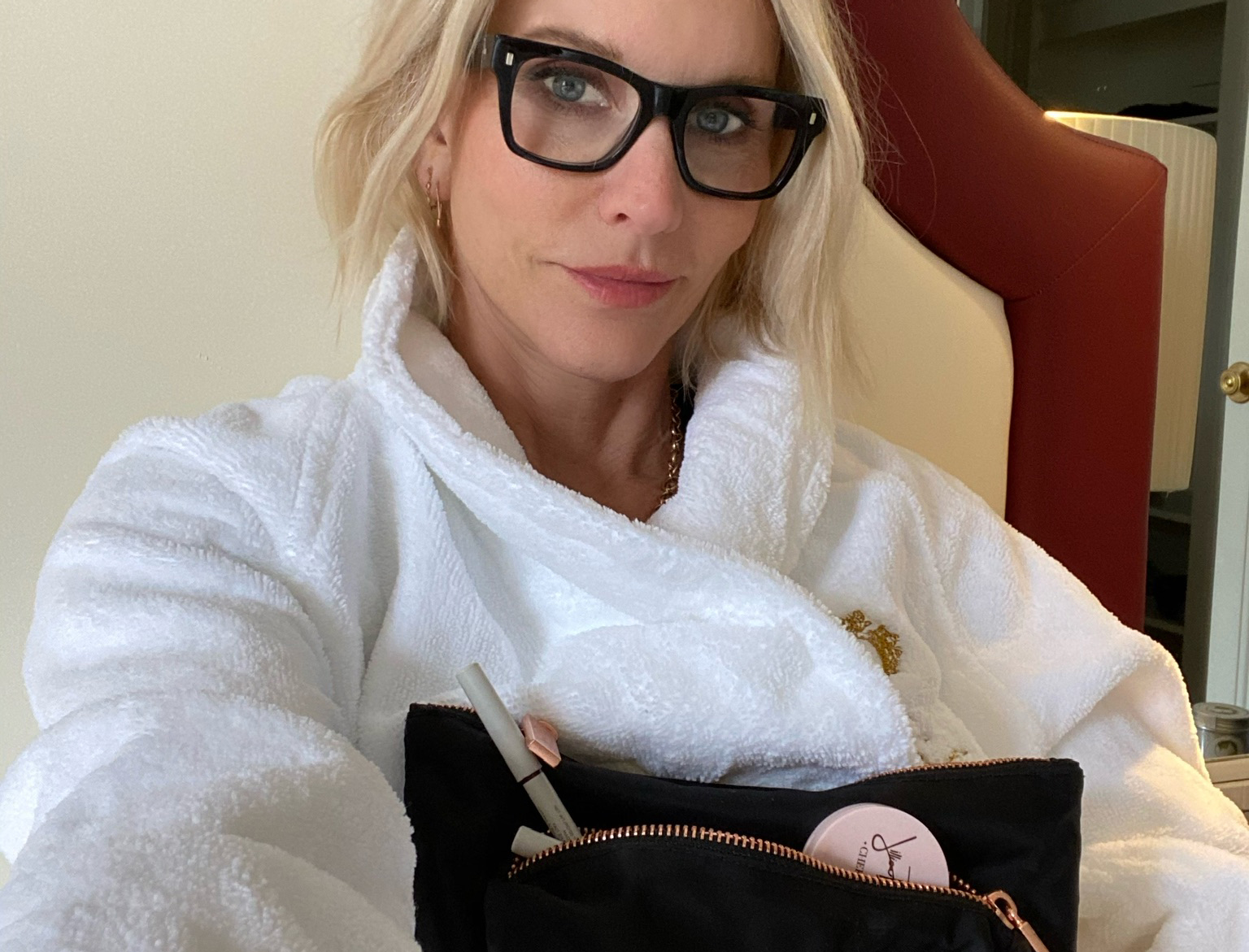 The Secret-Weapon Bag of
Great-Skin Essentials from Makeup
Artist Jillian Dempsey
Makeup artist Jillian Dempsey is famous for giving her clients (GP included) dewy skin, sculpted cheekbones, wide-awake eyes, and makeup that looks like naturally glowing, gorgeous skin and not much else. It's a look she wears herself, too: It's often easy to confuse the luminous Dempsey, who also makes some of the best clean makeup out there—plus a magic T-bar for skin—with the talent on set.
Dempsey also happens to have designed what we believe is the ultimate makeup bag. It's made of sleek black nylon (so you can throw it in the wash), it easily fits everything you need to look radiant and refreshed with multiple zippered pockets in chic rose gold, and it's good-looking enough to use as a clutch. Here's what she puts in it for an easy, natural, glowy-healthy look that works for just about every skin type.
THE BAG
WHAT'S INSIDE
1

Vibrating Gold Face Bar
for an Instant Lift

"I always start the day with this. It helps me depuff morning eyes and sculpt my cheekbones, and it leaves me luminous and vibrant—it just makes me look dope AF! I keep it in my makeup bag because it makes me, my clients, anyone look better instantly."

2

Glowy Face Oil

"I mix a few drops of this into my moisturizer and smooth the combination over my face before using my gold bar. I'm addicted to the smell, and it really makes my skin glow."

3

Chiseling Contour Stick

"The stick has a super creamy texture, so you can easily apply it directly to skin and tap it in with fingers or a blending brush. I like applying it along the jawline and cheekbones for definition."

4

Iridescent Allover Gloss

"Smooth this on your eyes, lips—I love it on cheekbones for a subtle highlight, and you can also apply it to your lips for a stunning finish. It adds the perfect amount of shimmer without looking too sparkly, and it really gives you that allover glowy look. Just take a few finger taps and you're done."

5

Inky Liquid Eyeliner

"I love the tiny, convenient packaging and the small head. It's very black, and I can do a tightline really fast."

6

Prettiest Tinted Lip Balm

"I'm so into a quick hit of color and balm in one for my on-the-go lifestyle."