My Morning Routine
Stack Your Habits, Follow Your Dreams, and Indulge in Fluttery Mascara and Chic Lip Jelly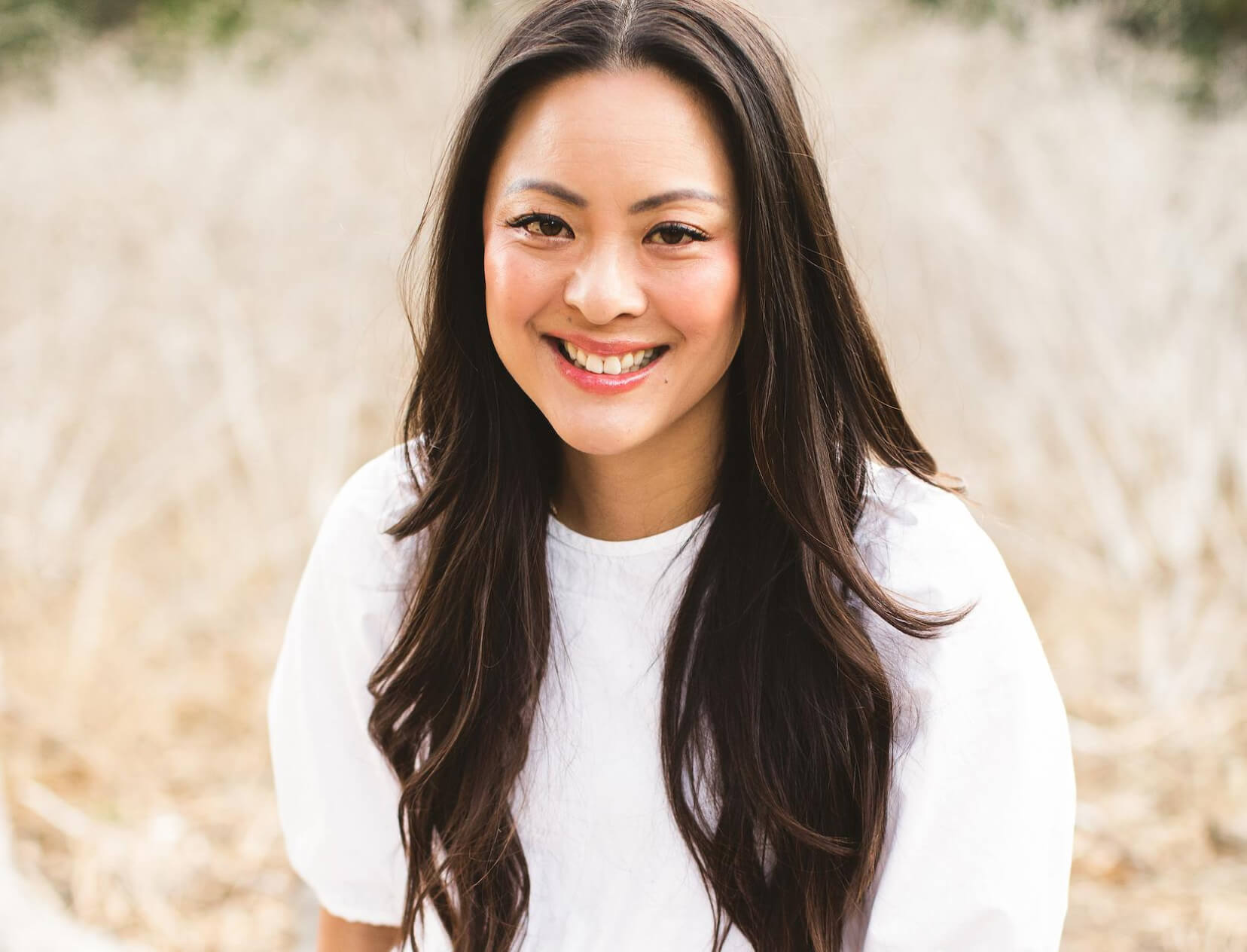 AMY LIU |
CEO and founder of Tower 28 Beauty
"I'm a pretty risk-averse person," says Amy Liu, who worked as a beauty executive for 15 years before mustering the nerve to quit her job and start the gorgeous Tower 28 Beauty in her 40s. "I'd always wanted to be an entrepreneur," says the LA-based mom of three. "A friend I'd known since business school gave me some tough love, reminding me that I wasn't getting any younger and to shoot my shot already. Fast-forward: That same friend ended up being my first investor. Tell people your dreams so they can hold you accountable and also support you."
Liu, who's battled eczema her entire adult life, dreamed of clean essentials safe for her ultrasensitive skin that didn't look filched from a dermatologist's office. "I grew up in California—I wanted the line to look cool and beachy," she says. (Tower 28 is the name of a lifeguard tower that sits between Santa Monica and Venice Beach.) And the makeup colors had to flatter every skin tone. "Growing up in White, blonde beach culture, I never felt represented," she says.
With chunky lip crayons that deposit the perfect subtle tint, the flutteriest mascara of all time, sheer lip gloss, featherlight SPF-and-foundation in one, and more, she's succeeded in more ways than one. Tower 28 puts energy—and dollars—toward inclusivity: It donates to the Stop Asian Hate movement and the Heart of Dinner, which combats food insecurity in New York City's elderly Asian community, and it founded Clean Beauty Summer School, which supports small BIPOC-owned businesses.
Smoothest Tinted Lip Crayon

Tower 28 Beauty

JuiceBalm Vegan Tinted Lip Balm

goop, $16

SHOP NOW

Beautifully Defining Mascara

Tower 28 Beauty

MakeWaves Lengthening and Volumizing Mascara

goop, $20

SHOP NOW

Antioxidant-Infused Lip Gloss

Tower 28 Beauty

ShineOn Milky Lip Jelly

goop, $16

SHOP NOW
AMY's morning routine
Mornings before work are a balance between a bleary-eyed get-kids-to-school scramble and consciously paced alone time.
5 a.m.
I don't use an alarm. Sometimes I wish I could sleep in, but I wake up early naturally. I've become a morning person: It's the only time during the day I really get to be alone with my thoughts. Every year I give my team a book, and this past year it was Atomic Habits: An Easy & Proven Way to Build Good Habits & Break Bad Ones, which taught me to "habit stack" my morning. For me, that's taking an intentional pause right when I wake up: Instead of immediately drinking coffee and looking at my phone, I drink some water first, start my coffee, take my vitamins, and—after a little beat—check my phone. I go through phases where I add on things like journaling and meditation, but honestly I'm pretty inconsistent. Coffee's nonnegotiable, though.
My body is really dry and prone to looking ashy, so I moisturize every morning. A little goes a long way with this body butter, and the light citrus scent gives me a boost.
6 a.m.
I take our cavapoo, Luigi, on a morning walk—I live in an area with a lot of hills and great hiking trails—and listen to a podcast. I'm a huge fan of The goop Podcast—I sent all my mom friends the episode on navigating the college admissions process. I also love Second Life, How I Built This, Glossy, and Smartless.
7 a.m.
The kids are up and the house is crazy. I make breakfast, pack lunch, and rush around trying to get them out the door. I start out calm and measured, but by the end I'm threatening to leave without them, ha. My husband and I have to divide and conquer: The three of them go to three different schools in different parts of town.
8 a.m.
My team goes into the office two days a week. On the days I work from home, I don't get as dressed up, but I always do my skin care and makeup routines. I spritz our hypochlorous acid face spray all over in lieu of cleansing my face in the morning because I have such dry skin. I still get eczema flare-ups every once in a while, and the spray really does feel soothing. When my skin needs a little extra, I do the face spray and layer on our SOS serum as well.
I've started using vitamin C every morning, and I've seen az difference in how even my skin looks. I follow that with goop face cream—it makes my skin look tighter and brighter (it's actually crazy). I layer the face oil from MARA with it to help lock in moisture. After that, I clean up after my kids—I need some time to let everything sink into my skin.
goop Pick

goop Beauty

GOOPGLOW 20% Vitamin C +
Hyaluronic Acid Glow Serum

goop, $125/$112 with subscription

SHOP NOW
8:20 a.m.
I love the blurring SPF cream from Saint Jane. It's great for makeup prep and works as a primer. I smooth on our tinted sunscreen over that (my shade is PCH); the tint deposits a natural-looking, even sheen. It's the only complexion product the National Eczema Association has ever given its Seal of Acceptance to.
I'm a big fan of my BeachPlease blush in Magic Hour. I layer on a few coats of our new mascara; it has a special wand that makes it super easy to apply and helps define each lash while still keeping them supple.
My favorite: lip jelly. It's a lip balm and shiny gloss in one. I'm generally using lab samples of a few other things we're working on, too.
9 a.m.
The majority of my team is here in LA, but we still have people who work remotely. In an effort to maintain communication and connection, we start every workday with a Zoom meeting we call Daily Standup. After that, it's off to the races. Meetings about makeup, all day! I love my job—and my team.