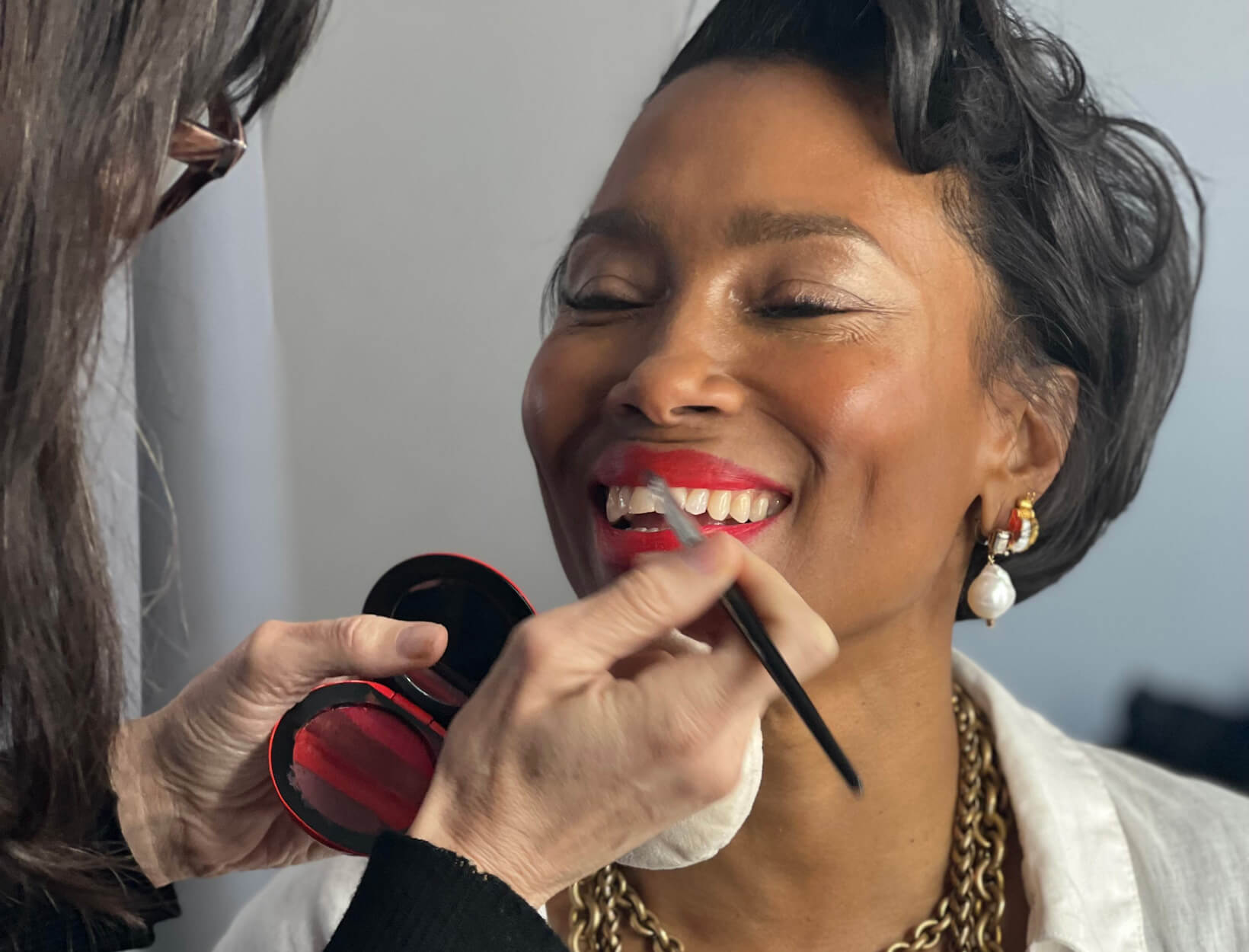 Photo courtesy of Elizabeth Owusu
My Uniform
An Activist's Glowy Skin,
Long Dress, and Orange-Red Lip
As she travels the country lobbying against the 175-plus anti-LGBTQ bills currently circulating, LGBTQIA rights activist and author Jodie Patterson focuses on finding the words that might help change people's minds, but she knows how she looks conveys a message, too. "These bills are dense. Sometimes it takes face-to-face contact to get through, which is why we go state by state, person by person," says the 51-year-old Brooklyn-based Human Rights Campaign Foundation board chair, who's the author of two books (her most recent, for kids, Born Ready: The True Story of a Boy Named Penelope, was inspired by raising her trans son) and a mom of five. Her secret weapons include a miracle vitamin C serum, a sweaty run (especially before speaking engagements), and a signature orangey-red lip.
In Austin to speak at a 600-person fundraising dinner—roughly the same size as the audience at her TED Talk on gender in Munich—Patterson says she still gets nervous. "In the past, I've made the mistake of letting my nerves take over and saying, 'F*ck it,' and giving no thought to how I look, and that didn't feel good. So now I embrace the fact that all these people are going to be looking at me, and I dress and do my makeup accordingly."
My Makeup and Hair
I focus on my eyes and mouth—an orange-red lip is my favorite. I keep my skin fresh and do a middle part with my hair pulled back off my face.
I'm 51 and things are starting to fall, so I have some tricks. For clean, great-looking skin that lasts from cocktail hour till when I'm stepping off the stage three or so hours later, I smooth on glowy foundation mixed with a few drops of face oil. I want to look moisturized and fresh for the whole evening, and the face oil makes the difference there.
goop Picks
I sculpt a bit with contour from Kosas and a brush. I trace a Nike swoosh over my cheekbones—so I'm angling up and giving my face some lift. I dust powder bronzer over my cheekbones, going all the way to my temple for a chiseling effect (and to add glow). I also contour around my nose and eye area to make myself look more wide-awake. These little things make a big difference, especially when you're traveling and you look tired.
goop Picks
My Eyes
I love a smoky eye when I'm onstage, because it looks like something even to the people sitting far away. Sometimes I dust a little purple and emerald shadow onto my lids, smoking them out (not too far out) with a brush. For regular, not-onstage days, I like brown shades.
goop Picks
My Favorite Red Lip
I always do an orange-red, dabbing on balm from Burt's Bees first.
A Great Workout Is Better than Any Makeup
I used to go to events right from the plane—and you could read it on my face and body. Now I make sure to get in the day before, and I make time to run for 30 minutes to an hour before I have to be somewhere. I get lost down streets, sweat, and calm my nerves, and the result is my skin looks great. I do some stretches afterward to decompress and help support alignment. It also helps me get to know the city I'm in, so my speeches end up better—when you know a bit about the area, you can fold in cool personal details.
goop Picks
My Style Uniform: Onstage
I like long dresses with nice movement to them that make me look tall and substantial. I go for solid-colored formfitting pieces that show my arms and collarbone. So many brands do it well. The other night I wore a dress by the Senegalese designer brand Tongoro, and the pattern looked like a celestial explosion—it's amazing.
My jewelry is as much a part of my uniform as my clothes. Even if I don't leave the house, I'm putting on my stacks of Alexis Bittar bracelets.
goop Picks
There are currently more than 175 anti-LGBTQ bills circulating in 32 states, including 23 aimed at children in schools and school sports. Donate to the Human Rights Campaign to help fight anti-equality legislation.