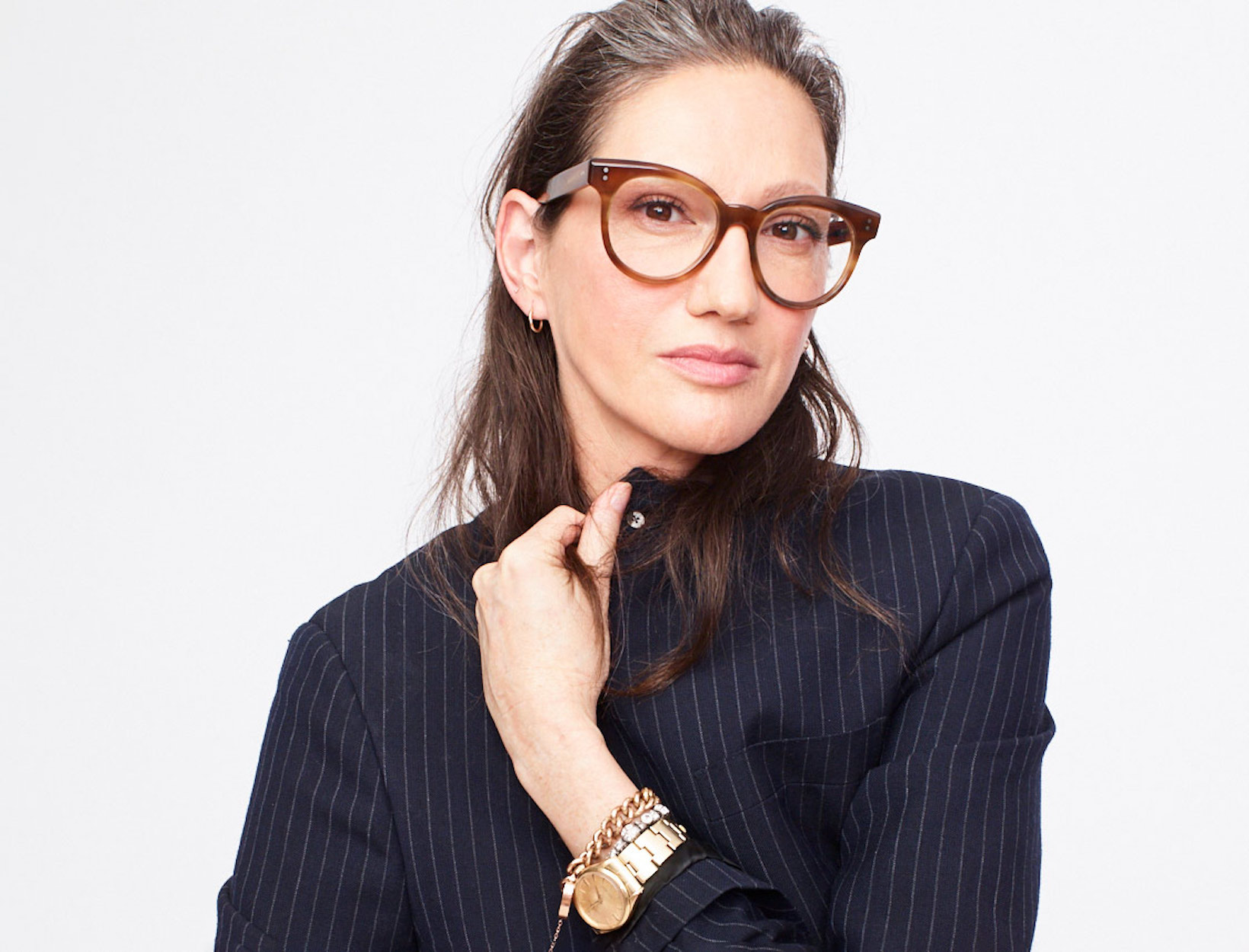 The Beauty Closet Questionnaire
A Style Guru's New Obsession: Fantastic Lashes
goop beauty editors Jean Godfrey-June and Megan O'Neill love to ask—and answer—questions. On their podcast, The Beauty Closet, they're doing both. To familiarize you with each week's guest, we came up with a goop beauty (and life) questionnaire.
THIS WEEK WE'RE TALKING TO:
Jenna Lyons, LoveSeen cofounder
She changed how we dressed and put J.Crew on the map, and now Jenna Lyons has come out with chic, next-level false eyelashes that flatter any face. (Truly, whether you've never tried lashes before or you're a pro, there is nothing like a pair of her LoveSeen lashes.) Her story—growing up with a genetic disorder that left her without eyelashes, among other issues—is surprising, not to mention as inspiring as it gets. We knew she loved fashion, but as we discover on The Beauty Closet, she's a full-on beauty maven with a specialty in exfoliation.
The style icon's newest chapter—after career highlights including running J.Crew (and Madewell, and J.Crew Factory, all at the same time) and starring as herself on Girls—involves her brilliant unscripted reality show Stylish with Jenna Lyons on HBO, a hotel design in the Bahamas, an untraditional creative agency called Sort of Creative, and so much more under her Lyons L.A.D. umbrella (she named her new company Lyons Life After Death) that it's hard to keep up.
But the lashes, we realized when we got our hands on a pair, are the thing. She cofounded LoveSeen with makeup artist Troi Ollivierre in 2020. "I've always been interested in eyelashes because honestly I don't have any," she explains on the podcast. (Try a pair and prepare to look instantly incredible; they're also much easier to put on than you might expect.) But her beauty enthusiasms extend far past lashes, as her goop shopping cart, almost as heavy on beauty as it is on fashion, attests.
Job description?
Cofounder, LoveSeen. Intermittent mom. Religious lip balm user. Ice cream connoisseur.
Preferred form of exercise?
Tracy Anderson.
First job?
Lifeguard, but that sounds way sexier than it was. Not like Pamela Anderson running on the beach in her high-cut bathing suit. It was a pool at a condominium complex. I did save one kid's life, for the record.
How do you take it all off?
Favorite hotel?
Go-to weeknight recipe?
Friday night homemade pizza.
Favorite place to wear false lashes?
The only place I go: Zoom.
Currently in your goop shopping cart?
clothes
beauty
How do you get your lashes on?
No joke, our lash tool is a game changer. I know I had a hand in making it, but it really does make a huge difference. It holds the lash in a curved shape and allows you to go in directly toward your eyes, from the front—as opposed to coming in from the side.
Best glowy-skin tip?
Exfoliate. Exfoliate. Exfoliate.
Blow-dry or air-dry?
Air-dry. My hair is super thin and can get quite frizzy. I just discovered this Christophe Robin serum, which is great for air-drying. My other secret weapon is putting some flexible gel in my hair when it's dry and combing it to prevent flyaways. It gives my pretty thin hair some nice texture (when I remember to do it).
Drink of choice?
Prosecco.
Proudest moment?
The day that the nurses at the hospital said I could take my child home.
Perfect Sunday afternoon?
Coffee run. Family nap. Beach walk. Binge-watch Schitt's Creek. Ice cream to follow.
In your shower?
Wonder Valley body wash, Nécessaire body serum, Crown Affair renewal mask, and Heals dry brush and body oil.
What would you put on your neon sign?
Shhhhh…
How often do you recharge your crystals?
At least once a week.
Lipstick or balm?
Both. Please.
Beauty philosophy?
Smile. You look pretty. And don't forget to smell good.