How to Grow Out, Shape, and Tweeze Your Own Brows
Written by: Megan O'Neill
|
Published on: April 14, 2020
|
Updated on: February 27, 2023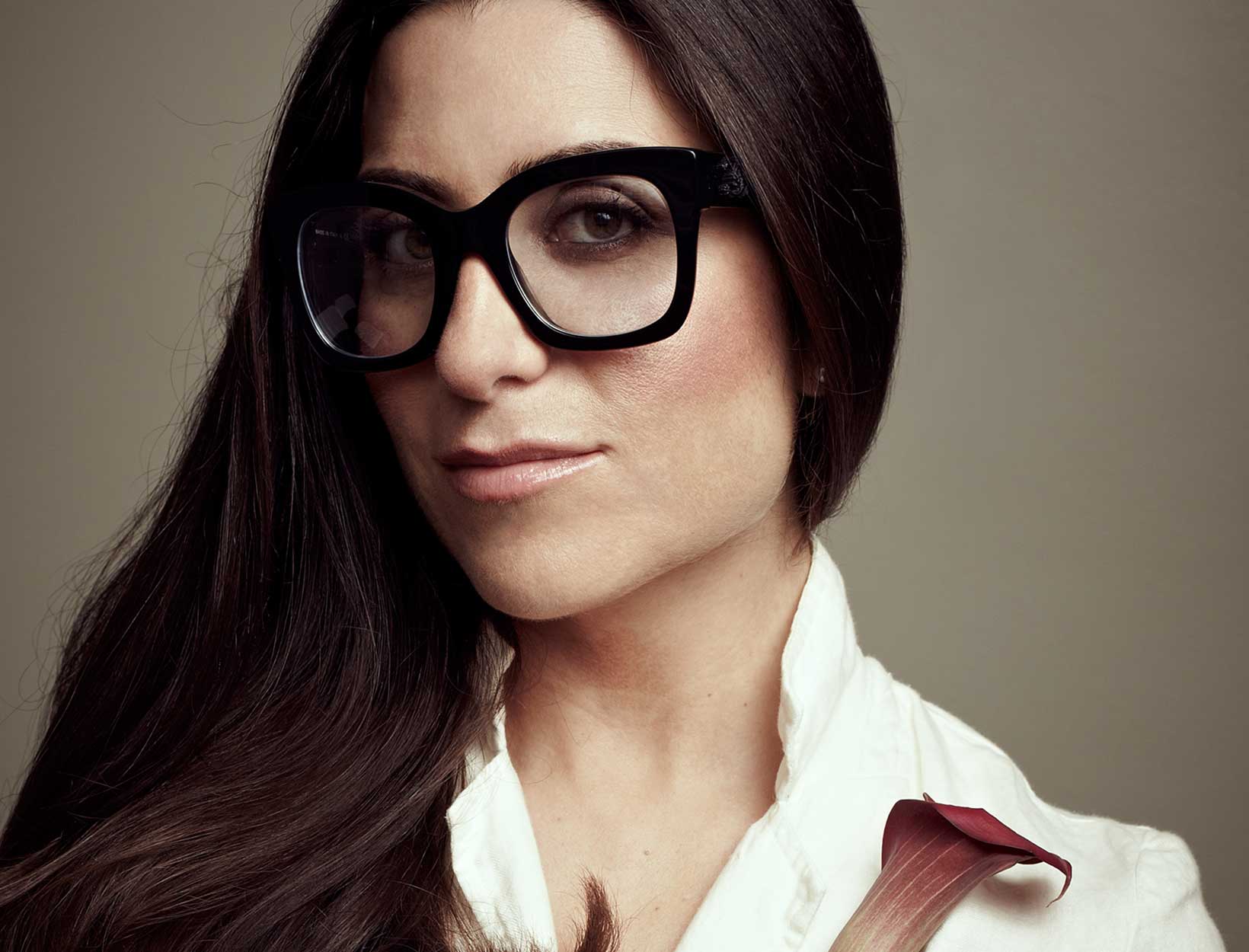 Jimena Garcia is one of the world's most sought-after brow artists (that's her above, wearing her signature thick Chanel frames over her signature impeccably groomed brows). She's famous for super flattering, near-perfect arches, but now she's encouraging a little more imperfection for all of us: "Right now, it's more about nurturing, maintaining, and, if you want to enhance your brow shape, using product, rather than trying to change the shape entirely."
Garcia typically works out of Chanel's SoHo atelier three days a month (she's Chanel's first-ever brow artist), and at her studio on Broome Street when she's not flying to places like Paris and LA to see clients (you can book a session with her in New York, LA, or Paris or virtually at jimenabrows.com). But her easy tips for shaping, tweezing (turns out when you do it matters), trimming, and growing out your brows work as well at home as they do anywhere.
HOW TO SHAPE YOUR BROWS
The easiest way to make your brows look groomed is with product, Garcia says: "If you don't trust yourself and think you're probably going to butcher your brows by plucking them yourself, you can put it off entirely by using brow makeup." To make thin brows look fuller and longer, shade them throughout with tinted brow gel. "Brow hair is naturally ashy, so tinted products give it a nice gloss and help you even the hair into a single tone so your brows look more defined," Garcia says. Gel is especially great for smoothing haywire hairs into place for a more polished effect.
Biotin Conditioning Treatment

Rye Beauty

Brow Grooming Serum

goop, $42

SHOP NOW

For Sleek Fullness

Kosas

Air Brow Tinted Volumizing Treatment Gel

goop, $24

SHOP NOW

For Feathery Definition

Saie

Tinted Brow Butter

goop, $20

SHOP NOW
To simply streamline overgrown brows without tinting them, brush them through with clear brow gel or face oil. "You put hair gel in your hair to create, say, a slick ponytail," says Garcia. "Brow gel or even face oil can manipulate brow shape in the same way." If your brows have sparse areas or if you've created a hole from rogue plucking, fill in those areas with a pencil, which is for spot-treating, rather than bulking up the entire brow with a gel or powder.
Tinted Pencil

Westman Atelier

Bonne Brow Pencil

goop, $38

SHOP NOW
Clinically Tested Brow and Lash Serum
If your concern is growing your brows to be thicker and more abundant, use a treatment to support natural hair growth. The serum from Augustinus Bader is an intense treatment formulated with clinically tested ingredients for lengthening and improving the appearance of brows, while the one from Rye is made with biotin and designed to condition and nourish brows for a fluffier look.
HOW TO PLUCK YOUR BROWS
"Don't try to totally reshape your brows yourself unless you feel really confident," Garcia says. "To clean things up, though, pluck only the excess hairs growing out around your brow and leave everything else alone." Follow the shape from your last professional brow shaping, if you had one. Garcia notes that face oil can help soften brow hair, and it also leaves the skin around the brow supple, so that when you do pluck, the hair slides out more easily than it would if your skin were dry. Garcia also recommends plucking right after you take a shower, when skin is damp and pores are open, so that it's easier and less painful to grasp the entire hair from the root. This genius little kit has everything you need—tweezers and scissors (from the gold-standard Swiss tweezer manufacturer Rubis) and a spooley brush—to create your best brows at home. (LA brow artist and salon owner Kristie Streicher, who created it, has amazing tutorials.)
goop Pick

All-in-One Kit

Kristie Streicher

Essential Eyebrow Grooming Kit

goop, $225

SHOP NOW
HOW TO TRIM YOUR BROWS
"Brush your brows up with a spooley so that you're able to see the hairs that extend above your defined brow line. Trim those," says Garcia. "Trim at a slight angle rather than cutting hairs straight across, which results in a clunky, less natural-looking shape. Hairstylists cut hair at an angle to go with the natural movement of your layers. A blunt brow cut looks abrupt." Even if you have trouble growing out your brows, the hair you do have may still grow too long and need to be trimmed.
HOW TO GROW OUT OVERPLUCKED BROWS
Consistency is key. "You know how hairstylists tell you to regularly brush the hair on your head and massage the scalp to encourage growth?" says Garcia. "It's the same with brows, so brush them with a spooley and smooth them down with oils regularly." Waiting, of course, is the hardest part. "It can take up to two years to grow out your brows, and everyone's growth cycle is different," she says. "And it can vary with the stages of life: Some pregnant women's brows fall out (and grow back), and people with thyroid issues can experience hair loss at their brows just the way they can with hair on their head." These oils add the prettiest touch of shine to brows and, of course, melt right in to leave your skin—no matter your skin type—glowing.
Nourishing Plum Oil

Le Prunier

Plum Beauty Oil

goop, $72

SHOP NOW

Biphase Antioxidant Oil

Furtuna Skin

Due Alberi Biphase Moisturizing Oil

goop, $225

SHOP NOW
HER OWN ROUTINE
Once your brows are in great shape, Garcia says, your face often needs less makeup. "I don't really wear it," she says. She lets her own brows and big Chanel glasses do the talking. "I tweeze here and there to open up my arch a bit," she says. "My mom was Lebanese and Colombian, so my genes are responsible for the amount of hair I have—which is great but not always so cool for other parts of my body," she says, laughing. "Latin American women are big on beauty—that probably plays some role in why I do what I do."
That and her obsession with brows. "I walk around Manhattan just looking at people's brows, probably in the same way a dermatologist can't stop checking out other people's skin. I once convinced the teller at my Chase bank to come to my studio, and then I made the bodega guy come in, too. I can't stop," she says. "Would I date someone with bad brows? Totally! I'd get to fix them."
WHEN GREAT BROWS ARE THE STAR, YOU NEED LESS MAKEUP
"Your brows and lashes are the most textural elements on your face—that's why they play up your features so beautifully," says Garcia. These four no-makeup makeup essentials for wide-awake eyes and glowy skin complement brows perfectly.