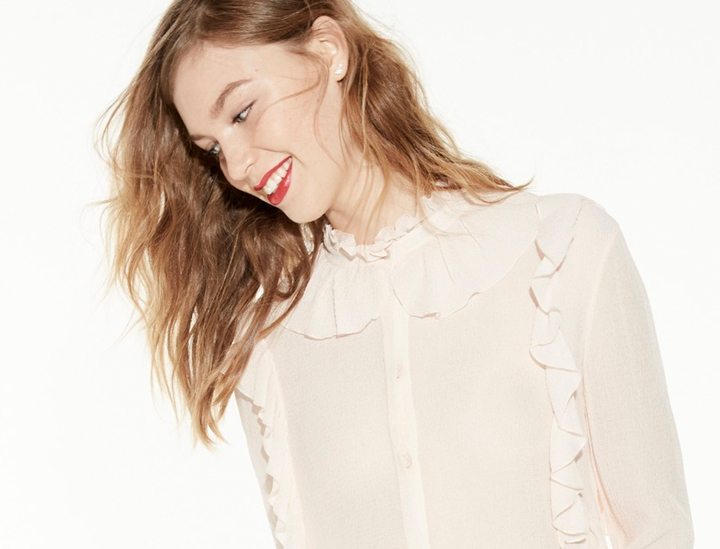 How-To: Easy Holiday Makeup
Whether you're touching up quickly at your desk after work or paying a visit to a salon for a holiday event, LA makeup artist Katey Denno gives the same advice: Focus on skin. "I believe in skin prep more than anything else," she says. "It makes all the difference in how you look and feel."
Denno considers skin care as an essential part of any makeup look. "Start with a healthy misting—I love May Lindstrom's Jasmine Garden mist," she says. "Immediately after, smooth in a few drops of face oil—the one from goop is amazing for this—and massage it in, gently hitting pressure points around the eyes. The combination of mist, oil, and massage with make your skin glow, and bring down puffiness if you're tired, stressed, or hungover."
The mist/oil/massage routine also makes any tinted moisturizer or foundation you use much more sheer, which is key. "I like the Serum foundation from Juice Beauty," says Denno. "No matter what type of formula, texture, or amount of coverage you like, it looks so much more natural and beautiful if you've prepped the skin. Warm any tint with your fingers before you apply; fingers are great or use a dampened Beauty Blender sponge to sheer it out. Start at the mid face and blend outwards."
Use tints and foundation only to even out the skin, then address dark circles, breakouts, and other discoloration with judicious amounts of concealer. "The one from Juice Beauty is great—again, warm it with your fingers (even if you're using a brush) and make sure you've moisturized well with mist and oil before you start," says Denno. "Apply it only at the inner corners of the eye; generally, most of the the darkness around the eye area is at the inner corners, away from where the wrinkles are."
Most complexions benefit from a touch of luminizer, Denno says; she loves the Illuminating Primer from Juice Beauty. "I love to blend a little at the cheekbones, the cupid's bow, even at the décolleté. And if you're wearing something bare, mix a little luminizer with your moisturizer and smooth it over your shoulders, too."
For Denno, the next step is critical, no matter what the client, the state of her skin, or the event at hand. "The thing that makes the biggest difference, after skin, is to curl your lashes," she says. "No matter who you are, curled lases make you look a lot more awake." Denno loves makeup artist Troy Surratt's curler, as well the one from Shu Uemura. She follows up with black mascara from RMS: "I like to do several coats, so you get great definition," she says.
Unless it's part of your go-to dressed-up look, Denno doesn't do smokey eyes as much around the holidays. "For me, a bold lip and glowing skin create a great holiday moment," she says. "It's about looking alive and awake! Then around the eyes, you don't need to go intense and smokey—unless you know you love it." Instead, Denno goes light, bright, shimmery, and pale around the eyes. "Rituel de Fille Eye Soots are perfect for this: Golden Age is my favorite shade—it looks good on practically everyone, especially medium to dark skin tones."
For liners she loves the sticks from Ilia: "There's a beautiful, shimmery grey that works with just about every eye color, she says. "Another great clean brand called Zuzu makes a great jet-black and a deep blue liner—I get them at Whole Foods."
Most of all, Denno loves a gorgeous lip for holiday evenings. "My favorites are Ilia Tinted Lip Conditioner in Perfect Day, which is a bold coral red, and I love Kosas lipcolor in Dark Room—it looks good on so many skin tones. And Kosas Thrillist is the perfect, classic red." For nudes, Denno relies on Beautycounter's lip sheers in Nude, Thistle, and Petal plus Ilia Tinted Lip Conditioner in These Days.
Her best makeup application tip focuses on staying power: "For a clean lipcolor look that lasts you'll need to go a little old-school with your technique," she says. "I dab on a little concealer all over the lips, dust on RMS powder, then layer the lipstick, blot, and finally apply a second layer of the lipcolor."
Your diet, believe it or not, can make a difference, too, Denno says. "I know it sounds crazy, and it's totally anecdotal, but I swear I notice a real difference in my clients when their diets are aimed at increasing alkalinity." So drink a glass of water with a serious squeeze of lemon while you're misting and moisturizing—extra glow, more hydration go a long way.