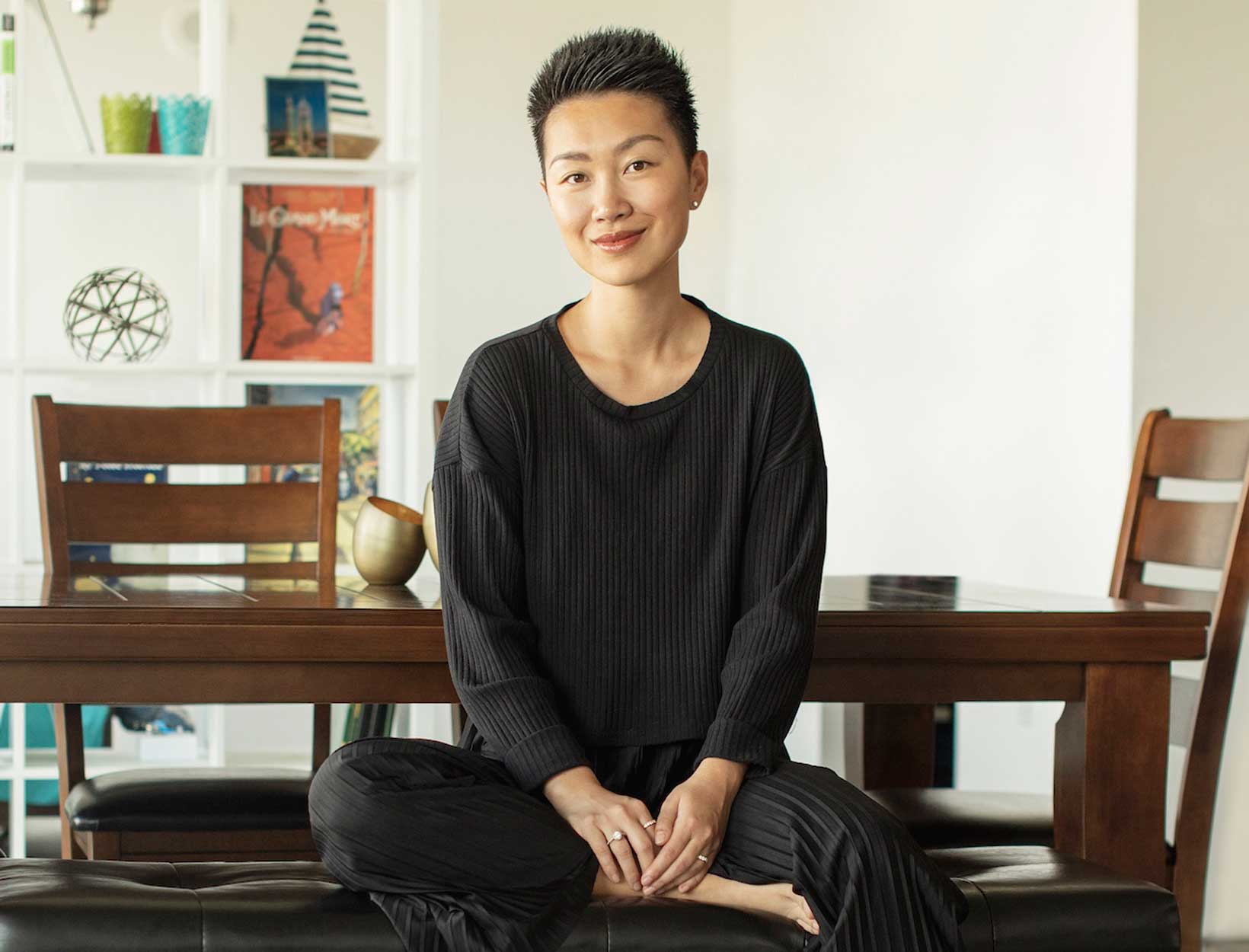 This (Chic) Lip Balm Is Going to Change Your Life
Before we fell in love with everything about Laura Xiao (above)—her badass cropped haircut, her past in professional table tennis on the US junior national girls' team at seventeen, and her Vegas-by-way-of-Stockholm aesthetic—we had already fallen hard for her lip balm. Made with powerfully nourishing organic oils, like sea buckthorn, black cumin, pomegranate, and jojoba, each one of her several formulas (they come tinted as well as clear) is rich, thick, and incredibly luxurious. A single layer, applied on the iciest winter night or during the apex of a steamy summer, leaves your lips supple, plumped, and supremely comfortable.
Miracle Mask

Henné Organics

Lip Mask

goop, $37

SHOP NOW

Prettiest Tinted Balm

Henné Organics

Luxury Lip Tint

goop, $22

SHOP NOW
The Lip Mask is super thick—essentially the most coddling balm on the planet—and the perfect treatment for very dry, cracked lips. (It smooths in invisibly, and the deep orange tint comes from antioxidant sea buckthorn, an incredible source of vitamins, minerals, and great-for-skin plant compounds.) The balm leaves a sexy, barely there flush and subtle sheen for the ultimate no-makeup makeup look—ironic, perhaps, given that it was conceived in Las Vegas. "My husband, who's also my cofounder, and I moved here five years ago to run a web development company," Xiao says. "My lips got so gnarly from the dry desert air; his were bleeding all the time. And the organic lip balms we tried just weren't doing anything." Xiao started mixing together the most intensely hydrating organic oils she could find. She'd made the shift to clean eating in college after interviewing a farmer about genetically modified crops and cleaned up her beauty routine shortly afterward. The balm she came up with cocooned her lips in a force field of plush moisture that more than held up against the harsh climate. "I gave some to our bro-ish tech-guy friends who worked out of a shared spaced downtown, and they loved it," she says. Xiao, who'd also done design work and branding for fashion companies, got to work on packaging.
Now four years old, the line, Henné, was an instant smash hit. "Henne means her in Swedish, which is a nod to the modern women we make it for," Xiao explains. "Henné has a minimalist quality to it—every ingredient in it really does serve a purpose, so it's all you need."
Xiao herself is pretty minimalist, too, starting with that haircut. "Ever since I cut it all off nine years ago, I feel like I really get to be myself," she says. "With long hair, I look like a sweet, approachable girl, and creepy guys come out of the woodwork. With the short hair, I shoot them a death stare and they don't even come over." Xiao's chopped hair, sleek all-black uniform—loose top, high-waisted pants, Common Projects sneakers—and a gorgeous lip sheen give her a vibe that's decidedly more Stockholm than Vegas, and her healthy-looking, luminous skin supercharges her whole look.
3 Glowy-Skin Miracles for Minimalists
Along with killer lip balm, these three simple, fast-acting skin-care essentials are all you need for a smooth, radiant complexion.
1. Exfoliator

goop Beauty

GOOPGLOW Microderm
Instant Glow Exfoliator,

goop, $125/$112 with subscription

SHOP NOW

2. Moisturizer

May Lindstrom

The Blue
Cocoon

goop, $180

SHOP NOW

3. Mineral Sunscreen

Vive Sana SPF 20

Serum Crema

goop, $75

SHOP NOW