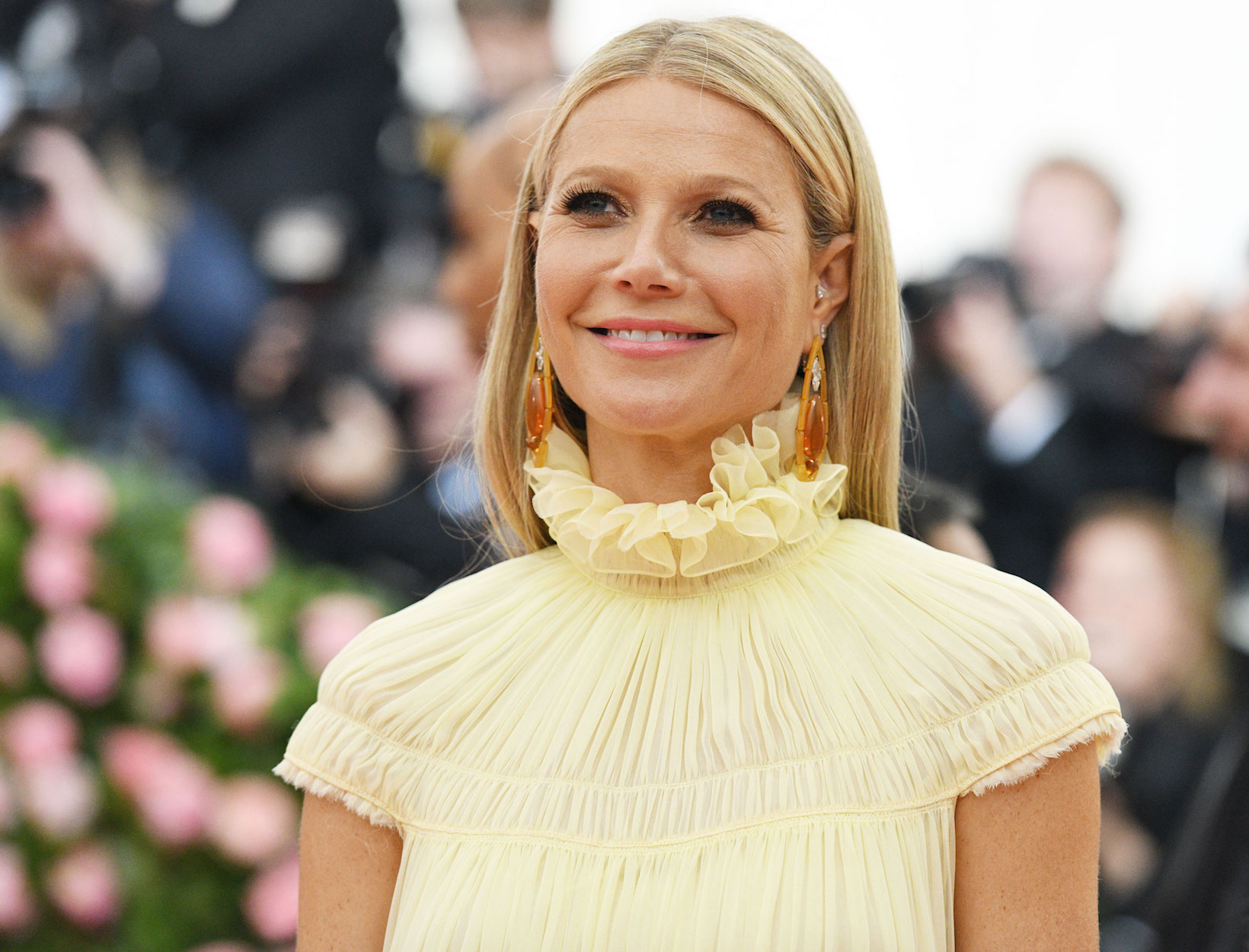 Gwyneth's Met Gala Strategy: A Skin Peel,
a Shot of Whiskey, and Two
(Long) Baths
If life gives you a lemon-chiffon gown from Chloé, figuring out the hair, makeup, and accessories to go with it is part of the thrill. GP started getting ready for her date on the Met Gala's hot-pink carpet with Chloé creative director Natacha Ramsay-Levi the night before. "I flew into NYC from Boston and went straight to dinner, but before bed I took a 'Martini' bath, and I swiped on my peel," she says.
10:30PM
(night before)
"It takes three seconds, and there's nothing like the glow you get the next day. I knew for the Met I was going to be wearing more makeup than I usually do—the plan was to go a little more intense with eyeliner—so feeling great about my skin was especially important. I think the more makeup you're wearing, the more you want your natural glow to
shine through."
"I'd had a crazy day of meetings and flights and dinner, so I needed this bath. I take a bath every night, but I especially love 'The Martini' when I've got a big event the next day. It's got five kinds of salt in it, amazing essential oils. It's
just epic."
8:00AM
The morning of the gala, GP started the day with a big glass of GOOPGLOW.
"This is an every-morning ritual but even more important when I want to look my best. It's an antioxidant superpowder that wakes up your skin and makes a serious difference in it all day and long-term. Plus, it's delicious—fresh and citrusy."
8:30AM
After a thorough cleanse with goop's Luminous Melting balm cleanser, GP pressed the new essence from Vintner's Daughter into her skin. "It's bracing, and it smells like apple-cider vinegar," she says. A few minutes later, she went through the pressing motions again, this time with the Vintner's serum: "My skin can get dry, and this stuff is
super nourishing."
1:00PM
Her makeup artist used what was in her kit, but a combination of pencil and liquid liner plus neutral shadow and plenty of mascara makes it easy to create a sexy, slightly smoky eye.
Line your eyes with black pencil; smudge to blend.
Line eyes again with liquid liner, as close to the lash line as you can get it. Use more pencil to intensify and/or blend out the line further.
Burnish lids by brushing on neutral shadow—Kjaer Weis's eye shadow in Grace is super flattering.
Multiple coats of mascara finish the look—go for inky and glossy.
3:00PM
Before running out the door, GP threw a favorite tinted balm in her bag, spritzed on some Shiso perfume, and did a preparty shot with Ramsay-Levi: "Gotta have some whiskey before the Met."
"It looks really bright, but it doesn't go on like that," she says of the Olio E Osso balm. "It's pretty and sheer. I swipe it on my lips, stain my cheeks with it, and I'm good."
"The dress is pure springtime, and this scent is so spring to me," says GP. "It has that feeling of crushed leaves and stems, with a bit of earthy forest floor. I love it."
And after the Met? Another bath, again in "The Martini." "I can't help myself," she says. "And this one was a looong one."