Makeup Artist Gucci Westman on Glowy Skin, Sourdough, and Butt-Flattering Jeans
Written by: Megan O'Neill
|
Published on: August 11, 2020
|
Updated on: August 2, 2022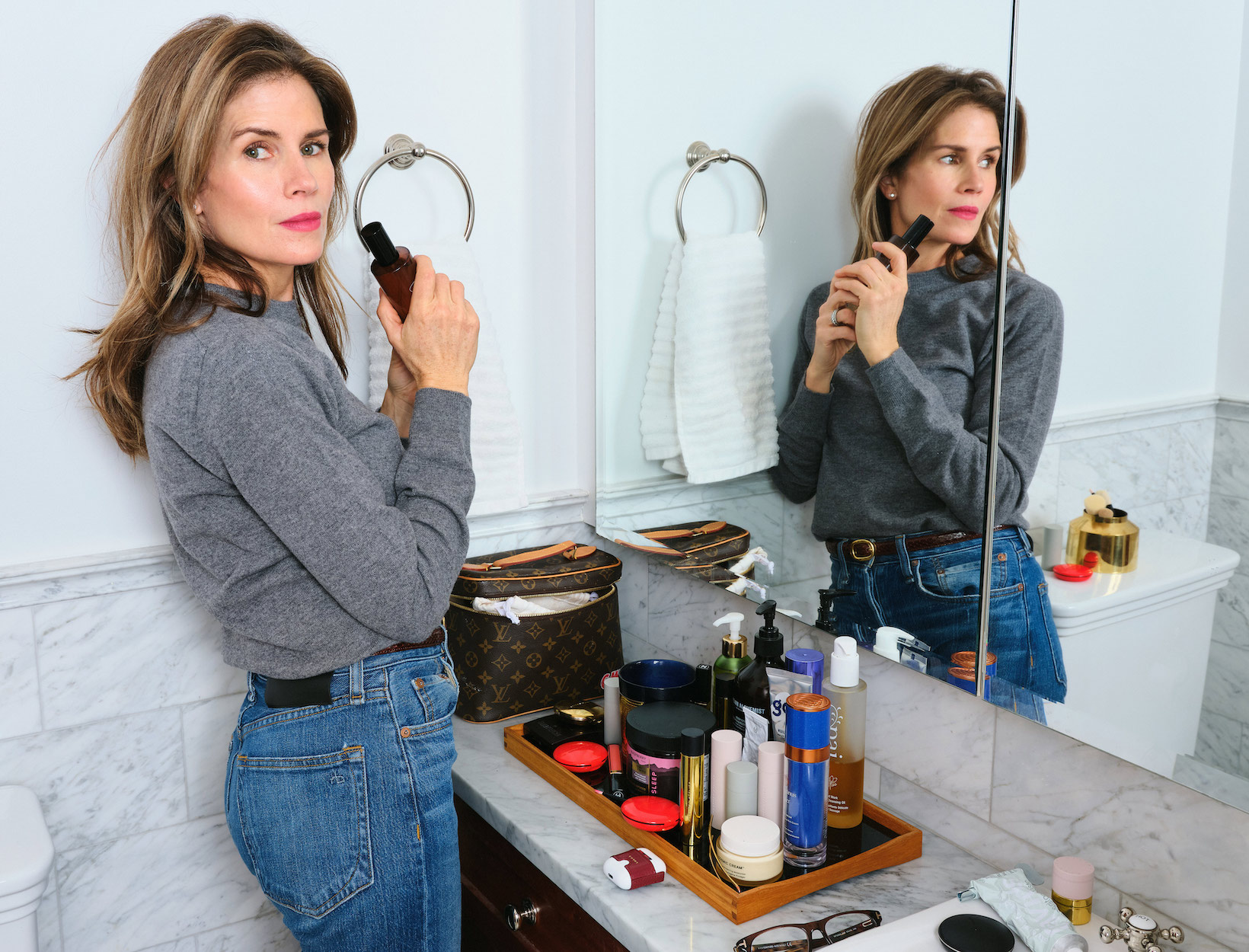 Hello, My Age Is: 50
Gucci Westman |
makeup artist and founder of Westman Atelier
"I'm turning 51 on October 18, and I feel stronger than I did when I was in my 20s," says Gucci Westman, legendary makeup artist and founder of Westman Atelier. "The older I get, the more determined I am to stay energetic and healthy."
She appears to have it figured out. Catch Westman in jean cutoffs during downtime near her house in the Hamptons, where she posts up with her husband and three kids on summer weekends, and her skin is sparkling, her hair is tendriled and sun-kissed, and her legs are shapely and gleamy. She swears by daily meditation, gentle yet powerful skin care (she has rosacea), sourdough bread, and of course her own gorgeously subtle pigments—a double-duty stick for concealer and foundation, silky bronzer, juicy blush sticks, and more. "You look more youthful when you're not heavy-handed with makeup," says Westman. "You want your skin to look alive, not covered in foundation." Here, she shares the reasons she thinks she looks and feels the way she does, along with brilliant advice on how to look and feel beautiful no matter your age.

1
Release the Sh*t That's
Bothering You
My parents were hippies, and we lived in a Kundalini ashram in California for two years starting when I was two. I have pictures of me meditating on a rock when I was three. My dad is Swedish, and he got into TM [Transcendental Meditation], Buddhism, and Hinduism. Meditation was always a big part of our lives, and I still do TM every day, in the morning. Meditating is a moment to spend on self-healing, releasing anxiety and stress. It's subtle, but I feel it when I don't do it. It helps you become more self-aware and get rid of the sh*t that's bothering you. You notice certain feelings, but you learn to not let them define you. It's a powerful practice.
2
Great Skin Care Is
(Almost) Everything
I have rosacea, so my skin care has to be super hydrating. At the same time, it has to appeal to me emotionally: I have to love the process of smoothing it on, and it can't feel too smothering or be too fragrant. I really like the cleanser from Pai, which is creamy, removes makeup super quickly, and leaves my skin so supple. I exfoliate with the goop Microderm exfoliator and the scrub from Goldfaden, too.
I typically like a cream or a butter after cleansing and before makeup, for glowy, plumped skin. Something I always look for in any cream is that it melts in fully so that it doesn't pill under makeup. This is especially important with eye cream, which can be too rich and not synergistic with makeup. The GOOPGENES eye cream has this really smooth texture; I like the slip it gives for makeup, and it feels so soothing and depuffing. And the face cream has a nice pillowy texture and gives my skin a beautiful, radiant finish.
3
Flatter Your Skin with
No-Makeup Makeup Tricks
As we age, it's all about finding little things about ourselves that we can enhance. Instead of trying to hide and cover, amplify the areas that you like—maybe that's playing up your cheekbones or brows or eyes. You see girls in their 20s or 30s with so much makeup on that they've made themselves look much older.
So no matter your age, you don't want to be heavy-handed with foundation or powder. For the areas we wish weren't there, we can make them look a little better. For example, the corners of my eyes are droopy, and the skin that droops is darker, so I deflect the darkness by gently dabbing on the highlighter shade from my eye-shadow pods. The gentle dabbing is the key here; you don't want to plaster it on. Then I go over the highlighter with a bit of my foundation stick and blend it with my brush. Then I smooth brown eye shadow—bronzy or chocolate shades—along my lid and over the highlighter and foundation outward, almost diagonally, so that it has a lifting effect. When I go out, I love black shadow, which is fun because it contrasts with and plays up my eye color.
Real skin is never just one color, so to get that effect, I use two shades of my foundation stick. I use number 3 as concealer to even out my skin where it's red around my nose from my rosacea, or sometimes between my brows and along my chin. I use number 4 as foundation over larger areas when I have an important meeting. It goes on a bit smoother, and the finish looks more refined when I use my brush.
4
SUBTLE PIGMENTS WAKE UP YOUR ENTIRE FACE
After foundation, the trick is to add some tone and color, and again, you want your skin to look like skin, not like makeup. I always want to look sun-kissed, though I tone it down in February and March because I live in New York City. I use my bronzer, but it never goes just on my cheeks—that looks like cosmetics, not skin. Instead, I smooth it under my eyes, across my forehead, over my eyelids, and along the bridge of my nose. I don't put it below the cheekbones, which creates a single tone on the face.
Then I add in color with my Lip Suede palette as blush, to give my skin dimension and more tone. Adding different shades makes it look authentic: When skin is all one tone, that's the curse—it's super obvious that you're wearing makeup. You can use any color from the palette; I tend to go for rosy shades. And sometimes I wear my blush stick in Minette, which is our one shade with some shimmer in it. The multitone idea is the same for skin as it is for hair, which looks the most natural and gorgeous when you have highlights and lowlights. Hair that's one color looks heavy, as if you're wearing a helmet, and the skin needs multiple tones, too.
Visualize the skin you want and create it. I promise it's not as hard as you think, and you shouldn't feel intimidated. Even if you feel like you have bumpy skin and are beyond frustrated, don't aim for perfection. Even out little areas and individual spots, with little dots of foundation here and there, playing up the features you love.
5
Good Gluten-Free Bread, Almond
Milk, and Dark Chocolate
A big part of feeling youthful has to do with how I eat. My parents were vegetarian and very conscious of nutrition, so I grew up not eating meat, not really having sugar, and always being aware of ingredients. (Of course I rebelled when I was 10. We'd just moved to Sweden and my parents were still figuring out the currency and unknowingly gave my brother and me something like $100, which we took to the store, and we bought as much candy as we could and stuffed ourselves walking home.)
I eat the same things most days. For breakfast, I have a slice of bread (my sister-in-law made a gluten-free sourdough starter—it's the gift that keeps on giving) with almond butter (the cold-pressed, chunky one from the brand Rejuvenative Foods is delicious) and a tiny bit of honey. Or I have avocado, cucumber, and olive oil on the bread. I make my own almond milk and mix it with a double shot of espresso, ice, and a little honey. And maybe some blueberries—I looove blueberries.
For lunch, I like a lentil situation, like lentil salad with lentil-sesame crackers. When my brother comes and stays with us, he makes delicious clean food for dinner: incredible fish tacos, halibut with dill-yogurt sauce, gluten-free lobster pasta. I try to be gluten-free, but of course if there's an excellent loaf of bread with olive oil, I crush that with a glass of wine and some Parmesan. I'm not a big sugar person—I'd rather have savory—but I have some dark chocolate when I'm fading from doing Zooms all day. The brand Lily's makes amazing chocolate that's sweetened with stevia but doesn't even taste like stevia.
6
A Once-a-Year Cleanse
My husband and I do a cleanse every January for the whole month. We've done it for nearly as long as we've been married, so about 13 years. No sugar, no alcohol, no flour, no inflammatory foods. It's so hard to be so rigid, and it's so boring. But I do feel like I look better in February than I do in December. And we feel good.
goop Picks
7
Find Your (Chic,
Body-Flattering) Uniform
Clothes can give you a big confidence boost and enhance how you carry yourself. When you're getting ready to go out and what you're wearing fits beautifully and complements your shape, you feel like you've nailed it. I love clothes, like great jeans that make your butt look cute—I always keep an eye out for those. And a lot of my sweaters I've had for years, ones I invested in that were maybe a little more expensive but that haven't pilled and still look amazing. I like to feel put-together.
goop Picks
8
Embrace Discomfort
Exercise makes you more aware of your posture and attuned to your body's strengths and weaknesses. Everything is so tied together—if you don't have core strength, you can develop back issues. It lifts my mood and makes me feel so much more productive when I physically exert myself. I sort of have a mantra: When I go on runs in this heat, I tell myself the pain I'm feeling is temporary—it's an hour out of the whole day—and so worth it, and I get to jump in the bay as soon as I'm done. I love not giving up., I'm running, streaming Taryn Toomey's The Class, and doing a beach boot camp once a week. If I'm too busy to exercise, though, I don't beat myself up.
9
Smooth and Defrizz Your Hair
My hair is super thick, and I'm constantly searching for something to make it smooth. It's especially frizzy right now because we're by the beach—it's basically not frizzy only when it's wet. I do a hair mask from Rahua about once a week. I love how thick it is, and it works as an antifrizz treatment. Hair oil also helps keep my ends smooth and seals in my color.
I wash with the purple shampoo and conditioner from Rahua to prevent my color from turning brassy. Right after, when my hair is still wet, I twist it up into a bun with hair clips from Deborah Pagani so that I get a nice wave without the kinks and bends that other hair clips usually leave behind—that's my texture secret.
10
laugh
Make sure you laugh enough and keep yourself inspired by getting your rocks off creatively—it's the key to feeling more grounded, comfortable, and confident in your skin and in your decisions. You settle into who you really are. It doesn't actually matter how old you are: Age truly is a mindset.
Shop our favorites from Westman Atelier