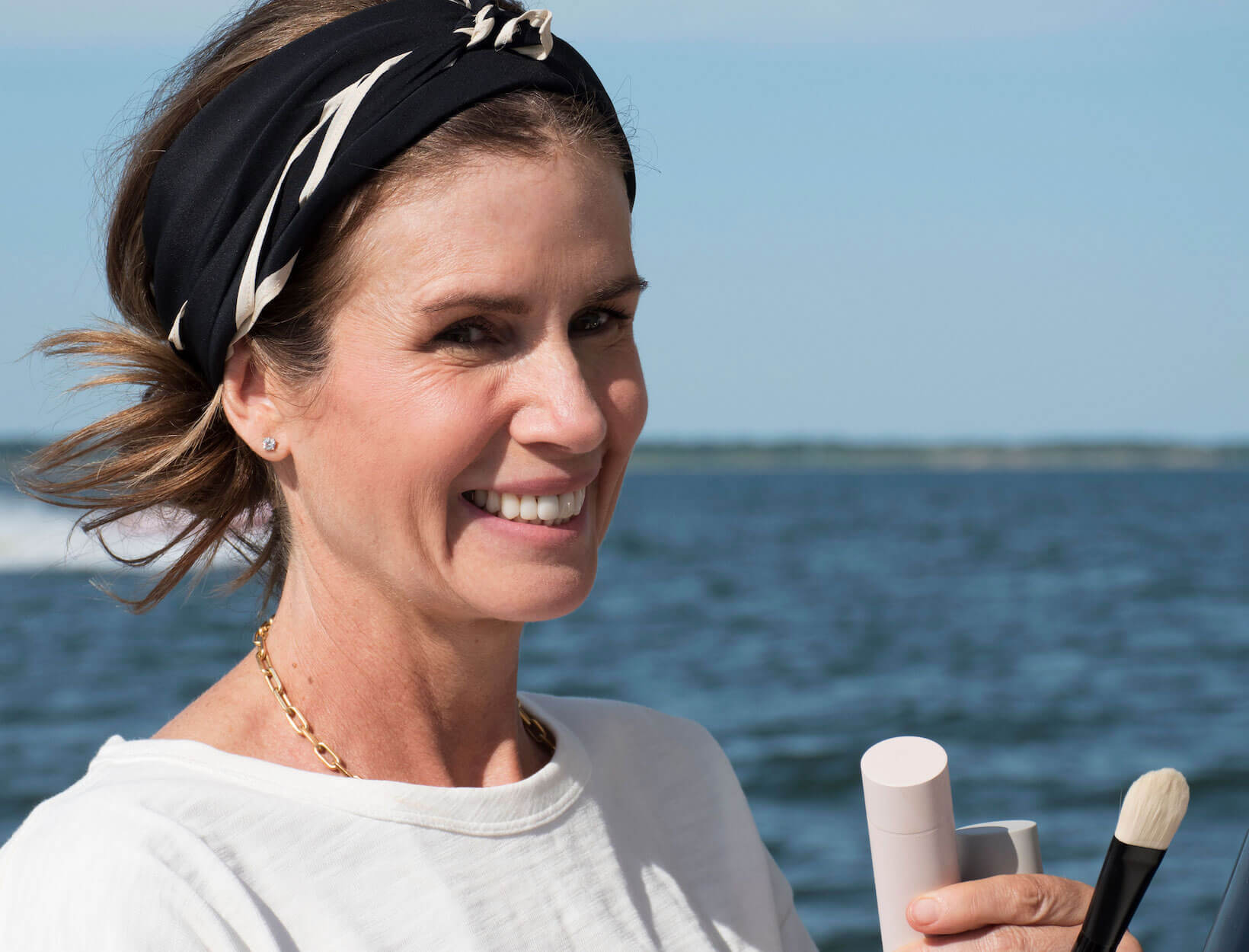 The Beauty Closet Questionnaire
The Empress of (Irresistible)
Clean Makeup
goop beauty editors Jean Godfrey-June and Megan O'Neill love to ask—and answer—questions. On their podcast, The Beauty Closet, they're doing both. To familiarize you with each week's guest, we came up with a goop beauty (and life) questionnaire.
THIS WEEK WE'RE TALKING TO:
Gucci Westman, makeup artist
and founder of Westman Atelier
On red carpets and photo shoots, makeup artist Gucci Westman's thing—what she's famous for—is glowy, natural-looking skin and a can't-put-your-finger-on-it air of glamour. She delivers the same look with her runaway-bestselling makeup line, which raised the bar on both luxury and cool in the clean beauty space. The story of how she got there starts with a big break at Vogue, then runway shows for major fashion houses, like Oscar de la Renta and Diane von Furstenberg, as well as movies, like Being John Malkovich and French Exit. After waking up to clean beauty and the fact that clean makeup lacked both chic and efficacy, she created Westman Atelier.
On this week's episode of The Beauty Closet, Westman gives Jean and Megan some incredible makeup tips, along with unforgettable stories about growing up with hippie parents and landing smack-dab in the middle of the fashion world.
LISTEN NOW
Westman's first product—a blockbuster foundation stick—blew us away with its no-compromises combination of coolness, performance, and luxury, and it definitely set the tone for what was to come: a makeup line that's one of the most covetable and irresistible on the planet, clean or conventional.
"It had to be on par with any other top luxury makeup brand," Westman says. "I have rosacea and skin sensitivities, so I want my makeup to do more than cover—it has to benefit my skin, too." (Here she is doing GP's makeup in the backyard before a Netflix premiere.) Westman is also amazing for tips—and she gives us some great ones below—not just for clean makeup but for skin care, shower, and hair, too.
First job?
I was an au pair in Paris. But when I was trying to pay for makeup school in LA, I worked at a frozen yogurt place—it was the worst job!
Currently in your goop shopping cart?
MUTHA body butter, Tammy Fender Bulgarian Lavender Body Oil, and goop's G.Tox 5 Salt Detox Body Scrub.
Favorite skin-care products?
The Skin Design London balmy cleanser, Tata Harper's Regenerating Cleanser, goop's face oil, and Tammy Fender's rose cream.
Product that was the hardest to make?
When you're formulating with clean, safe ingredients and you won't compromise on performance, every product is difficult to make. Our Eye Pods took us over two years—and we went through forty-five wand trials for our mascara!
What's your bestseller and why do you think it's that?
Such a hard question, but our Lit Up Highlight Stick and Baby Cheeks Blush are always top performers. Lit Up is the most sophisticated highlighter—it gives you facial-fresh skin in an instant. Baby Cheeks comes in such gorgeous, flattering shades. The formula blends like a dream, and it's so pretty on eyes, lips, and cheeks.
Three desert island items from your collection and why?
1. I can't live without my Beauty Butter Bronzer! I always want to look sun-kissed, and it gives me the most natural glow.
2. The Vital Skin Foundation Stick was the first product I had in mind when I started Westman Atelier. Its skin-nourishing ingredients have truly helped my skin. It feels weightless, and it gives you skin that just looks like skin.

3. I'm obsessed with our brushes. As a makeup artist, brushes are an extension of your craft. Ours are sustainably made in Japan by the oldest brush maker in the world. They feel plush and luxurious against the skin. They lend a refinement to makeup applications that can't be beat.
Drink of choice?
A good glass of French rosé.
Go-to weeknight recipe?
Gluten-free pasta aglio e olio, with broccoli rabe, lots of garlic, and crushed red pepper flakes.
Shower or bath?
If I have the time, always a bath. The goop dry brush, Herbivore's Coconut Milk Bath Soak, and Dr. Hauschka's Calming Body Cream are perfect bath essentials. I love to do a face mask while soaking, too. Dr. Nigma's treatment mask and Tammy Fender's Restorative Radiance Masque are super soothing and moisturizing.
Blow-dry or air-dry?
Always a blow-dry. And if I can't, I rely on Deborah Pagani's gorgeous hair accessories to whisk my hair up easily!
Typical hair look (and any key tricks or items it entails)?
Down with a loose, undone wave. My key trick: seeing the wonderful team at David Mallett on the reg. And I love Rahua Color Full Shampoo and Conditioner (they keep away brassiness), G.Tox Salt Scrub (so satisfying!), and Rahua Omega 9 Hair Mask, because it leaves my hair feeling hydrated and silky and I love that you don't have to leave it on super long to feel and see results.
Favorite hotel?
Almhof Schneider in Austria and Amanera in the Dominican Republic.
Best makeup tips?
1. Start with your lip color. It will help set the tone for the rest of your look.
2. Layer your highlight under your foundation for the most ethereal skin.

3. Instead of applying bronzer in a three shape on your face, use a fluffy powder brush and apply it in a horizontal motion. Sweep it across your cheeks, nose, temples, neck, and eyelids and under your eyes. Just don't go below the cheekbone. The horizontal application keeps it looking so much more natural—as if you've actually been at the beach all day. And always start with a light application. You can always add more if you want.
Proudest moment?
Having my three children.
Perfect Sunday afternoon?
Outside all day with the kids, going on a long walk, riding our horses, and then making a big family dinner.
goopiest habit?
Practicing Transcendental Meditation every morning.
Lipstick or balm?
I like to get both color and nourishment at once—from an all-in-one product like our Lip Suede or Squeaky Clean.
Beauty philosophy?
Never think you have to transform yourself. Real beauty is about an individual's substance and spirit.
---
Unsure of your shade? Wondering what the finish is like? Send a message to the pros at [email protected] for personalized assistance.
---
We hope you enjoy the products recommended here. Our goal is to suggest only things we love and think you might, as well. We also like transparency, so, full disclosure: We may collect a share of sales or other compensation if you purchase through the external links on this page.