GP's Backyard Makeup Session with Gucci Westman (with a Step-by-Step
How-To)
GP's Amagansett backyard made for a decidedly relaxing makeup studio when her friend, makeup artist Gucci Westman, came over to help her get ready for a screening of the Netflix series The Politician. The late-afternoon, late-summer light was perfect; there were vodka martinis and Aperol spritzes, dirty jokes, and even a wardrobe malfunction (or two). Westman was the woman behind GP's look at her wedding, and she's also the woman behind the brilliant line of glow-inducing, skin-coddling makeup essentials Westman Atelier.
Brushes (made in Japan by the oldest brush-making company in the world) and creamy makeup sticks (blushes! highlighters! foundation/concealers! bronzers! lip colors!) in hand, Westman got GP's glow going quickly. "I just want to enhance your skin and then maybe do some mascara and a really pretty, maybe reddish lip to go with that yellow dress," she said, dabbing furiously.
"Slap it on, girl," laughed GP. "My husband hates when I have red lipstick. But he's just going to have to cope."
Tricks like foundation as concealer and a little contour just beneath the cheeks amped up the glow further. "It's easy, and I just wanted to help extend this idea of amplified skin," said Westman. "I like seeing a woman's skin, not trying to completely transform it."
What blew GP away the most was the mascara: "Whoa—this is actually clean mascara? It's so good, Gucci!" GP tucked the mascara into her pocket and is still using it. "I just love it, full stop," she says.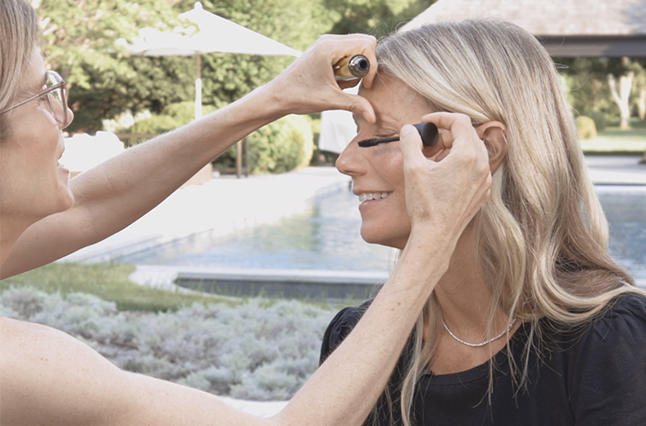 THE EASY STEPS TO
GP'S LOOK:
"Honestly, I love the idea that this is makeup just to enhance, and it's not this full-on war paint situation." —GP
1
2
3
4
5
6
7
8
9
THIS BOX IS THE SHORTCUT TO GP'S GLOW
Inspired by GP's lit-from-within glow, this chic boxed set includes everything you need for a naturally gorgeous, luminous, healthy look—your skin, but glowier.