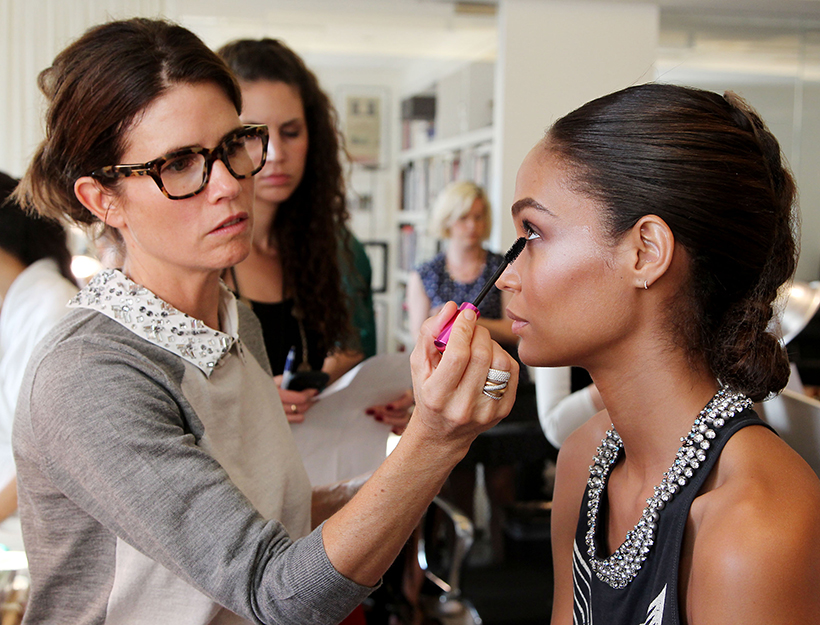 Gucci Westman Checks
Her Beauty Products
One of the most talented makeup artists on the planet, Gucci Westman travels a lot—for work and, with her three kids and husband (Rag & Bone cofounder David Neville), for pleasure. In either case, she checks her luggage: "I like to bring full sizes." she says. "There are always too many creams, liquids, etc." Those creams and liquids are more likely skincare than makeup; Westman famously focuses on making skin look incredible, so she's seriously devoted to prep, even when working backstage at fashion shows (above, at Oscar de la Renta).
Her heaviest bags may well have been the ones she packed for her favorite trip in recent history, a combination celebration of her ten-year anniversary, Neville's 40th birthday, and her brother's wedding in Ireland. "We went to Glastonbury for the 40th—I was seven-months pregnant—then Babington House for a few days, then Lime Wood for a few days. The wedding in Ireland was amazing, and we added a few extra days in the country with family. Then," she pauses, "we went to Portofino, to my favorite hotel, the Splendido, where we originally had our honeymoon." Pause. "Then Wimbledon back in England! It was epic!"
But even for short trips, Westman is beyond prepared—and her makeup choices are especially clean and nontoxic: "I mainly use a tinted clean sunscreen, and I love Tata Harper lip tints. I always bring RMS highlighter and contour and mascara from W3LL People, plus matte brown shadow by Kjaer Weis."
Skincare-wise, Westman's most devoted to moisturizer, especially SK-II's Genoptics and RX creams, which she alternates with 3LAB, Biologique Recherche's Crème Biofixine, and Sulwhasoo. Westman also loves face oil: "My favorite oil currently is In Fiore's Calme—it targets inflammation and redness," she says, "I also bring several types of Korean sheet masks to rehydrate skin properly after travel. I especially like the mushroom-based ones!"
For cleansing, she brings Drunk Elephant's Pekee bar, and Sarah Chapman cleansing balm. Her all-around essential, for everything from makeup removal to lip balm to extra-intense moisture, is Lucas Papaw: "It's a multi-use, natural balm that I just love," she says.
For body, Westman packs Tatcha Indigo body scrub, Tata Harper body balm, and Anthelios broad spectrum mineral sunscreen. "I also like the one from Sara Chapman." For lips, she goes with Omorovicza lip balm and Bite lip scrub.
Hair, like skin, gets treated to lots of moisture: Rahua's creamy mask, Purple shampoo and conditioner, plus a sun-protective oil spray from Kérastase.
Even internally, Westman is forever moisturizing with supplements like omega oils, probiotics, vitamin D, and more. "I love the women's vitamin from New Chapter," she says. "I bring it all when I travel." For jet lag, she increases her water intake—and adds lemon. "It also helps to go for a run or yoga class, or maybe a massage," she says. "To keep my energy up, I avoid bread."
That energy is especially important when she brings her kids, ages seven and nine: "I use the Lucas Papaw for after salt water and sun, and I love Fairy Tails Lifeguard shampoo and conditioner!"
Related: Pretty Wedding Makeup