The Fall Beauty Panel
We asked our go-to beauty team for their tips and tricks to get us through fall.
Makeup
---
Leslie Lopez
A step by step guide for getting a glowing and natural look.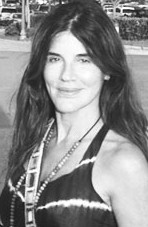 Skin. Always start by deeply moisturizing the face, eye area and neck. Leslie uses only a little foundation to even out the tone as the key is to let your real skin shine through. She also applies foundation to the eyelids as this helps give the eyeshadow staying power.
Cheeks. Apply a rosy toned cream blush (as this is the color people actually turn when they blush) on the apple of the cheek with your fingers and blend well. Apply bronzer to cheekbones, jawline, and temples to warm up the look.
Eyes. Use an eyebrow pencil that's identical to the color of your eyebrow and fill in following your shape. Then, put a neutral and translucent vanilla eye shadow all around the lid. Now, apply a taupe eye shadow from the corner of the eye to the middle, then switch to chocolate brown, concentrating it on the end of the eyelid. Leslie also applies a soft, thin line of taupe and chocolate brown eyeshadow underneath the eye. Always, always curl your lashes, pressing down for 20 seconds minimum along the entire lash for a natural curl. Finally, coat with brown mascara.
Lips. Finish off with a berry stain on the lips, applying with a lipstick brush.
---
Makeup musts for making your skin look young and gorgeous in the winter.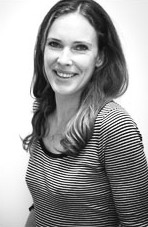 Undereye Circles. To help dark under eye circles disappear try an eye concealer that contains light reflecting pigments. In winter, the dark downward crease on the outer corner of the eye is more visible, dab a little of this eye brightener with your little finger here and it immediately gives a youthful lift to your eyes. Avoid using any powder under the eye area as this is incredibly ageing!
Puffy Eyes. A trick for puffy eyes is to place cold brewed Chamomile tea bags on closed eyes. The anti-inflammatory properties reduce the swelling and tighten the skin around the eye area.
Enlarged Pores. For enlarged pores around the nose, use an invisible pore minimizer under your foundation—this creates smooth and flawless skin.
Brown Mascara. Swap your black mascara for a dark brown as it's softer, warmer and more forgiving.
Lip Liner. For women starting to get fine lines around the mouth, it is essential to line the lips with a lip liner as to use lipstick alone will cause the lipstick to bleed. Choose a lip liner a shade darker than your lipstick to give the impression of full pouty lips.
---
Katey Denno
Denno offers a rundown on this season's key looks. Check out her great beauty blog, The Beauty of It Is.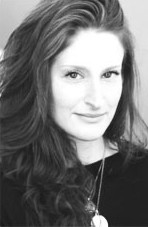 From left to right from Fall 2012 RTW: A thick cat eye in a bright blue at Anna Sui; sheer toned smokey eyes at Jason Wu; burgundy lips at Gucci and prominent, pretty brows at Marc by Marc Jacobs. All photos, Fairchild Photo Service.
"Whether it's slightly enhancing your brows (while keeping them soft and pretty), drawing a precise thick cat eye in black (or experimenting with it in a color), donning a sheer cool toned shade for a smokey eye, or painting your lips in gorgeous shade of burgundy or red satin, the message is loud and clear: keep the skin glowing and natural, the brows full and pretty, and have fun playing up either your eyes or lips when you feel like it."
Hair
---
We talked to George Northwood about getting hair back on track for the fall. He showed us how to do our own hair a few months ago.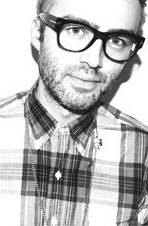 Good Trim. "After the summer, everyone's hair is dry and brittle from the sun and sea. So, come autumn it's time for a MOT—a good trim (nearer an inch to half an inch), a nice moisturizing treatment (some salons have treatments they put under heat to really penetrate the hair), and a general review of your cut and color for the new season."
Make Blowouts Last. "Prep the hair with your usual products and use a ceramic round brush (that's the key) and a nozzle, as this direct heat onto the hot ceramic really sets the hair in place. At the end, give your hair a light hairspray."
Hair Color
---
We asked Tracey to break down this season's popular hair colors, and how to do blonde the right way.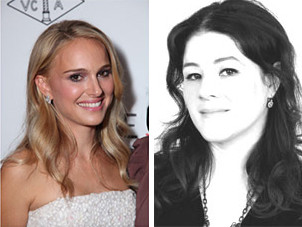 Natalie Portman goes blonde.
The Right Blonde. Currently I'm getting a lot of requests for multi-dimensional blondes a la Leslie Bibb and now, Natalie Portman. During the summer months blondes tend to go blonder, but when the weather starts to cool off I recommend toning it down a bit. To transition the "California Blonde" into the winter months I'll usually give her low-lights while still keeping the tips light—this warms up the overall look yet gives her a multi-dimensional and natural look.
Nails
---
Nadine Ferber
The owner of the New York salon, tenoverten, tells us about this season's best nail colors.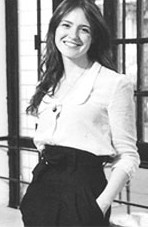 Oxblood. Oxblood was a big trend in accessories for Fall 2012, but if you can't invest in an of-the-moment bag, you can still have an on-trend manicure.
Matte Red. Matte red lips were also huge on the runways for Fall and for Spring 2013 (See Rochas' spring collection)—update a classic, ladylike red manicure with a matte topcoat.
Taupe. Lately, we're seeing taupe as "the new neutral." Finding the right shade for your skin tone is key to nailing this trend, but when done correctly it looks natural, effortless, and chic.
Pale Gold. Pale gold polish is a great choice for this season; it's festive, but not ostentatious—perfect if your social calendar has you going from the office to a holiday party.
Navy Blue. For those enamored of darker colors, but bored of black, navy blue is a chic and unexpected alternative.
Related: Fall Makeup Products