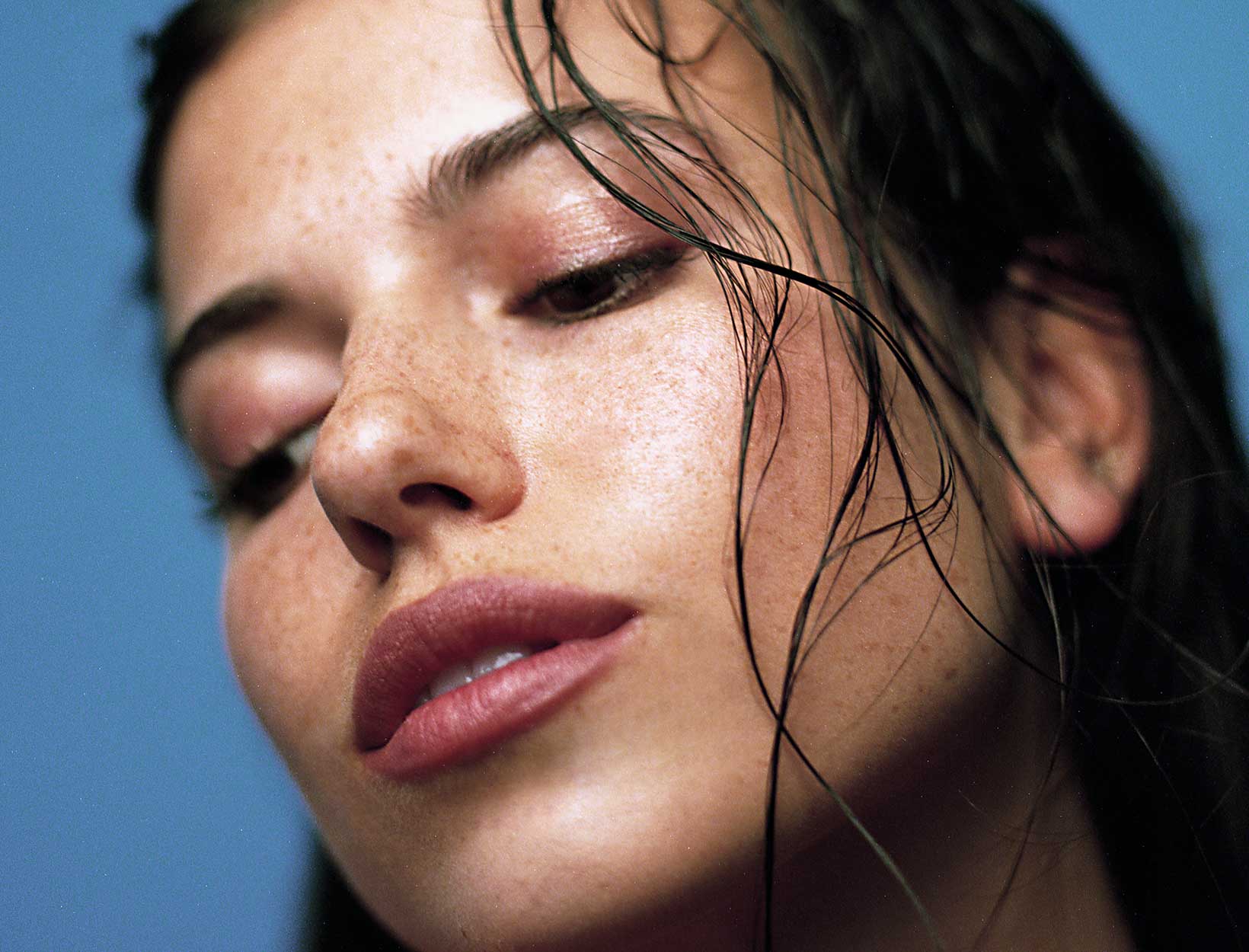 The Prettiest (and Easiest)

Makeup for Summer
Here's a counterintuitive makeup-artist secret: You can use a lot less makeup if you wear brighter colors. Summer—when glowy, healthy skin is more on display—is when this trick is most effective. "Adding sheer, intense color to your eyes, cheeks, or lips is an easy way to brighten your face without wearing much makeup," says LA makeup artist Jillian Dempsey (famous for her vibrating face bar, another foolproof face-waker-upper). "Bright colors can be really sheer and still enhance your natural glow, so you get that no-makeup makeup look with even less product."
The easiest way to pull off any color—whether it's hot pink, deep blackberry, bright poppy, or fiery copper—is to apply it as a whisper, as opposed to a full-on statement with lots of texture. As clean, nontoxic tech has advanced, the new pigments for lips, lids, and cheeks are more beautiful than ever; pick a shade that suits your skin and start experimenting. Applied with restraint, every one of these shades is sexy (for day or night), easy, and gorgeous on absolutely every skin tone.
1

LIPS AND CHEEKS

Dab color on both your lips and cheeks for an easy, pulled-together look that really flatters the skin. Whether your vibe is more tinted balm or shiny gloss, juicy stain or creamy lipstick, vibrant color or low-key flourish, a warming flush instantly brightens your entire face.
Bright-Red Lipstick

Kosas
Weightless Lip Color
goop, $28

Pro Tip

Exfoliate away dryness with this gentle lip sugar scrub before you apply pigment for smoother, softer, plumper-looking lips.

Rose-and-Sugar
Lip Scrub

French Girl
Rose Lip Polish
goop, $18
2

CHEEKS

The idea is a softly invigorated flush, as if you've just jogged on the beach and the energy is surging through you. Cream formulas enhance a dewy sheen, while powders last longer, especially on oily complexions. Apply either at the apples of the cheeks, then blend upward at an angle for a soft, lifting effect.
Electric-Coral Cream

Jillian Dempsey
Cheek Tint
goop, $28

Dusty-Pink Powder

Beautycounter
Satin Powder Blush
goop, $30

Bronzer/Luminizer

Blend a little bronzer on top of blush for a gorgeous sun-kissed burnish. It can also go just about anywhere else—the bridge of the nose, Cupid's bow, chin, lids, or collarbones. Warm rose gold lights up darker skin tones beautifully, while cooler, shimmer-flecked formulas flatter lighter skin.
Cool-Peach Shimmer


(Great for Paler Skin)

RMS Beauty
Peach Luminizer
goop, $38

Warm Rose Gold


(Great for Darker Skin)

(M)anasi 7
Bronzelighter
goop, $58
3

EYES

A faint wash of color across the lids is magic: low-key enough for day and fittingly moody for a night out. You can layer the copper and pink shades below for a full-on metallic effect, use either on its own, or smooth on the sheer plum lid gloss from Jillian Dempsey, a gleamy flourish that's the sexy essence of summer itself.
Shimmering Copper

Rituel de Fille
Ash and Ember Eye Soot
goop, $38

Chic Metallic Pink

RMS Beauty
Creamy Eye Polish
goop, $28

Sheer Plum

Jillian Dempsey
Lid Tint
goop, $28
4

Finishing Touches: Mascara and

a Hydrating Makeup-Setting Mist

Fluttery, shiny, inky lashes are sexy, transformative, and the easiest way to look instantly more rested. (The one from Juice Beauty glides on like a dream and stays put.) Another trick we love for an instant refresh: Spritz on a hydrating face mist to set makeup and to revive it later in the day. The jasmine-infused one from May Lindstrom smells incredible and leaves skin gleamy and nourished.
Defining Mascara

Juice Beauty
Phyto-Pigments


Ultra-Natural Mascara
goop, $24

Gleamy Face Mist

May Lindstrom
The Jasmine Garden
goop, $70