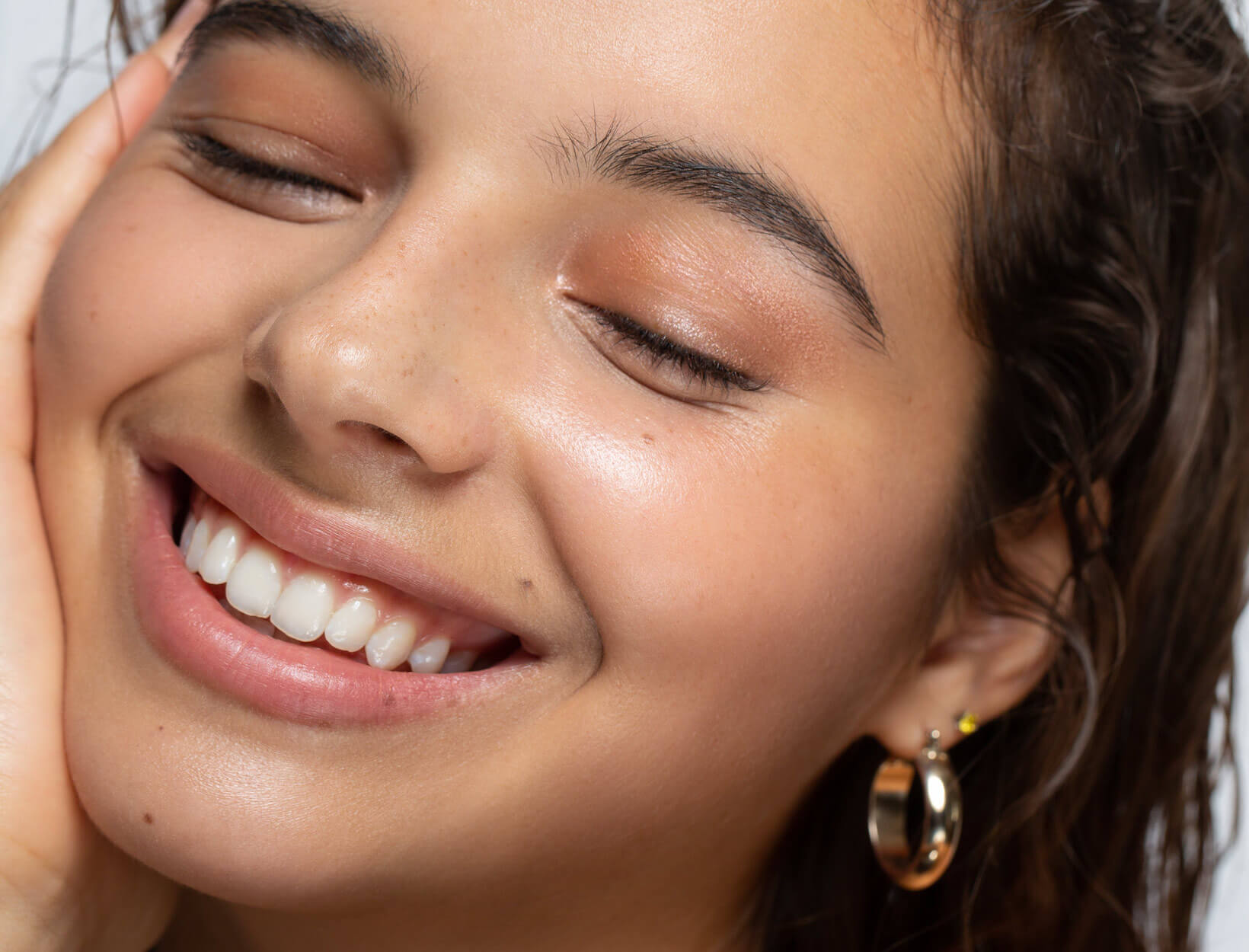 An Easy (Super Pretty) Spring Makeup Look
We're all finding different ways to self-soothe—cooking up a storm, streaming live workouts, scrubbing down the house, or, for staying-in date nights or glass-of-wine hangs with friends over FaceTime, a few swipes of face-flattering color. We asked LA makeup artist Emily Cheng for her take on something easy and uplifting, so she focused on natural, glowy, inherently uplifting pinks. "On almost every skin tone, pinks are instantly soft and also warming," says Cheng. "They're just so easy to wear."
The New Way to Wear Pink
Soft, diffused pink all over the face gives any skin tone a fresh, effortless youthfulness, says Cheng: "I love pink because it gives an instantly dewy, refreshed look. Adjust the shade depending on your skin tone." Staying within one color family ties your look together, says Cheng. "Plus, I love it when I can use the same thing for cheeks, eyes, and lips," she adds. Start by picking a favorite creamy shade or two, then follow Cheng's (incredibly easy) tips for a subtle springtime glow.
1

Cream Formulas
Are Most Flattering

"Not only do creams give skin a radiant quality; they're super easy to work with," says Cheng. "You can apply with your fingers. Layer on more if you want to up the intensity, and if you've applied too much, just blend it out. Creams are super forgiving that way."

2

Satin or Matte
Finishes Work Best

"If you're using a lip product all over the face, skip anything too shiny or glossy, which can end up looking greasy on the cheeks," says Cheng. "Stick with satin or matte." The texture of this gorgeous formula is a perfect balance between the two.

3

Press the Color into
Your Skin for a Natural Look

"Apply color like a stain—gently working it in so that it doesn't look like it's floating on top of your skin," says Cheng. "This makes it look like the color is coming from within. You can always layer on more, but I usually start with one dab on each cheek and a couple on my lips." This sheer hibiscus shade is flattering on many skin tones—all but the palest of us love it for day. And the striking plummy shade is ideal for a more evening look.

4

The No-Technique-
Needed Blend

Once you've dabbed on the color, use your fingers to smooth it into your skin. "Work in an upward circular motion, buffing out the color and softening any edges," says Cheng. "If you've applied too much, just blend out." If you're feeling really cautious—or like to do this whole thing on the go, without a mirror—use a super sheer formula like this (it's one of our all-time favorites).