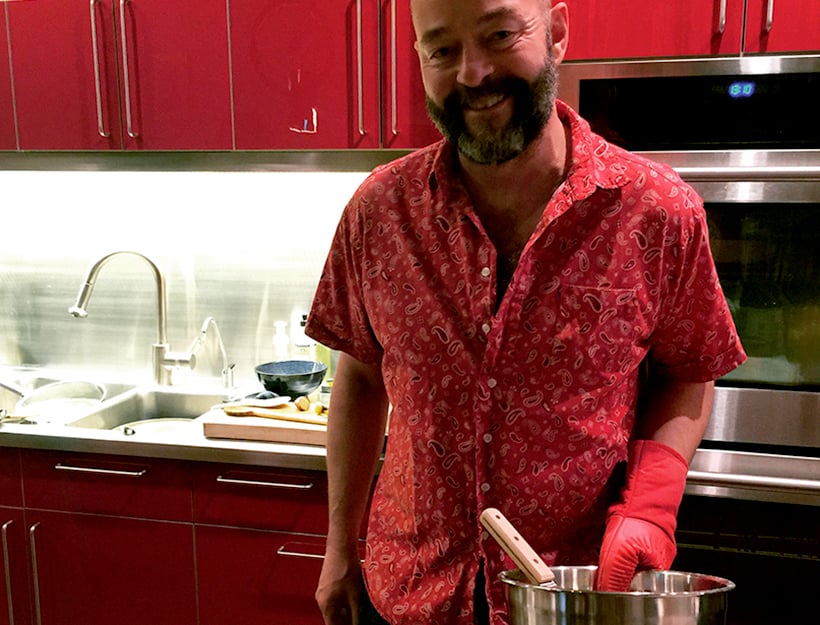 The Brilliant Makeup Artist Dick Page…Cooks!
Dick Page is one of the most sought-after makeup artists in the world. He grew up in the U.K., where he had no formal beauty training, and volunteered his services anywhere he could. And then, in 1987, he found himself working with a then-age-15 Kate Moss and Corinne Day in The Face, and put his name on the map. And then he became really famous when he did the Calvin Klein show in '93 and daubed models' eyelids with Vaseline. In the intervening years, he's done every famous face (including GP's), every major campaign (Saint Laurent, Miu Miu, etc.) and every runway (Michael Kors, Victoria's Secret, etc.). But the best part about Dick Page, we've learned, is not what he can do with foundation—it's what he does when he comes home from shooting with the world's top photographers. On his cheeky Instagram handle, @dickpageface, he documents the incredible meals he whips up, like cornmeal crunchy pan fried gochujand cod with black rice, purple carrots, sweet and sour collard greens, cilantro and lime. And so on this gray day in downtown New York, we have asked him not for a makeup tutorial, but to cook.
And so Dick Page stands there in his kitchen, hovering over red perch from the farmer's market with long-simmered, homemade kimchi, and black rice. The finishing touch is…more kimchi, from one of three earthen crocks along the counter, all in various stages of ferment. "It's a French thing," he says, adding a dash to each plate. "You always add in a little bit of whatever it was you started with—say it's butter—right at the end before you serve something."
It's a trick that works for cooking, and in a weird, Page-ian way, also works for makeup. "It starts and ends with the skin," says Page, who along with being one of the biggest makeup artists on the globe has been he artistic director for Shiseido since 1997. His emphasis on skin, he always laughs, should have put him out of a job by now: "If everyone listened to me, I'd be bankrupt," he says.
Yet there's no denying Page—in his bright-red kitchen, cooking in a bandana-red button-down—loves color, and adores a cream, a powder, a line, a texture. "It's no badge of courage, wearing no makeup," he says. "It's fun, and it's temporary—why not enjoy it?" It's the emphasis on perfection that makes makeup un-fun, he maintains: "I'm sorry—all the beigey and the contouring? I missed the meeting where they decided all people's faces have to be contoured. The Instagram-y transformations? People have been beiged out of existence! It just doesn't have to be beige! And stop with the drag eyebrow, too!"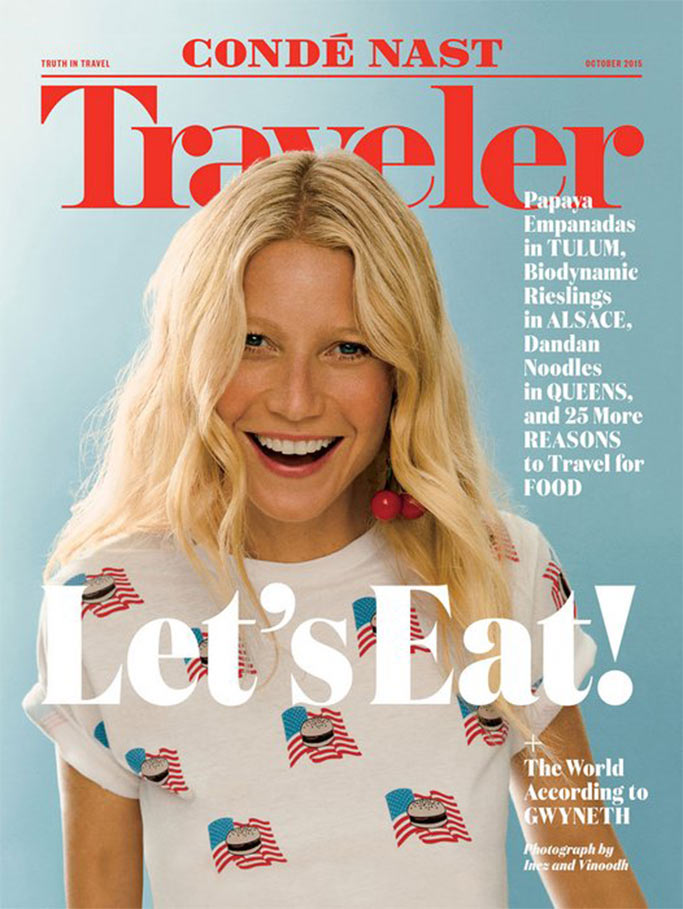 Dick did GP's makeup for this Conde Nast Traveler cover last year.
In place of transformation/perfection, Page likes makeup with energy and movement, above all. "People are always thinking of how makeup looks in a picture, but we're physical, mobile beings—we're expressive, we're not frozen in a moment. Makeup should be about animation."
And of course, color—specifically, red. "It always boils down to adding a bit of red—it makes anyone look better," he says. "I hate to be reductive, but red is like, how not to look horrible."
He smiles, flipping a Rickie Lee Jones album over on the stereo. "Underneath, it's all red, all blood." Page worked in a slaughterhouse from ages 13 to 18. "It's the color of blood and sex and death—it's primal. If you have a red lipstick you can dab it on your cheeks, your lips, even a little up above your brows. Just a trace of red—you could be at death's door and suddenly you look better."
Page's current favorite, Shiseido Perfect Rouge in Dragon ($25, shiseido.com), is appropriately full-on. "But I love them all: Carnation!" he enthuses. "Poppy! Ruby-copper!" In place of all the beige, he favors golds and pearlescent shades, usually powdered shadows that he likes to mix with cream or gloss. "It's fun, it's pretty," he shrugs. "Why not? I like the shadow creams from Shiseido—Yuba, Meadow, Mist..all good." (Guess who designs Shiseido's colors?)
The full-face, every-box-checked type of makeup is unsurprisingly not his thing. "People fall into this trap of doing it all—if you do every bit of makeup, it loses its energy. Keep it simple. I think if you do a bit of a lip and a cheek, you're pretty much there for most situations. You need some flesh, some reality."
That flesh needs care, to be sure; Page likes a simple routine. "Focus on protection," he says. "You should always have a layer of something on your face when you're out, to protect against the sun, and against pollution. Shiseido Wetforce Sun Sensitive SPF 50, a physical sunblock formulated for sensitive skin ($42, shiseido.com) is amazing. Beyond that, you need a simple cleanser to get the crap off at the end of the day. Let your skin breathe, don't irritate it, keep it basic—people go too crazy."
His feeling on food is much the same. "I'm not a nutritionist; I'm lucky enough to eat well—it's sort of like what Diana Vreeland used to say, 'The first thing is to arrange to be born in Paris.' Not everybody's lucky enough to eat well. It's a luxury; count your blessings. All the fashion people are always juicing; I'm like, eat the actual food, the real thing. It isn't that complicated."
Page goes to the farmer's market practically every day. "The fish guy that comes today is so awful," Page waves a wooden spoon in the direction of the still-sizzling red perch. "He just hates me! He's such a —-, but what can I do? He's got great fish."
Ingredients count for a lot, in food or in makeup, but in the end, it's what you do with them that matters to Page. "The freshness is in the hand—the human hand," he says. "It's all about the touch." His cozy lunch or dinner favorite recipes, below, turn on the same principal:
Reds for Everyone
Eat at Dick's