My Morning Routine
Out of Office Forever (on a Workday)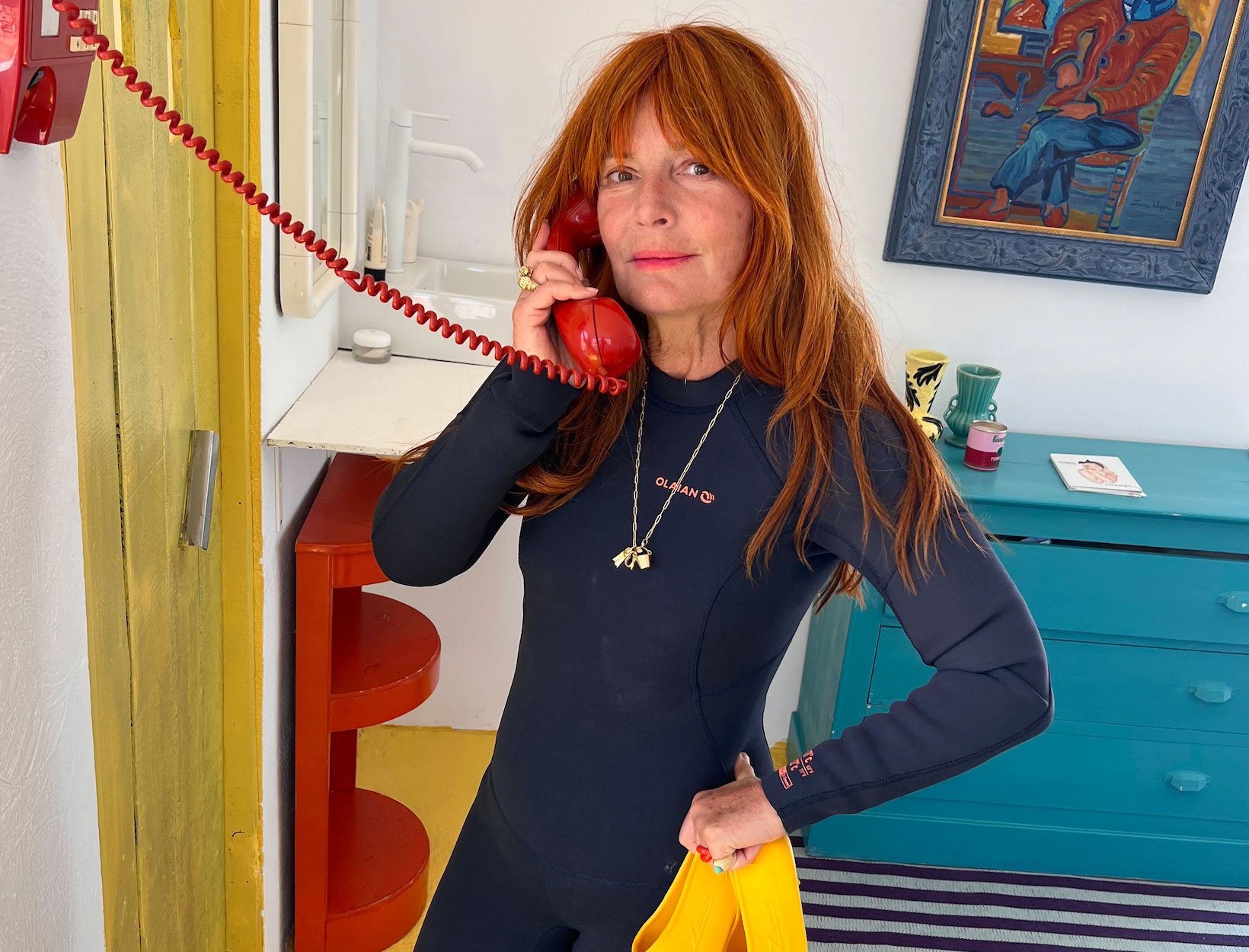 She's almost always working, never without lipstick or her trademark henna-red hair, and she travels pretty much constantly, but Celine Kaplan focuses on feeling out of office pretty much every day. The French-born New Yorker has run her own busy public relations firm for over a decade, but this year she added cofounder to her résumé, launching a new brand, OOOF (Out of Office Forever). "It's an eclectic collection inspired by our years in fashion, as well as our travels around the world—my partner in crime is Elizabeth Holder," says Kaplan, who bounces between New York, Paris, "Upstate Paris" (Wimereux, the French coastal town where she grew up), and, most recently, a small fishing village near Lisbon.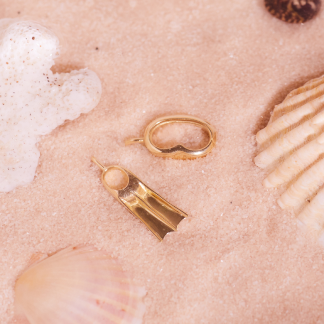 OOOF's first drop, the lighthearted Splash Collection, is jewelry (think chic diving-flipper charms) done in 18-karat gold. "It sets the tone," says Kaplan. "I love luxury, but it's got to be super fun." Future drops involve vintage fashion updated with new embroidery, unique ceramics, and more. "It's what we love," she says. "There's no agenda beyond that."
Her average workday is similarly eclectic and flexible. "When you have two jobs and work between at least two different time zones, it's hard to be super structured," she says. "Depending on client needs, events we're throwing, or OOOF-ing, every day is different." Regardless, she always starts at 9:15 a.m. "That's my structure," she says. "Things need to get done."
6:15 a.m.
---
I wake up to my alarm. I caffeinate—two espressos with almond milk in one cup—then glance at emails, WhatsApp, etc. Then I have a fresh-squeezed pink-grapefruit-and-lemon juice.
7 a.m.
---
I work with my personal trainer on Zoom for an hour—it sets the tone for the whole day. She's a former dancer who's tough and pushy enough for me: an iron fist in a velvet glove. I used to work with her only in person, but COVID taught me a thing or two about Zoom, so now I make it a daily event. Afterward, I check my phone for more messages, emails, and notifications (not very OOOF, I know).
8:05 a.m.
---
In the shower, I try to minimize plastic, so instead of a plastic bottle of shower wash, I use a soap with goat milk or a monoi one for the scent (it tricks me into thinking I am OOO). Then I rinse and cleanse my skin with some cold water and the Active Renewal Cleanser from Vintner's Daughter—my skin is really oily, and if I use a cleanser that depletes all the oil from it, my oiliness gets worse. This one is so nice: My skin feels clean, but the cleanser doesn't strip away all the oils.
I shampoo and condition with Rahua. I've been dyeing my hair with henna since I first discovered it on a trip to Turkey when I was 17 or 18. Today I have it done at Christophe in Paris. I love the henna—it's drying, and that's great for my oily hair, but now, especially by the end of summer, I need to moisturize. And the Rahua is so moisturizing and clean with no silicones, and it smells so good—a very OOOF scent. And I have to say, I just love the name, too. (Names make a difference—we went with Gwyneth's advice about having lots of o's in a name for OOOF.)
Vintner's Daughter

Active Renewal Cleansergoop, $98.00

SHOP NOW
8:15 a.m.
---
Out of the shower, I spritz on Dew Mist. I always mist after washing, morning, night, and all day. I don't wear a lot of makeup, and misting keeps my skin looking dewy but not shiny. Then I smooth on de Mamiel Fatigue Fix; I don't use a lot of stuff on my skin, and I love a two-in-one. I need to moisturize, and I need to treat my skin (my fave facialists, Crystal Greene and Raquel, tell me so). Even though my skin can get really greasy, it gets dehydrated without help—the Fatigue Fix serum is serious help.
8:20 a.m.
---
We enter the "I have nothing to wear" part of the day mixed with a bit of #shopmycloset.
8:40 a.m.
---
I do a little makeup. For my skin, I'm loving the liquid drops from Westman Atelier, which make me look like I'm on vacation. I do a smudge of Victoria Beckham eyeliner in Bordeaux. Red is usually a no-no if you have red hair, but I love it—it's the perfect liner for people who don't know how to do liner. It's multipurpose and creamy, and it doesn't smudge unless you want to smudge it.
A two-in-one is everything, and this lip-and-blush tint from Ere Perez is the best. I love the beetroot—it helps me make believe that I just woke up like this. It's the ultimate no-makeup makeup.
I can go for days without makeup, but I never go without a lip, ever, even to go swimming. I love all these colors—I alternate—and the shine on every one is just so chic.
Westman Atelier

Vital Skincare Complexion Dropsgoop, $68.00

SHOP NOW

Ere Perez

Beetroot Cheek & Lip Tintgoop, $30.00

SHOP NOW

Westman Atelier

Squeaky Clean Lip Vaultgoop, $228.00

SHOP NOW
8:45 a.m.
---
The ritual I enjoy is choosing my scent for the day. Francis Kurkdjian, a friend and former client, told me about a fragrance wardrobe. "Celine, would you have only one pair of shoes?" he asked me. So I really alternate—depending on whether it's summer or winter or what my mood is.
8:50 a.m.
---
Another favorite part of the morning: jewelry curation. I like deciding which unexpected combo to wear that day. I think of jewelry as my armor—more is more.