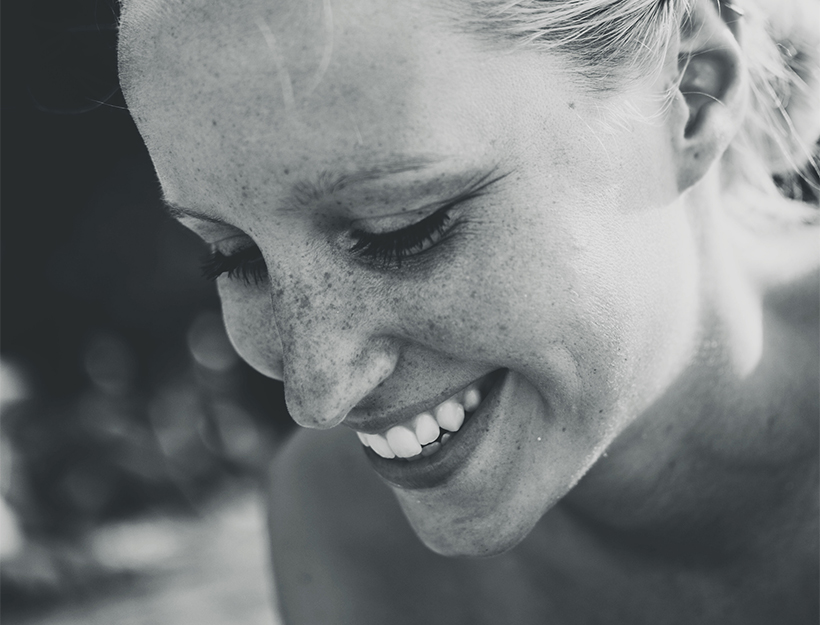 Barely-There—But Really Pretty—Makeup
A fresh, natural, barely-there face always looks fantastic, no matter the season. Healthy, glowing skin makes a huge difference, as does a light hand and a few good tricks. Here, four simple-but-brilliant steps to flattering, no-makeup-makeup:
1. Moisturize
The key to making your skin look great—no matter how little or how much makeup you wear—is serious hydration. The right cream, lotion, oil or SPF leaves you glowy, plumped, smoothed and firm, so you need less makeup in the first place. Pick the one you love; just make sure it has no exfoliating properties—makeup and any sort of skin peeling do not mix.
If your skin's not terribly dry, an SPF can be your hydrator; clean SPFs with titanium dioxide like John Masters SPF 30 Mineral Sunscreen ($32, goop.com) often have the added benefit of slightly blurring lines. If your skin's more dry, put SPF on first, then a moisturizer. Lavido Anti-Age Hydrating Cream ($52, goop.com) is a brilliant, un-exfoliating day cream, perfect under makeup. Smooth it on, then wait a second; if you're using a more intensely hydrating product like the super-moisturizing RMS Raw Coconut Cream ($18, goop.com) or Rodin Luxury Face Oil ($170, goop.com) wait more than a second (three to five minutes) before starting in with makeup.
2. Skin
Once the hydration's sunk in, look in the mirror. Does your skin tone need evening? Is there a dark circle or blemish you're wanting to erase? For a (faintly but significantly) skin-evening effect, foundation/bb cream/tinted moisturizer—we love Dew Skin SPF 20 from Beautycounter ($45, goop.com)—is what you want; apply with fingers or a brush, incredibly sparingly. You can always add more. And remember what you're accomplishing—a vague smoothing and perfecting. You are not covering up anything: that is the job of concealer.
Look at your face again, take a brush, dip it into your favorite concealer (RMS Beauty "Un" Cover-Up, $36 on goop.com is a fantastic pot formula), dab the concealer only onto precisely what you want to cover, and then pat, don't rub, to blend. (See here for our ultimate easy concealer application tips.)
3. Eyes
The idea is to see your eyes. Depending on the thickness and/or darkness of your lashes, you might want the tiniest amount of liner, dotted as close to the lashline as humanly possible, to give extra definition: Take the brush (loaded with powder or cream liner), or pen, or soft pencil and place it at the base of your lashes—don't draw a line, just place the color in one spot, then place a little bit more right next to it. Thin pens are especially easy to do this with, or thin brushes used with cream or powder; W3ll People makes a gorgeous, ultra-thin liquid liner ($18, goop.com) that's incredibly soft and easy to apply.
Once you've got a little definition going, apply your mascara—you'll find you need less once you've put on liner. Juice Beauty Phyto-Pigments Ultra-Natural Mascara ($22, goop.com) is buildable and resists later-day downward-drift.
4. Lip/Cheek
For true all-natural fresh-faced-ness, choose lip and cheek items with little or no texture—stains and balms are ideal. But cream formulas are fantastic used as stains: Apply the lip or cheek color, then blot with a tissue 'til all you see is faint, lit-from-with color. Colors with a lot of brightness enliven your whole face—hot pink is especially flattering on practically every skin tone—and the lack of texture makes them more wearable and natural-looking—try the Olio E Osso Balm ($28, goop.com).
For lip, finding the ultimate your-lips-but-better shade is worth some experimenting; find the perfect one and you'll use it for life. Some good contenders: Tata Harper Lip and Cheek Tint ($35, goop.com), RMS Lip2Cheek ($36, goop.com) both come in gorgeous, wear-them-every-day colors.