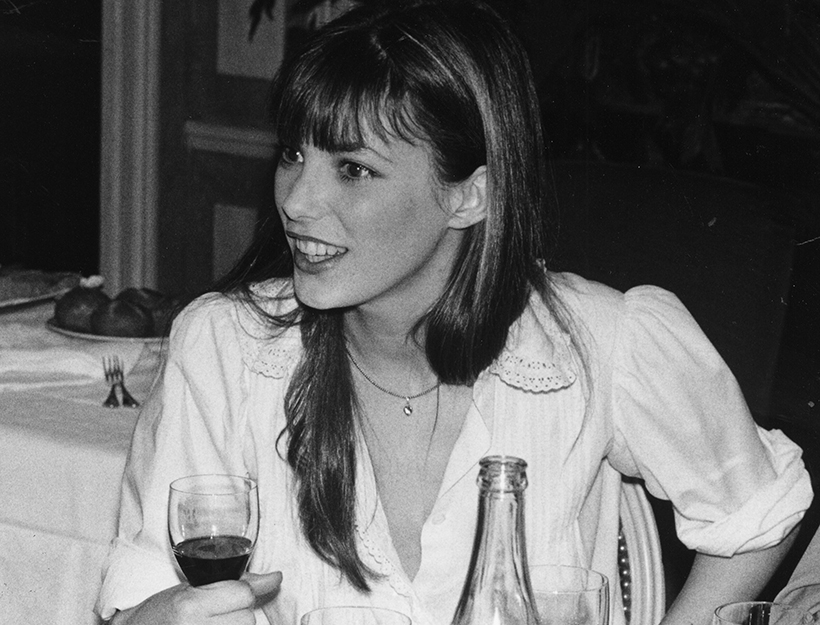 13 Rules for Really Pretty Party Makeup
A party is about 1,000 times more fun when you feel like you look your best. The best sort of dressing up involves an element of playfulness and a sort of ease; makeup should feel that way too, whether you're feeling daring or wanting something more subtle. "Elegant with kick works for most people," says Dolce & Gabbana Beauty makeup artist Christian McCulloch, whose evening looks—for both editorial and real-life red-carpet—manage to be stunning in terms of both drama and sheer prettiness.
Start (and perhaps end) with amazing skin.

Whether you wear makeup or not, treating your skin with care before a party will make you look your glowiest regardless. Many makeup artists insist on starting with a mask; if you're using an exfoliating one, try it out before the day of the party, so you aren't surprised with unexpected reactions. That said, a gentle but thorough exfoliation is the best glow-inducer there is. The miraculous Green Apple Peel from Juice Beauty ($48, goop.com) is made with organic juices, alpha- and beta-hydroxy acids, resveratrol, and vitamin A derivatives so it sweeps away every last dead skin cell, reinvigorating skin and leaving it fresh, refined, and practically poreless.

For those who don't want exfoliation but want to plump, moisturize, and detoxify just the same, the Restorative Radiance Mask from Tammy Fender ($235, goop.com) is packed with roses, rosewater, and a miracle clay that hydrates like crazy, leaving skin firm, dewy, and glowy.

Rinse off your mask with the coldest water you can handle (it'll wake you up, depuff eyes a little, sort everything out) and follow immediately with face oil. The supremely luxurious Beauty Elixer 1 1,000 Roses from Kypris ($225, goop.com) sinks into your skin, leaving it soft, velvety, and looking, if not like 1,000 roses, most definitely 1,000 bucks.

1.5: EXTRA: At-your-desk, after-work skin-prep shortcuts. A treatment-soaked cloth mask—McCullough likes the Dolce & Gabbana Aurealux ($169 for six, saks.com)—left on for five minutes will recharge skin with moisture; as you take it off, use the cloth to wipe away any remains of the day's makeup, if you haven't already. Spritz skin with Coconut Moisturizing Face Mist from Lavett & Chin ($32, goop.com); smooth on face oil or cream, apply a thick coat of lip balm, and wait another five minutes before starting with any makeup, so it all really sinks in.

If you do no other skincare, dab on a bit of eye cream.

It plumps up fine lines, smooths wrinkles, and makes concealer application significantly easier. Tata Harper Restorative Eye Cream ($90, goop.com) is ultra-hydrating and sinks in on contact.

Put blush on first.

"It's much easier to blend it as you're doing your tinted moisturizer or foundation," McCulloch says. And consider using two products, not one: "Two steps makes any makeup last better," he explains, favoring a combination of bronzer and blush on most people. "People have been getting away from the major contouring that's been so trendy, but a bit of bronze—I love Honey Matte from Dolce & Gabbana ($60, nordstrom.com), brushed at the sides of the cheeks and temples, and a little at the jawline—defines really subtly," he says. "Then you go in with blush at the apple of the cheeks." Dust the brush or even your finger on the back of your hand before you apply the color, he says: "It'll blend better."

Bright colors look intense in the pan, but they allow you to use less product for a more natural look. A hot-pink cream like Inner Glow in Frenzy from Rituel de Fille ($24, goop.com) brightens your face instantly, and lets your natural skin texture show through, so it reads like a healthy, happy glow, not makeup.

Pick one feature to dramatize.

It's possible to pull off a strong eye and strong lip worn at the same time, but even for the advanced, it's a little like wearing teetering heels that are hard to walk in with a dress that needs constant adjusting: It's a lot going on, and thus harder to have fun in. So pick eyes, or lips. This doesn't mean you ignore the feature that isn't getting the focus: If you're doing a smoky eye, smooth balm, a stain, or a neutral shade of lipstick or gloss on lips. If you're wearing major lipstick, confine your eye efforts to definition: restrained liner, glossy mascara.

That said, a party is the moment for eyeliner.

Whether you're adding practically-invisible-yet-nonetheless-palpable definition right at the roots of your lashes, telling a sexy Sophia Loren story, or going all-out smoky/smudgy French girl, a party is most definitely an eyeliner moment.

Eyes go on before foundation or concealer.

"You don't want to get your undereye circles perfectly concealed and then drop eyeshadow and liner all over it," says McCulloch.

The easiest smoky eye might not be pitch-black.

McCulloch says he rarely does a full, ultra-black smoky eye lately: "It can go into panda territory," he says. "I like to contrast dark lashes and liner with either an almost nude beige shadow, or a gold is gorgeous for a party—Dolce & Gabbana Cream Eyecolor Antique Gold ($37, macys.com) is this new, burnished, not-too-bright one that's just so flattering. You can go all over the lids with it, use it as liner, or just smudge it in the inner corners of the eyes. Or I like using a deep plummy burgundy for a smoky eye, or a sparkly gray. Both of those shades flatter most complexions."

Create the perfect tilt for cat-eye liner.

For a cat-eye, McCulloch loves black, however. "It's such a classic, sexy look," he says. "For the perfect Sophia, follow the semi-circular line of your lower lash, and continue it upwards. If you start with the line of your upper lash, it can end up weirdly too horizontal."

Watch the lower lash line, whatever your eye look.

"If there's a lot of liner or shadow there, it's definitely a more rock n' roll feel," says McCulloch. "If you want more classically pretty, keep it light on the lower lashes." More how-to eyeliner tips, here.

10. Stick with your usual tinted moisturizer/foundation formula.

Some people go heavier, more opaque, or more matte with foundation for evening, but whatever your skin is already comfortable in—and already looks good in pictures in—is the way to go. "You can go a little more intense if you like—the light is softer," says McCulloch. "Start with a little, and layer and blend as you need."

Mixing foundation with a bit of moisturizer—McCulloch likes Weleda Skin Food ($19, usaweleda.com)—can leave a flattering, firming sheen, and make layering easier. And consider a foundation brush: The sensation is incredible, if nothing else, boosting confidence and making you feel special, and the finish a brush imparts—swirl the product in circles as if you're burnishing something—is refined and beautiful.

Make triple-sure concealer is not too light/reflective.

The best way to do this is to apply it under your eyes, pat to blend (read here for the ultimate make-concealer-look-natural blending tip), and then take a picture of yourself—not taken from a above, but looking straight across at yourself. Too-light concealer can sometimes look natural in a bathroom mirror and then show up in pictures.

A great dramatic lip is the easiest instant-evening makeup.

Red, is of course, the classic. "The shade that fits practically everyone, every ethnicity, is this matte one called Desire (Dolce Matte Lipstick, $37, sephora.com)," says McCulloch. "Dora is sort of the ultimate party red, or I also love Scarlett, which is a deeper red" (both, Dolce & Gabbana Classic Cream Lipstick, $34.50, macys.com).

McCulloch again recommends a two step approach: "People are wary of lip liner, but it gives lipstick longevity, and it gives you more control," he says. "A softer red lip, straight from the tube with not a lot of other makeup is a great look, but you'll definitely reapply more often. I like to put on a little lipstick, then apply liner in a similar shade over it, so it blends better and it doesn't fade to a stark line." For people with smaller lips, he starts with a liner that closely matches their lip shade, then puts the lipstick over.

The technique is the same for classic full-on red (Siren lipstick from Vapour, $24 on goop.com is perfect), deep vamp-burgundy (Ilia's lip crayon in Dress You Up, $24 on goop.com, is beautiful), or even hot pink (like Rue from Rituel de Fille, $21 on goop.com).

Scented cream leaves you smelling and feeling fantastic.

Utterly worth the splurge, the Crema Luxury Hand & Body Cream from Rodin ($84, goop.com) smells gorgeously of jasmine and neroli and moisturizes like crazy. Put it on all over and you're set for the night.