Wig Shopping—And How To Make it Less Traumatizing
As the visible symptom of the trauma being undergone by the body, hair loss from chemotherapy can compound the devastation cancer already wreaks on people both physically and mentally. With their clients on the front lines, hairstylists can find themselves in a unique position to offer help, says hair guru Adir Abergel. Like hairstylists everywhere, Abergel regularly encounters clients facing treatment. "It's a terrifying time," he says. Hair is deeply interconnected with our femininity, sexuality, vitality, and sense of self; losing it, especially when you're already feeling sick and scared, can be incredibly demoralizing. "It's made worse by the feeling that losing your hair shouldn't be your big concern," explains Abergel.
Yet Abergel's seen the process of choosing a wig uplift many of his clients—he maintains: "A wig can transform how you're feeling about yourself. Shopping for it can be a moment of fun—real, distracting fun." Some people feel better embracing the way they look in that moment of time and space and have no need for a wig, but others don't want their symptoms to be visible. "Some people get comfortable with losing their hair, but if you have even the slightest thought that you might want a wig, having one—even as a backup—can boost your confidence tremendously."
"It did wonders for me emotionally," says Synthia Durazzo of her recent shopping expedition with Abergel and goop at The Wig Shop, a beautifully curated emporium of incredible wigs (5376 Wilshire Blvd, Los Angeles, CA, 323.930.5617). "I'm normally a very confident woman who loves to be in the public eye, and lately it has been rough," explains Durazzo, diagnosed in April and in the middle of a 16-week course of chemo. "After my second treatment, my hair started falling out, so I shaved it all off," she says. "So far, my eyebrows are staying strong, thankfully. I wanted to get a wig, but money is tight with all the medical bills." (The Wig Shop and The Pink Agenda generously donated the wigs Durazzo and Abergel picked out.) Durazzo loved the experience: "It was such a confidence builder."
Abergel was moved by the experience, too: "She seemed scared and feeling bad about herself when she arrived, and by the time we were done she was dancing and smiling. We got her two wigs—both were under $400 in total," he says. "One is human hair, and one synthetic. She looks fantastic."
In the spirit of making your journey as easy and as uplifting as it possibly can be, Abergel helped us create the following guide to wig shopping. Let us know if it's a help.
Adir Abergel's Guide to Wig Shopping
Create a mood board.
If at all possible, shop when you still have a little bit of energy and still have your hair, advises Abergel, as this will allow you to contrast a wig with your hair as it is. And cut out (or save on your phone) as many pictures of hair looks you love as you can find. These can be pictures of yourself when you felt like you looked your absolute best, but they can also be hair that's a total departure from your usual look. Remember that you're not as tied to your usual color and style as you normally are, so save anything that even remotely appeals. "Be really free with imagining what might look good," he says. "You can go for matching the way your hair looked before, but you can also do something different—it can be a way of honoring the fact that you're changing as a person." Abergel urges clients to make a mood board with all the images they like. "It gets you really engaged with thinking about it. You'll get excited—and when you actually step into the shop, you'll know what you really like."
Bring a friend.
Think of shopping for a wig as…shopping, says Abergel. "You're going to go out, find something that makes you feel and look beautiful." As inconceivable as it may sound, he adds: "A wig can look better than your hair ever was."
Set a budget.
You can get a wig for $15, and you can get a wig for $15,000, truly. But more expensive does not necessarily mean better, cautions Abergel. What might look like a benefit—say, the style-ability of human-hair wigs as opposed to synthetics, which can't be styled—can be a burden to someone in the middle of chemo, who doesn't have the energy for blow-drying and curling. "There are women who'll send their wigs out weekly to their hairdressers to be styled, and that's great if you have that option," says Abergel. "But that gets expensive, not to mention time-consuming for most people. For a woman in the middle of chemo, I'd think about a lightweight synthetic wig."
Reasonable-quality synthetic wigs cost roughly $75—$400, says Abergel. A custom averages around $4,000 to $6,000. And over-the-counter, hand-tied human-hair wigs runs from $800 to $2,000.
Consider buying two different wigs.
"It is great to have options for different times, different moods. It's kind of the fun of having a wig—you can really be someone else! I've had clients who had this realization, you know, like, 'I always wanted to be blonde.' Well, now you can be one if you want. You have the choice."
Reserve the right not to wear one.
"You might look amazing with no hair," says Abergel. "But you've got the security of a wig you love the look of, that you know works, in case you don't." Some clients, he says, alternate from bald to blonde to redhead, depending on the day: "Some people really get into it, others get something exactly like what their hair looked like before, and some end up happy with the way they look without hair."
Consider color and length.
Think about the basic outline of what you'd want a wig to look like—and then ask for expert advice. "The people in the shops are often amazing," says Abergel. "Use them to help figure out the perfect color for your skin tone," says Abergel. Think about length as well. "Once you buy the wig, either have the wig shop cut it to your desired style, or take it to your hairstylist and have them cut it—if it's human hair, your hairstylist can also color and style it. If its synthetic, then a razor is best for cutting them—let your stylist know that is all it would need."
Fit is everything.
You won't wear it if it doesn't fit you perfectly and comfortably. "You're a medium size if most hats fit you when you try them on," says Abergel. "If most hats don't fit you, you're a large in wigs; if most are big, then you generally need a smaller sized wig." Custom-made wigs are, unsurprisingly, the ultimate in fit. "The right fit is like a glove—you feel confident, secure," he says. Most wigs have a strap that adjusts it to make it bigger or smaller; Abergel also recommends double-stick tape for extra security. "The easiest mistake to make is getting a too-tight wig—people do it because they're worried about the wig falling off, but a too-small wig will never look natural and will never feel good. Insist on perfect fit."
Get a comfortable wig cap.
A wig cap is what the hair is attached to: They come in different colors depending on the color of the wig. There are lace-front wig caps that Abergel likes for their natural appearance. "Match the lace to your skin tone, and once you've bought it, have the lace cut close to your hairline in a zigzag," he says. "It looks and feels great." Most people like how they feel—though the lace can irritate some skin.
Counter itchiness.
One good option for itchiness is to have the edges of the wig cap lined with silk. "It can make all the difference if you're sensitive," says Abergel. Cortisone cream can also help—though it's not something you should use daily, as cortisone can thin your skin if overused. "A rat-tail comb feels amazing if you just want to scratch the itch a little," notes Abergel.
Choose the type of hair you want.
"The bottom line is, you want to try everything, and see what works for you," says Abergel. There are synthetic wigs, human-hair wigs, and a combination of the two. All have pros and cons, says Abergel, who outlines them here:
Type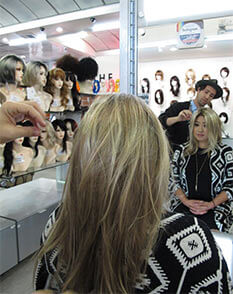 SYNTHETIC WIGS:
Pros
Last longer
Less expensive
Low-maintenance
No need to style
Cons
Can look overly shiny
Can't be styled with heat— they're synthetic and will singe.
Synthetic Mixes:
These have the same pros and cons as synthetics, except you can style them a bit, with low heat. Note: Both synthetic and synthetic mix wigs look best if you use a lightweight, leave-in conditioner made specially for maintaining them—it keeps them moist and healthy-looking.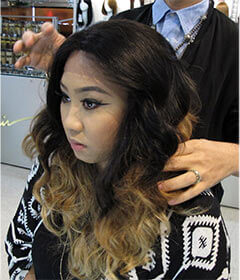 HUMAN HAIR:
Pros
Lighter
Feels more natural and breathable
Can be styled with heat
Can be colored
Can clean and condition with regular hair products
Cons
More expensive
Needs more upkeep
The Three Main Wig Options
(Within these three categories, there are different styles)
HAND-TIED: The hair, real or synthetic, is hand-tied individually into the cap. "They look more natural and feel lighter," says Abergel.
MACHINE MADE: These can look and feel heavier, but they are less expensive. "They can look fantastic," says Abergel. "Even one that's too heavy can be great if you thin it out with a cut, or pluck out some of the hair."
MONOFILAMENT TOP: In this style, the top is hand-tied and the rest is machine-made, so the the top lays better than a machine made-wig, but they're not as expensive as hand-tied wigs. "They can be a great compromise," says Abergel.
TRY IT ON PROPERLY:
"Flip the wig over and grab the nape of the wig, or the back where the tag is," says Abergel. "Put the wig on while your head is upside down; flip your head over and place the back of wig at the nape of your neck." Adjust the wig to fit at your natural hairline. "It's a giveaway if the wig is too low," cautions Abergel. "It just looks off."
BEST BRANDS
"Raquel Welch and John Reanu are the very best, in my experience. Some other great wig companies: Noriko, Rene of Paris, Vivika Fox, Envy and Gabor, Iris textured wigs, Isenberg, Helena Wigs, and Isis."