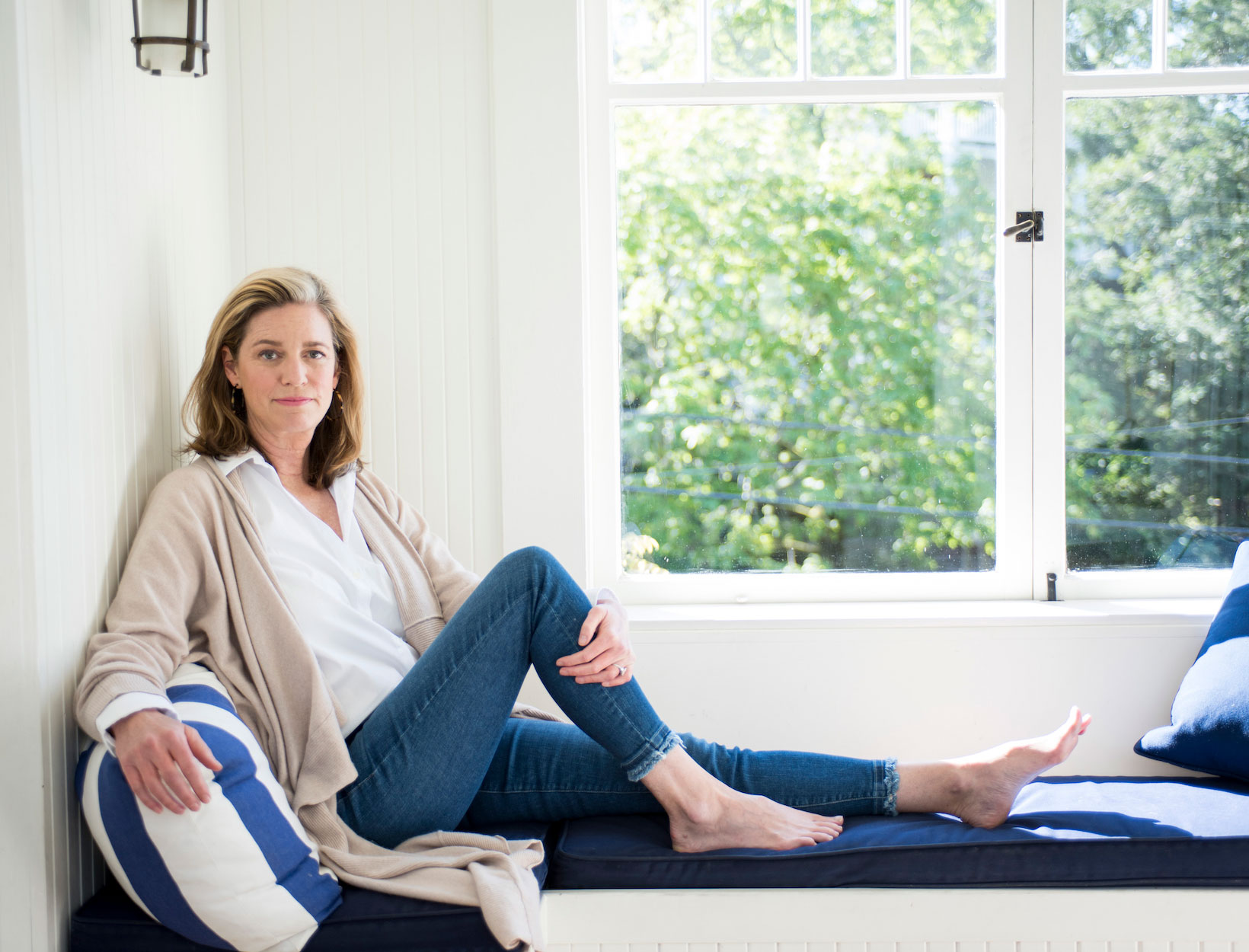 Why Aren't We Demanding Transparent and Nontoxic?
In partnership with our friends at

One of the fastest-growing companies in the clean-beauty world, True Botanicals has been nontoxic since its inception. It was one of the first brands we took on when we started goop's clean beauty shop, and the products—from the life-changing Vitamin C Booster to the brilliant shampoo and conditioner—are all-time goop favorites.
Former Levi's executive Hillary Peterson's journey from cancer survivor to creator of some of the most effective, beautifully made skin, body, and hair care we've tried is nothing short of inspiring.
A Q&A with Hillary Peterson, the Founder of True Botanicals
Q
You've been on the front lines of the clean-beauty industry for a relatively long time. How have you seen the conversation change, and where do you see us now? What is the state of the clean-beauty movement at this point?
A
The conversation is evolving from: Why do we need clean beauty? To: Why wouldn't we demand it? Consumers are calling for transparency and authenticity, and this is helping the industry make a meaningful shift. It is no longer enough to make a product that appears to be safe and effective. It actually needs to be true.
Q
Your journey to clean beauty involved serious illness—what was that journey?
A
I was diagnosed with thyroid cancer at a young age. I was only thirty-two and had two babies at home. I took a close look at my lifestyle. I made changes in my diet and exercise habits and began a dedicated mindfulness practice, all with the goal of supporting overall wellness. But it never even crossed my mind to examine my beauty routine.
Then, listening to NPR one day, I heard a report on a new study: Toxic chemicals were found in the cord blood of newborn babies, and they had gotten there only one way, by being absorbed through the pregnant mothers' skin. I was shocked and disturbed. I knew right then, in order to better my health and the health of my family, I needed to pay closer attention to my personal-care products.
Q
You've described reading the labels on all the beauty and personal-care products then on your shelves, and discovering they all had one thing in common. Can you talk about that?
A
After researching the cord-blood study, I read the ingredient labels on all of my beauty products. Every single one of them contained endocrine disruptors. I had just gotten through thyroid cancer. I remember thinking: You believe you can trust the world to be a certain way, that you can trust the companies behind these products to consider your well-being. But they are making and selling products full of hormone-disrupting chemicals, telling me this is what I need in order to look beautiful. It's not right. I knew that we all deserved better.
Q
What are some of the worst or most common toxins still in beauty products today that you find people are most surprised about?
A
People are still very surprised by the fact that almost everything they use has synthetic fragrance in it—things that don't even seem to smell like anything, like a supposedly gentle face wash—and that there are potentially dangerous, hidden chemicals in that fragrance.
SLS and SLES [sodium lauryl sulfate and sodium laureth sulfate] are still prevalent in shampoos and body washes, even from brands that have natural-sounding names and eco-friendly-seeming packaging. The biggest health issue for these two ingredients is that they can be contaminated with 1,4-dioxane, a by-product of the manufacturing process that's a potential carcinogen.
The fact that hydroquinone, which has been outlawed in the EU, Australia, and Japan for quite some time, is still sold over-the-counter and prescribed by doctors for skin lightening is shocking. Not only does it decrease skin elasticity, but studies have shown it to be an allergen and a respiratory toxin, and by damaging DNA, it enhances carcinogenic risk.
Q
What are some of the clean ingredients you're most excited about at the moment?
A
Apple peel, found in our Antioxidant Booster, would have to be at the top of the list. I cannot get over what this formula does for skin. It contains this patented whole-apple-peel powder that's naturally rich in antioxidant polyphenols, rutin, quercetin, and ursolic acid. It's because of these components that apples are one of the longest-lasting fruits, which is really cool to think about. Mother Nature is truly the best cosmetic chemist.
I'm also impressed with the antioxidant astaxanthin, which comes from red algae and can help with everything from hyperpigmentation to moisture levels to firmness. It's a real jack of all trades, so it's in our Renew Collection. The black willow bark in our Clear Collection I also love; it's naturally packed with the anti-inflammatory, antiseptic compound salicin. Unlike synthetic versions, which people know as salicylic acid, this natural version is profoundly gentler while still incredibly effective.
Q
In developing your new whole-body peel, which really isn't like any product on the market, conventional or clean, you somehow came up with something truly new. Does innovating within strict parameters (like no toxins, ever) lead to more imaginative solutions?
A
Absolutely. Strict parameters foster real creativity. Limits push you to be more open and to be more innovative. I think back to when a friend called me and said, "I know this guy who is doing interesting things with apple peels," and my initial reaction was: Ugh, I don't have time for this! But then I thought, Why not? Who knows? Ultimately, this ingredient ended up being a star in our antioxidant booster, and I might never have looked into it if we had just been satisfied to fit the beauty-industry mold.
We aren't simply trying to create clean versions of conventional products; we want to create great products, period. When we're developing a product, we think about what we would actually want to use. In the case of the Resurfacing Body Mask, we talked about how we love what lactic acid does for the face, and wouldn't it be cool if we did something for the body—that sounds like something we'd use! We stay in that dreaming, creative space for as long possible during product development; we never want to move too quickly to execution, because you never know what magic we might miss if we move too fast.
Creating products that deliver results and meet rigorous standards is never easy, but I think it's a lot like life: Sometimes it's the hard things that make life the richest and most fulfilling.
Q
What's your view on label transparency for the beauty industry?
A
In order for clean beauty to succeed, transparency is absolutely essential, imperative. It means, for instance, not just disclosing "fragrance" on the label; it means also disclosing what is in that fragrance. There are products out there claiming to be natural and nontoxic, but many times individual ingredients in the formula are preserved with questionable synthetics that the consumer cannot possibly know about.
Q
What are the clean certifications you feel good about?
A
We have total confidence in Made Safe®. We chose it because it's the only certification that we know of that looks at every single ingredient—and anything that might be in that ingredient—ensuring safety for people and the planet. That's what we deserve, and what they're delivering. No other certification comes close.
Q
What's your response to conventional industry scientists who insist that the doses of potential toxins we're getting in beauty products are too small to cause health problems—the old "dose makes the poison" argument?
A
I know that I am not alone when I say that I am not just looking to avoid health problems; I am looking to support and build wellness. Instead of asking, "Is this making me sick?" we should be asking, "Is this serving me? Will it make me well? Is it serving the environment?" And if the answer is no, why make products that aren't beneficial to people and the planet? If an ingredient isn't beneficial in that way, why would we be interested in even the smallest exposure? And that's not even bringing up the whole issue of lifetime exposure.
Q
You spent a good part of your career at Levi's. Did you always want to run your own company?
A
Subconsciously, yes. I envisioned I would someday see an opportunity and make it happen, but I didn't know what that would be. I come from a family of entrepreneurial immigrants who taught me that anything is possible. So when I met that opportunity—changing what I didn't like in the personal-care industry—I approached it with this sort of naive confidence that you would have as the daughter and granddaughter of entrepreneurs who had done it before and been successful.
Q
Beyond beauty and personal care, what other areas do you think are most important to go clean in? Where are toxins lurking that most people don't expect?
A
I think that it is particularly important to take a close look at your living space. You want to avoid BPA-leaching plastic containers—this means not storing your food in them and not drinking out of plastic bottles (I personally drink out of a S'well bottle.) And because tap water can be tainted with heavy metals and all sorts of toxins, I recommend using a filter. I'm looking into getting a whole filtration system for my house at the moment. Another big issue with the home is indoor pollution, which research shows it can be more harmful than outdoor pollution—it's easier for it to build up in a confined space, for one. Plus, we spend most of our lives indoors. Chemicals from perfumes and candles are a big contributor (which is why it's so important to invest in nontoxic versions, like those from goop), but there are sneakier sources as well. Conventional mattresses emit gases, for example. Cleaning supplies can be very unclean, containing noxious agents. Wherever you can, opt for the most nontoxic variety of these items. In addition, I recommend opening your windows regularly and getting outside and enjoying nature, the ultimate healer.