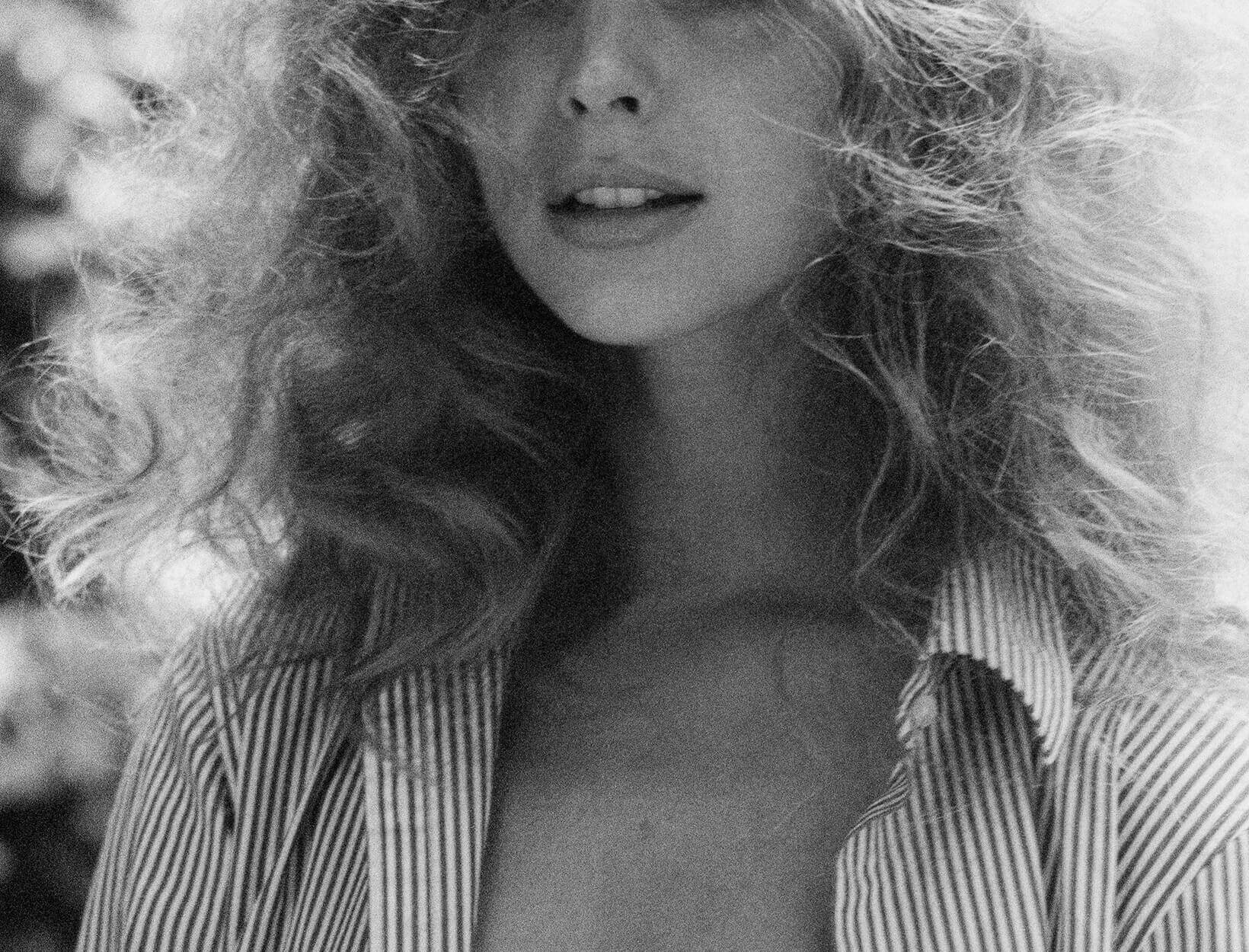 The Frizz-Fighter's Guide to the Universe
Just about everyone looks better in summer—we're more relaxed, we're outside more, we're more in touch with our bodies and the natural world, and we're just glowier, for the most part. Some—or a lot—of that freedom is reflected in our hair, which, whether stick-straight or seriously curly, tends to go a little wild in the humidity and the heat. Embrace some level of hair disruption and you'll doubtless enjoy the season more: An extra wave, a bit of frizz, or, conversely, a moment of less-than-voluminousness is generally worth it, considering the cause, from lazy days and salt air, to sultry summer evenings.
That said, tamping down frizz is not as hard—or as harsh-chemical-dependent—as it's often made out to be. The key: building moisture and elasticity into every step of your hair routine, starting with (gentle, sulfate-free) shampoo. It's counterintuitive—after all, isn't frizz often caused by too much moisture in the air?—but by locking moisture into the hair shaft, you help lock out the moisture in the atmosphere. Brittle, dry hair will frizz more, because water molecules from the air can flow in easier, and alter the shape of any given hair shaft (it's the same reason you might put oil in your hair before swimming in chlorine—to keep the water from getting in). Moisturizing products are half the battle; not agitating the hair shaft is the other. Even brushing your hair creates more surface area for moisture to get in, creating frizz, so brush and comb your hair as little as possible—once to detangle after washing is ideal. Below, the six best (clean) ways to keep your hair smooth, unruffled, and healthy.
1

Get your hair really wet before you shampoo—with an ultrahydrating shampoo. Really wet hair rinses out easier, so hair gets truly clean and requires less agitation to do so.

True Botanicals
Shampoo goop, $34

This is an incredibly luxurious, gorgeous-smelling, rich shampoo that somehow manages to foam beautifully without SLS or other toxins, and leaves your hair bouncy, shiny, and full of health. A mix of lemon and orange peel, ylang-

ylang, sweet violet, and mimosa tenuiflora bark extract leaves hair smelling insanely fresh; the chic aluminum container is also brilliantly practical in terms of getting every last precious drop. 
2

Condition twice, from the midlengths to the ends. A rich, creamy conditioner in the shower followed by a leave-in once you're out will pack your hair with moisture, leaving it supple and less vulnerable to frizz. It'll also make it easier to comb or brush out.

True Botanicals
Conditioner goop, $34

This heavenly, super nourishing conditioner works for all hair types. A mix of luxurious oils, antioxidant botanicals, and superfood ingredients like green tea and aloe, it smells of lemon, orange, ylang-ylang,  and sweet violet and leaves hair luxuriously healthy and

supremely silky. The chic (and recyclable) aluminum container is both good-looking and incredibly practical.
3
Rinse your hair with the coldest water you can stand before stepping out of the shower. The hotter the weather gets, the easier this step gets.
4

Smooth a super absorbent towel (this one from Aquis is specifically designed to reduce frizz) around your hair and gently blot or twist to dry—never rub. Rubbing your hair with a towel to dry it is essentially creating extra frizz.

Aquis
Lisse Luxe Hair Towel goop, $30

For more shine; overall healthier hair; less frizz, breakage, and damage,; plus a speeded-up

drying routine, this light, easy towel is an amazing solution. Super absorbent and soft to the touch, the Aquis will change the way you dry your hair—and seriously reduce frizz, not to mention overall damage, in the bargain. Regular towels tend to be rough on hair; while this one is ultra-gentle, it also dries it faster. Wrap it at your hairline, tuck the ends in, and let it soak up the extra moisture for shinier, softer, frizz-free, beautiful results.
5

Spritz on leave-in conditionerbefore you comb or brush through—so you comb/brush less. Every time you run the brush or comb through your hair, you stimulate frizz.

Lavett & Chin
Leave On Conditioner goop, $32

For the healthiest shine, smoothed flyaways, and serious protection from heat styling, wind, water, and sun, this color-safe leave-in conditioner is brilliant to use every day for better-looking, happier hair. Made with a rich infusion of active botanicals, including rosemary, lavender, hibiscus,

sweet-almond, ginger-root, and clove-bud oils, it's lightweight, sprays in, and leaves hair instantly more manageable. The ultrahydrating formula smells subtly of ginger and clove; the results, once hair is dry, are serious bounce, major gleam, and smoothing, strengthening protection. 
6
Once your hair is dry (whether you air-dry or blow-dry), rub a bit of hair oil or leave-in conditioner between your hands and smooth lightly over any spots that have already frizzed—or those that tend to frizz.
Reverie
Milk Anti-Frizz Leave-In Conditioner goop, $42

Packed with essential oils from coconuts, olives, and almonds, this lightweight conditioning cream smooths dry hair without weighing it down, leaving it soft and touchable—plus, it smells amazing. Work a few pumps through the lengths of your hair for instant silkiness. Bonus: All Reverie products are handcrafted in California.
UMA
Nourishing Hair Oil goop, $70

For shinier, bouncier, and all-around healthier hair, this all-in-one healing blend of hibiscus, yerba de tago, Indian gooseberry, jojoba, moringa, and grape-seed oil is infused with lemon and grapefruit extract to cleanse the scalp, stimulate hair follicles, and promote healthy hair growth.

The best part: Though it penetrates deeply and saturates hair with essential moisture, it doesn't weigh it down. Apply five to seven drops of this restorative solution directly to the roots, either as an overnight treatment or for about fifteen to twenty minutes before you shampoo. Bonus: It's totally safe for color-treated hair, too.