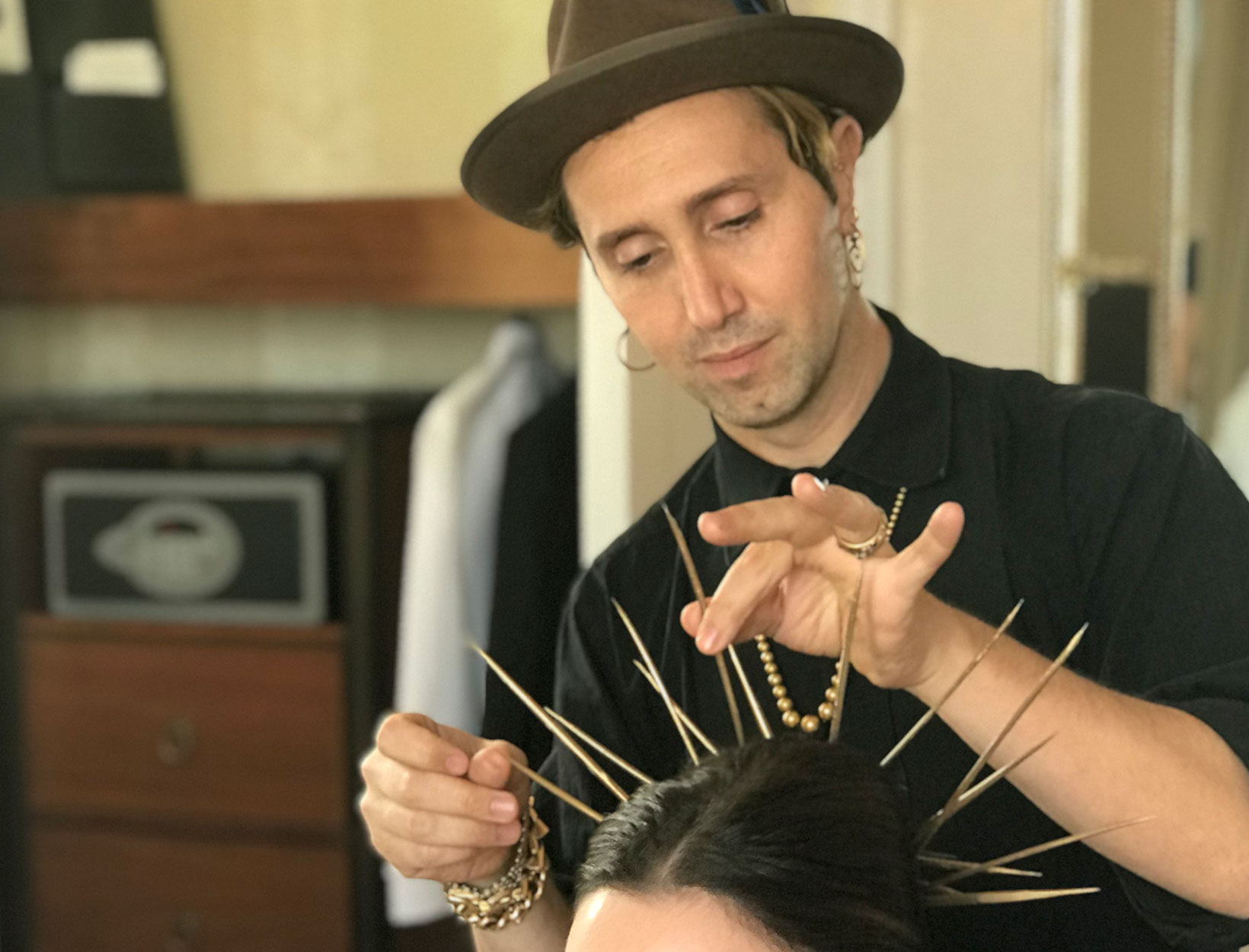 Adir Abergel, one of GP's favorite stylists, hard at work.
The Experts Get Real:
14 Under-the-Radar Hairstylist Tips
We're familiar with the basics: Condition, condition, condition. Bring a picture to the salon. Endless blow-drying leads to breakage. Regular trims are crucial. But talk to these talented hairstylists and you get advice that might initially sound out-there. Until you realize this advice actually impacts everything—from the most effective way to shampoo your hair to optimizing the style you ask for at the salon. Below, their secrets about early-morning appointments, why you should never get your hair done after a breakup, how to change your style in under a minute, and more.
1
LA hairstylist and creative director of Virtue Labs
"When you're blow-drying, make sure to let each section of hair cool off around the round brush before removing it for maximum volume and movement."
2
"When cutting your bangs, never cut bluntly across. Instead, point-cut: Hold the scissors vertically to create a softer edge, so there's movement and texture at the ends. It's more forgiving and flattering and modern."
3
"If you use hot tools a lot, make sure to get a trim more often, like every eight to ten weeks. If you air-dry, you typically can wait more like ten to twelve weeks."
4
hairstylist and founder of Chris McMillan The Salon in LA
"If you want beachy hair, use the stuff you would at the beach: Spray your hair with salt water (from the ocean if possible) and work a tiny bit of sunscreen through your hair."
5
"Sleep in a hair mask. It'll make your hair softer than anything you can get in a salon. I love coconut masks—anything coconut for your hair. But avoid avocado: It's too greasy. Avocados are for chips."
6
"If you want to change your look, change your part. Makes a surprisingly big difference."
7
New York hairstylist and colorist and founder of Harry Josh Pro Tools
"The fix for a bad short-hair day—it's puffier than you want or it just doesn't look like the iconic short style you're envisioning—is to throw on a do-rag or a beanie when your hair is still 80 percent wet. They do this backstage at the shows all the time, and it really reshapes and makes the hair more formfitting along the skull. Plus it gives the illusion of an overall sleeker, flowing cut versus a thick block. And the beanie trick works regardless of gender, by the way."
8
LA and New York hairstylist and scalp expert and founder of Philip B. Botanical Products
"When blow-drying your hair, try to get about 80 percent of the water out before you brush, and ideally use a brush with a combination of natural bristles and nylon. This combination gives you maximum control over your blow-dry and minimizes breakage and tangles. Nylon bristles are glossy, firm, and smooth; they detangle and glide effortlessly through the hair, paving the way for the softer natural bristles to smooth and buff your hair's outer cuticle layer to polished perfection."
9
"Apply conditioner to soaking-wet hair. Squeeze it in, allowing the water and conditioner to mix and become an emulsion and really soak in. Most combs have a wide side and a fine side. First, comb your conditioned wet hair from roots to ends with the wide side. Then comb through from roots to ends with the fine side. This closes the cuticle, and your hair will look swingier and shinier once it's dry."
10
hairstylist and founder of Sally Hershberger Salons in New York and LA
"Always book the first appointment of the day, so you don't have to deal with your hairdresser running late."
11
LA hairstylist and founder of OUAI Haircare
"Don't make emotional hair decisions. Sometimes after a breakup or life change, clients want to do something dramatic with their hair. I always ask a ton of questions before I agree to a major change for clients."
12
hairstylist and founder of Butterfly Studio Salon in New York
"Don't be completely on your phone when you're in the chair for a haircut. We need your head to be up in order to get an even cut, and you don't want to miss seeing something you don't like in time for us to correct it."
13
New York editorial hairstylist
"Go to your hair appointment looking good. It's both inspiring—you'll get a better performance from your stylist—and it gives them an idea of how you like to present yourself."
14
New York hairstylist and cofounder of R + Co
"I had a client who had high, blonde hair and wanted a lot of volume, but she had breakage at the top. I realized she was always wearing this diamond ring with huge prongs. I told her to take it off, and she looked at me like I was crazy. But the thing is, when she ran her fingers through her hair with those huge prongs, they were just hooking and ripping the hair out constantly."