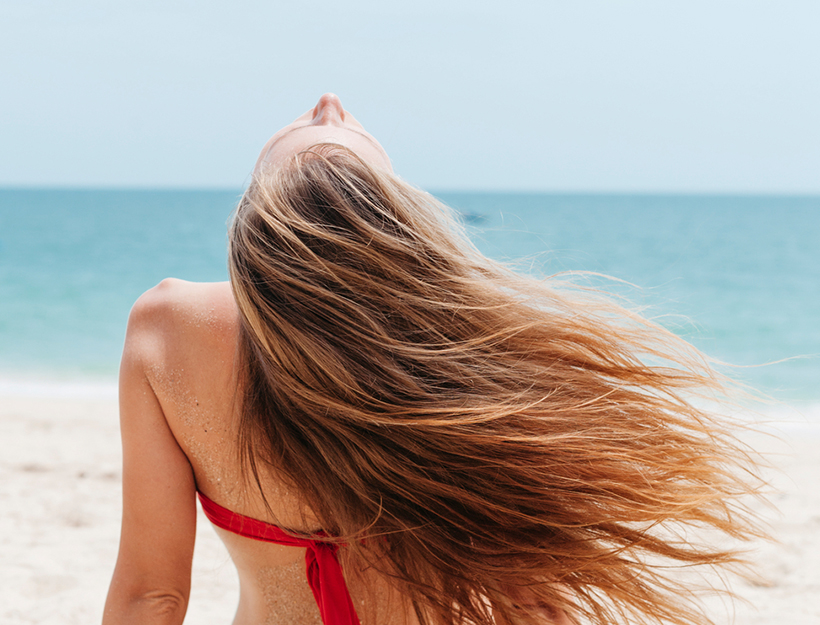 Sexy Beach Hair—No Ocean Required
Somewhere between walk-of-shame hair and frozen-with-product, reality-show barrel curls, lies a happy, decidedly relaxed, incredibly flattering medium. On short hair, beachy waves take on an almost '20s vibe; on long, '70s (French '70s, ideally) is the look to aim for. "It's definitely passed the trend phase," says top hairstylist Adir Abergel. "It's become an iconic style."
It's one that looks as good with jeans as it does a ballgown—it knows no age, really, and is doable for just about any hair type, Adir says: "It can take some work, though." Salt sprays are the classic beach-hair product for a reason, he continues. "They're great because they create texture and grip, and they help encourage that natural sexy movement synonymous with beach waves—but you need to be careful, because they can also dehydrate the hair. They are best for hair that is already textured; layer salt spray, depending how 'beachy' you want the result to be."
Some sprays combine salt (real salt makes all the difference in terms of texture) with oils for a less-drying style: French Girl's combination of French gray, Epsom, Dead Sea, and Himalayan salts are mixed with ultra-moisturizing coconut extracts and aloe vera along with gorgeous essential oils like neroli, jasmine, mint, and rose. Lavett & Chin's Sea Salt Texturizing Mist mixes salts, coconut oil, organic rosewater, spirulina extract, and a super-hydrating combination of essential oils. Captain Blankenship makes a Mermaid salt spray and a Golden Waves sea salt spray, both infused with hydrating aloe vera, plus rose geranium and palmarosa oils (the Golden Waves has the glinty addition of mica particles for shine). Another route: work a hair oil like UMA or Rodin into ends while hair is still damp, then spritz salt spray on over it.
Salt sprays works best mid-length to ends, says Adir: "Don't spritz too close to your roots—unless you have very straight hair. In that case, you can spritz a small amount at the roots like you would a root lifting spray." Adir says salt works best applied to damp hair, and he advises against towel-drying: "Gentle squeezing or patting 'sets' waves better than air-drying alone," he explains. "Don't rub—rubbing creates friction and thus frizz. A paper towel also absorbs more water than a cloth towel, really speeding up your drying time. Once you've dried it a bit with the paper towels, spritz the ends and mid-lengths of your hair with salt spray, then let your hair air-dry."
If oils are too heavy for your hair, a quick spritz of leave-in conditioner is brilliant pre-salt, while hair is still damp. Alternately, you can spray a small amount at the ends after hair is dry, and then finish with leave-in conditioner or even a bit (a bit) of oil.
How to Curl—and Deconstruct
Beyond the salty texture, the other trick to the beachy-hair look is a tousled, unstudied wave. The key, Adir says, is avoiding perfection at every turn: "Rather than curling your hair from roots to ends for a perfectly barreled curl, make just a slight wave, curling from mid-shaft, leaving the ends out. Tug on the hair while it's still hot to loosen the curl and stretch out/deconstruct the wave. Now, use lightweight products like a pomade, or go in with sea salt spray again—as opposed to heavy hair spray that will make it look crunchy or stiff."

Made with mango nut butter, meadowfoam- and pomegranate-seed oils, rose and frankincense essentials oils, plus Bourbon vanilla extracts, Reverie's Rake Styling Balm can be used on damp or dry hair to hold the style and leave amazing, I-just-woke-up-like-this texture—perfect for curled hair that needs a little texture, or naturally wavy or curly hair that needs a bit of definition.

Indeed, Adir says, depending on your specific hair type, there are easy steps to take to get the right look (see his instructions below). No matter what, one of the best things about beachy hair is it's hard to go wrong—if something doesn't work, it's definitely not one of those start-all-over hairstyles. Just keep working with it until you get in a groove, resist perfection, and—like your hair—relax.

Related: Products For Sexy Wavy Hair