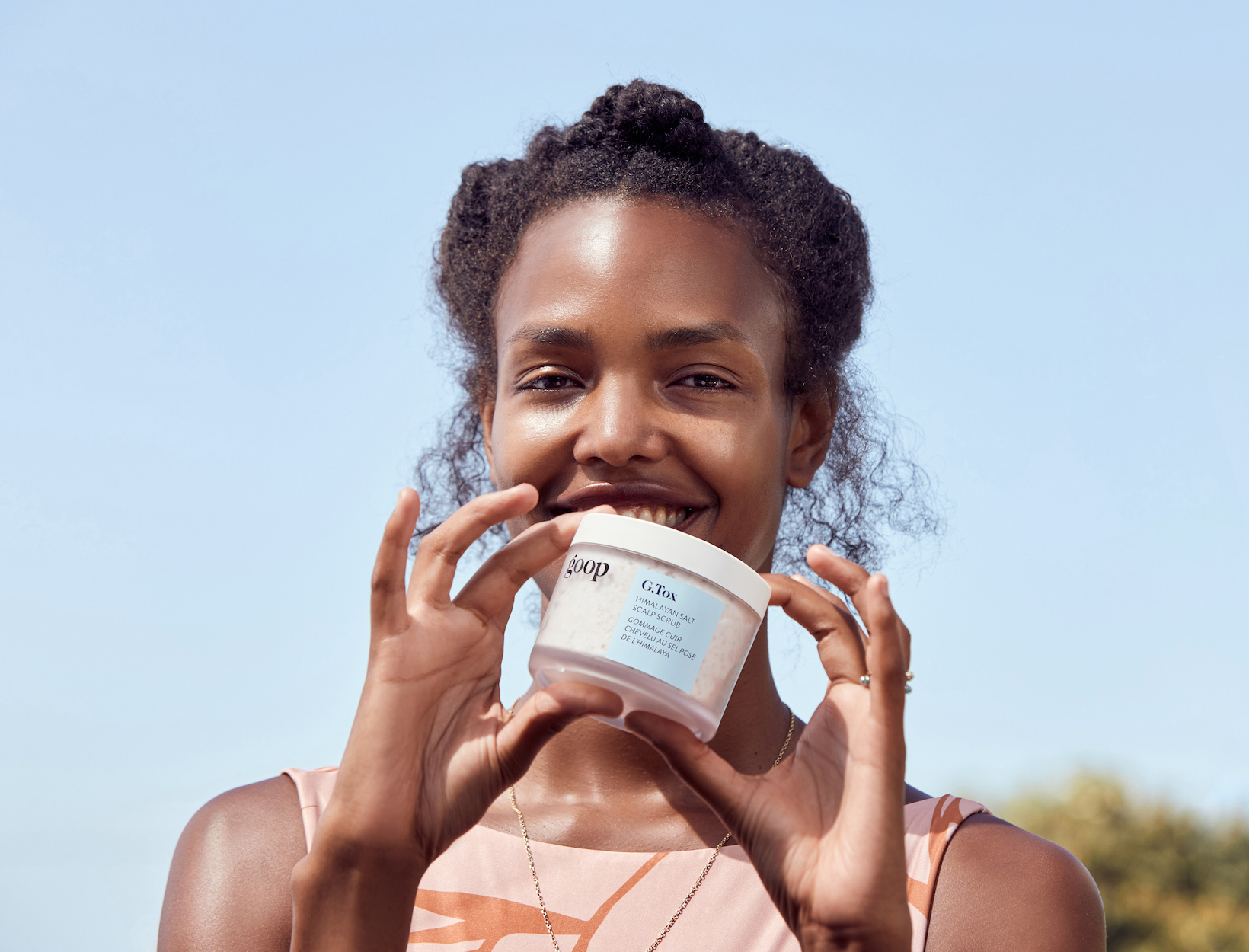 HAIGHT BOAT NECK MAILLOT, goop, $275
MEGAN TRIES IT
The Pink-Salt Shampoo Detox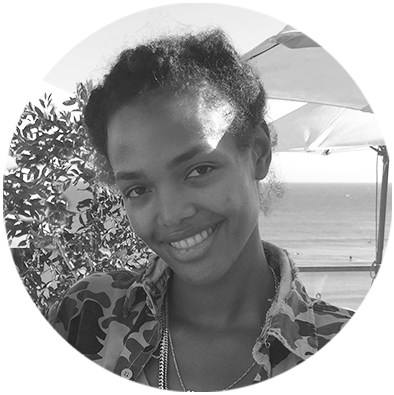 Megan O'Neill is the senior beauty editor at goop. Which is another way of saying she has a passion for clean products, loves anything that reduces stress, and will happily guinea pig herself in the name of wellness.
Our cabin upstate in Woodstock, New York came fully furnished: There are more lava lamps than you've ever seen under one roof. And more wind chimes. And more peace signs (pillows, posters, towels, a bath mat). Zany portraits of wizards and elfin creatures hang on the wall. The piéce de resistance is the bathroom, which teeters on stilts above the kitchen, treehouse style, and in a strange architectural twist, lacks a ceiling. The house is weird for sure—"eclectic" is how we brand it on Airbnb—but we love it and can't bring ourselves to change a thing.
Staying there really does the trick when we need to get out of our heads and relax, hike, make pizzas from scratch, go on unurgent errands, and read. My favorite way to unwind, though, is to soak in the hot tub, icy spiked-lemonade in hand. The tub is perched on the back porch and looks out onto a dense forest. I sip my drink, tilt my head back, shut my eyes, and the world goes still.
There is one drawback: Chlorine. I try not to get my hair wet, but invariably end up splashed, or sink too deep in my blissed-out haze. And just as chlorine kills bacteria in the water, it destroys hair, strips away its natural oils, and makes it look like absolute hell. Even when I manage to keep my head dry, the chlorine-suffused steam gets me anyway, seeping into my curls, turning them frizzy and bedraggled.
So I always make a beeline for the shower after a soak, especially now that I've been testing an especially effective new weapon: A thick, creamy, whipped mousse shampoo infused with pink chunks of mineral-packed Himalayan salt, along with a gorgeous blend of essential oils. It's a scrub designed to cleanse, exfoliate, and moisturize the hair and scalp, and it leaves my hair beautifully silky, nourished, and refreshed. The scalp has oil glands just like skin, and, similarly, accumulates dirt and build up; the scrub clears everything away and leaves nourishing conditioners in its wake.
Working it into my chlorine-soaked curls is always a moment. The scent of rosemary, geranium, orange, and peppermint essential oils blossoms around me, and stays with me the entire night. Cold-pressed moringa and rose hip oils go to work softening my hair as the detoxifying salt sloughs away grime and oil.
As I massage the scrub into wet hair, it generates a frothy, cloud-like lather. I rinse it out, smooth in conditioner, treat myself to yet another rousing scalp massage (stay tuned next week for how to do an acupressure massage on your own head), rinse again, and then dry off with my secret-weapon hair towel. My head and scalp feel almost the way my teeth get a minty-fresh sensation after a visit to the dentist, susceptible to even slight ripples in the breeze. Not to mention my curls are downy and shapely with no frizz.
A healthy scalp is a step toward healthy, shiny hair, and so I make a point of using the scrub at least once a week. Not only is it my après hot tub hair-salvaging trick, it's up there with pizza-dough-making as the ultimate ritual to fully unwind.