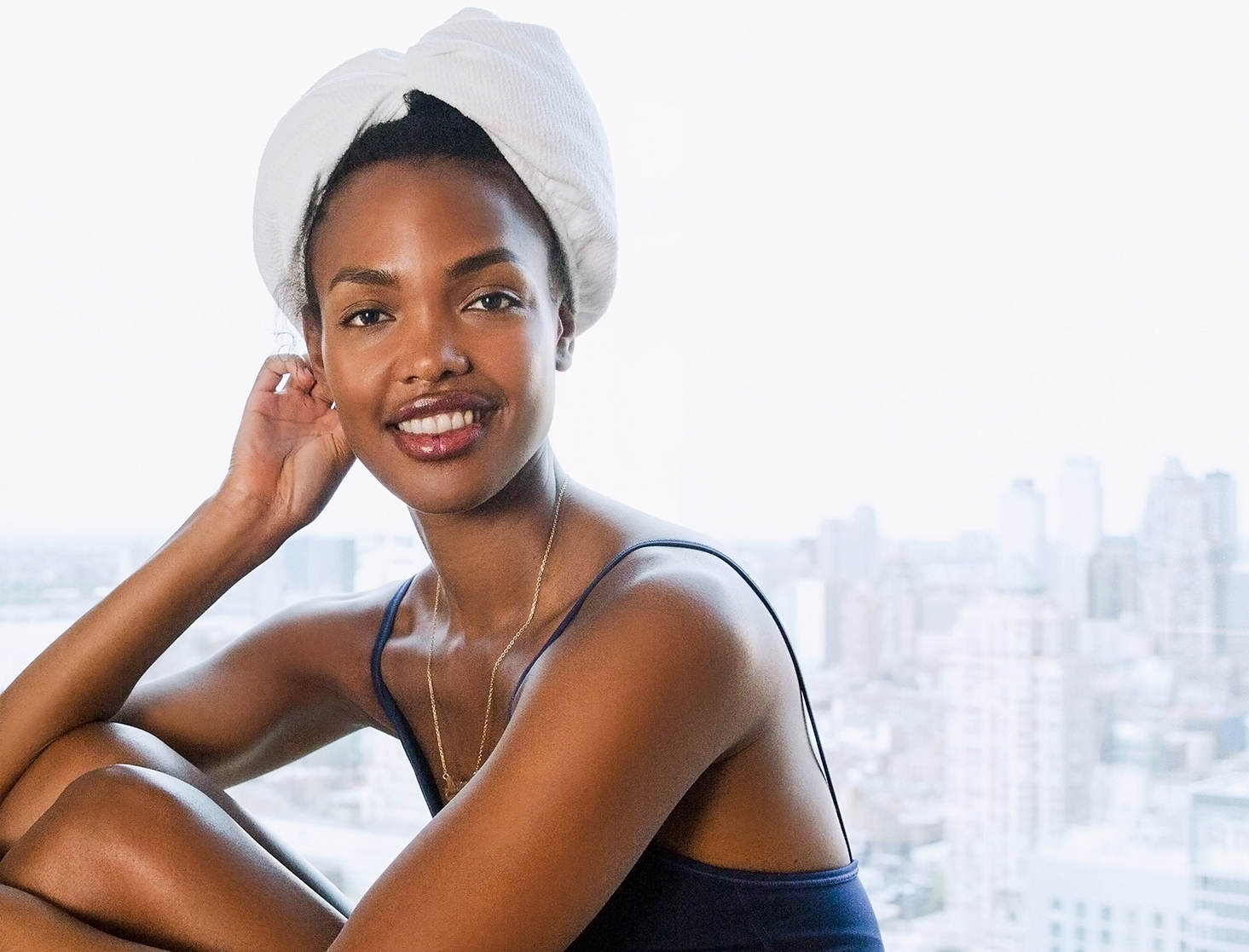 MEGAN TRIES IT
An Unexpected Way to Get Shiny,
Frizz-Free Hair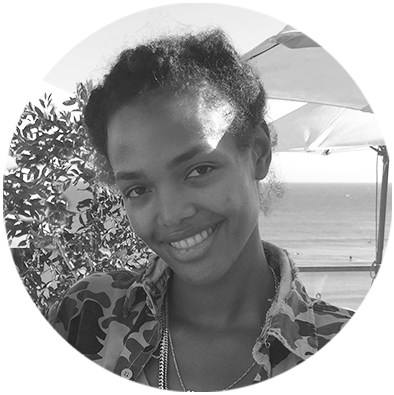 Megan O'Neill is new to goop—and the initiation process involves a pretty fantastic learning curve. Here, her adventures in onboarding, goop-style:
Sundays are for sauntering around my neighborhood, painting my toes on my fire escape if it's sunny, steeping in the bath, and making a giant batch of coconut-maple granola to see me through the week. In other words: I relax. But there's one decidedly not relaxing thing that I save for Sundays: washing my hair.
For the first time in years, my hair is natural, completely free of chemical straighteners, color, and bleach. I love the coarse, kinky-at-the-roots-and-wispy-at-the-ends texture, but my god, has it been an adjustment. And washing my hair is the worst of it.
I'm all for a bit of frizz. I think it's carefree, languorous, and sexy. But everything in moderation. On a good day, I adeptly secure swirled-up sections around my head with bobby pins. But on off days, my curls are downright obstreperous. The frizz has a life of its own, and no amount of softening oils can smooth it into capitulation. And washing my newly natural hair renders it thoroughly uncontrollable, precipitating not merely an off day, but four of them.
Until the day I tore open a package containing a small towel, ordinary-looking except for a button fastened at one end and an asymmetric shape. Jean, goop's beauty editor, clocks my indifference: "Wait, you've never used one of these? They're incredible—you'll never use a regular towel on your hair again!" (Check out her unabridged rave here.)
I take it home, wait for Sunday, and go through my usual, dreaded hair routine. I step out of the shower and wrap my hair into an unusually stable towel turban: The shape of the Aquis towel creates a perfect, steadfast turban. I keep the turban on for about six minutes and go about my business. When I unwrap it, my curls are remarkably smooth and soft, with much less frizz. Aquis is made of special thinner-than-silk fibers that dry hair much faster than cotton towels. (Incredibly, in third-party testing, Aquis cut drying time by 50 percent.)

The super fast drying time is appealing not just because it's time-saving. Hair is especially vulnerable to breaking when it's wet. Wet hair is 50 percent weaker than dry hair. It swells with water when it's wet, and the swelling pushes the cuticle—the outermost, protective layer—open, allowing even more water to penetrate, stretching and weakening the hair and, ultimately, leading to breakage and frizz. The idea behind Aquis is that by drying hair faster, you significantly reduce the potential for breakage and frizz. And the Aquis fibers wick away water without snagging the cuticle and causing breakage, unlike the rough threads in cotton towels, which exert more friction on hair.
The fact that my hair's already much drier by the time I unwrap it has another major advantage: The oils and leave-ins I like to work in post-wash sink in much better, rather than puddling at the back of my neck. Furthermore, my signature twirled-up updo looks fresh and breezy and relatively frizzless, as if I'm going on day four of no washing.
I can say with certainty that I'm an Aquis customer for life, my Sundays are considerably less stressful, and my off hair days appear to be gone for good.
These are the musings and opinions of Megan O'Neill based on her own personal experience. Individual responses can vary greatly.
Related: How To Get Shiny Hair