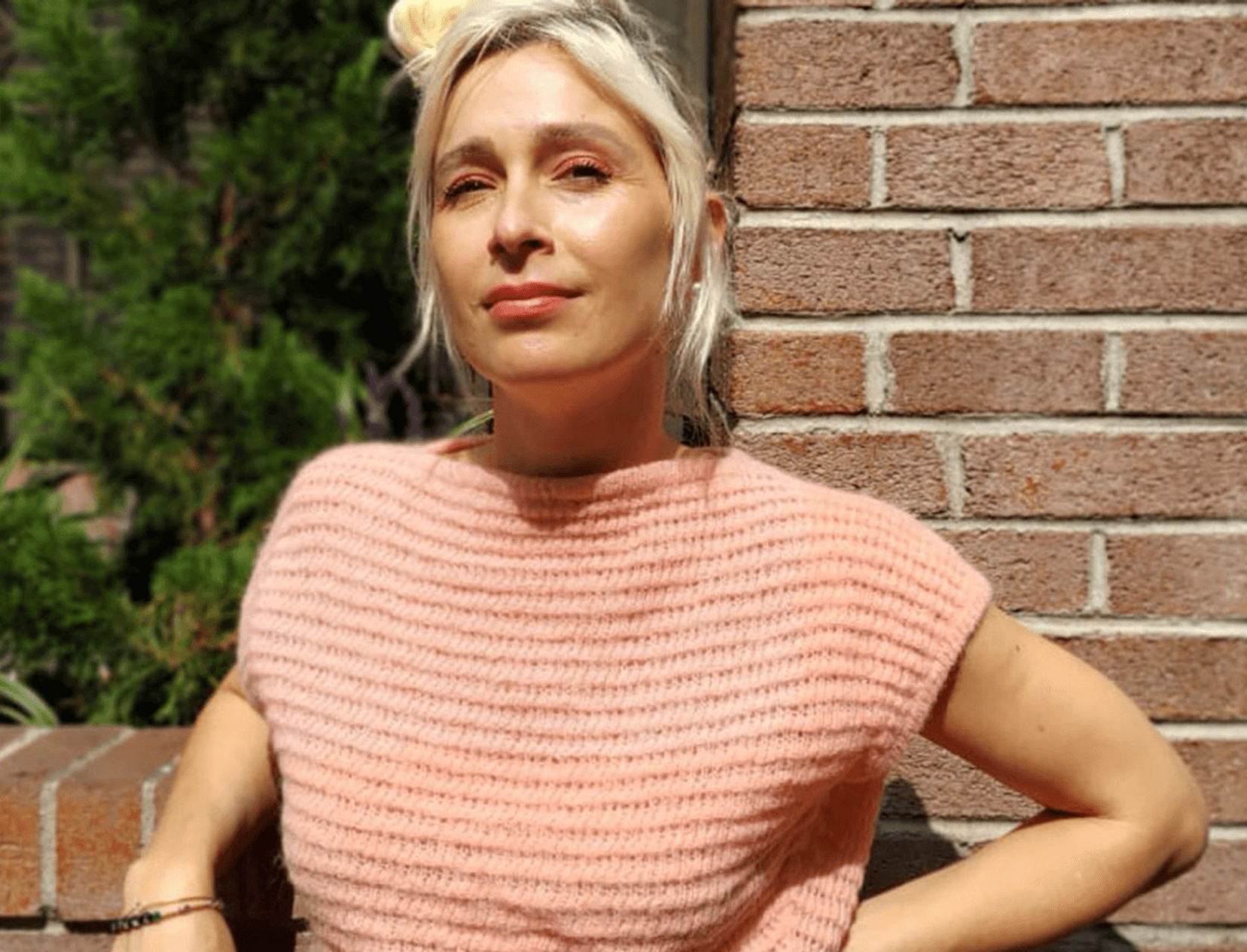 Hello My Age Is: 46
Top Colorist Marie Robinson Keeps It Simple: Glowy Skin, Bleached-Blonde Hair, and a Contented Spirit
The first time you catch a glimpse of Marie Robinson—typically on the floor of one of her enormous bustling, beautifully minimalist salons in NYC's Flatiron or Miami's Aventura, her head cocked to one side as she concentrates intently on a particular section of a client's hair—you could be forgiven for assuming she's one of her cool twentysomething assistants rather than one of the most talented and respected colorists on the planet.
At forty-six, Robinson has an unassuming vibe of gentle curiosity that belies the razor focus that appears the moment you sit in her chair and start talking about color—or if you ever overhear her talking about business. (Both her salons, for example, are currently in full operation, thanks in part to next-level filtration and ventilation systems she'd put in before the COVID-19 pandemic began.) No matter what your hair color, entrust it to Robinson and you'll never see a trace of brassiness or a hint of orange. And if you care about clean, she's got you covered. Her trademark palest bleached blonde notwithstanding, the look she gave our beauty director the first time she ever colored her hair prompted this comment from a date the following day: "Do you know how much people pay to have the kind of hair color that yours just is, naturally?"
But for Robinson, it's never about real versus fake, or youth versus age, it's about being comfortable and happy in your own skin.
1
Beauty Is Contentedness
Feeling beautiful, for me, is about being content. When you are content, all that makes you sad or vulnerable disappears. The crow's-feet around my eyes become laugh lines; the little dented corners of my mouth are from smiling. When I look in the mirror, what I see is happiness.
2
Keep Routines Simple
I can't use too many products; I need to keep it simple. My bleached blonde has been a constant for seventeen years—it just works for me. I use Christophe Robin shampoos and treatments and let my hair air-dry.
goop picks
3
With Good Skin Care, You Can Skip Foundation
I love that my day and night cream are now the same product: the new GOOPGENES face cream. It makes my skin feel super soft and velvety, so I never feel the need to use foundation. I just apply my RMS Lip2Cheek—it blends flawlessly over my goop cream.
And I use the nourishing GOOPGENES eye cream on my tiny laugh lines. It's amazing as a base under RMS "Un" Cover-Up for my dark circles. RMS has been my go-to for makeup for over fifteen years.
4
Get Enough Sleep
I probably work as hard as I ever did—I'm lucky to have lots of energy, considering I have an energetic eight-year-old boy and own one of the largest salons in NYC. In my younger days, I used to feel guilty about sleep and get up early even when I didn't have to. Now I embrace sleep and let myself lie down even when I'm not tired. Not only does the body need to recover but the mind does, too: no TV, no phone, no talking. I just lie quietly and breathe, or I take long bath with essential oils or salts to calm my energy.
goop pick
5
Don't Take Yourself Seriously
My aesthetic has always been easy and playful. I love fashion and hair, but I don't take it seriously. My wardrobe consists of simply cut colorful vintage dresses and handmade corsets that I mix with jeans and pencil skirts. My hair is usually in a messy bun, and I don't wear a lot of makeup (if I do, it's either a bright lip or bright eyes, but never both). When you're young, you never need to do much to yourself, and I think it's that attitude that keeps people looking youthful. I see it every day in our team of young talented stylists and colorists: confidence! You need a lot of that when you own a business in NY. I don't doubt my judgment or decisions when it comes to my work, but that kind of confidence comes from years of experience. I was just lucky enough to start young.
goop pick
6
Let It go
Negative energy and the things that take up too much space in our heads need to be released. I no longer sweat the small stuff or the big stuff. Everyone is carrying something heavy around, and some have many heavy things in their lives. Because of that, people have lots of emotions they need to release. I never take things personally.
7
Stimulate Your Senses with Scent
I use G.Day Black Pepper + Rose Hip oil when I get out of shower. It works amazingly with my signature scent from Costume National. My regimen ends with Buly Baume des Muses from Paris. It comes in a pretty case, and they put your initials on it—it looks great on my bedside table.
8
Eat
For me, restrictions don't work, although I have naturally developed my own form of intermittent fasting: I'm totally guilty of starting my day with a treat—usually a baked good and coffee, but I have to watch my sugar intake, so for the rest of the workday and on weekends, I skip heavy meals and stick to healthy snacks. My dinner is usually a small veggie sauté or Mediterranean-type food. During my pregnancy, I was nauseous all the time, so my husband, Abell, made up this drink of sparkling water with fresh rosemary and ginger. Eight years later, it's still my daily refreshing drink. When I have alcohol, it is an occasional hot toddy in winter, or an organic red wine with good thin-crust pizza in the summer. The weekend is when I love to bake and experiment: I make up recipes using almond flour, coconut sugars, and avocado for shortening. Sometimes I come up with something that tastes good, but usually it reminds me that I should just stick to doing great hair!
I don't get a chance to work out during the week, but I do count steps working at the salon. I do a more structured workout with a great trainer on weekends—he helps me realign my hips and shoulders from standing all day—and I do strength training Saturdays and Mondays.
9
Listen to Your Grandmother
This past year I've found myself having many fond memories of my childhood growing up in New York. I was raised by my step grandparents. We had a very modest lifestyle, but they were naturally quirky and kept life fun for me. The simplicity and balance of who I am today emotionally and physically is the result of their life lessons. They also taught me to appreciate and embrace my own sense of style and balance. I was constantly drawing, painting, and sculpting, and by age ten, I had learned to sew and silkscreen clothes—and of course, I loved hair! They constantly encouraged my artistic side. It became a way for me to quiet my mind and meditate; I would get totally lost in drawing. As a teenager, I watched classic movies and tried to re-create movie stars' signature hairstyles and clothes, but with a then-current spin. Today, both Abell and I like to repeat what my grandmother always used to say: "Keep it simple; keep it you." This is my approach not only with myself but in my work with my clients.
10
Make Sure the Air's Clean and Safe
Most of the salons Abell and I have worked in over the years haven't had the best air quality. There are fumes from hair color and from products heating up on hair from blow-drying, flatironing, or curling, and keratin treatments. We also noticed that midafternoon, stylists and colorists would invariably get sleepy and have a quick coffee or a snack. We felt most of this had to do with air quality and lack of fresh air. So when we built our salons, we decided to put in the most current HVAC systems with the most efficient filters for air particles, dust, dander, fumes. The intention—and this was before COVID-19—was to have clean, crisp air that you'd notice the minute you stepped off the elevator.
I'm not an expert, but the system we have in place is what's now being recommended for most public places to convert to: a continuous fresh-air system that brings in outside air and sucks out the existing air, so the air is never recycled but always moving out and exhausted. We had this system in place to keep the air quality high for both our staff and our clients; who could have known how important it would turn out to be to already have the system in place?