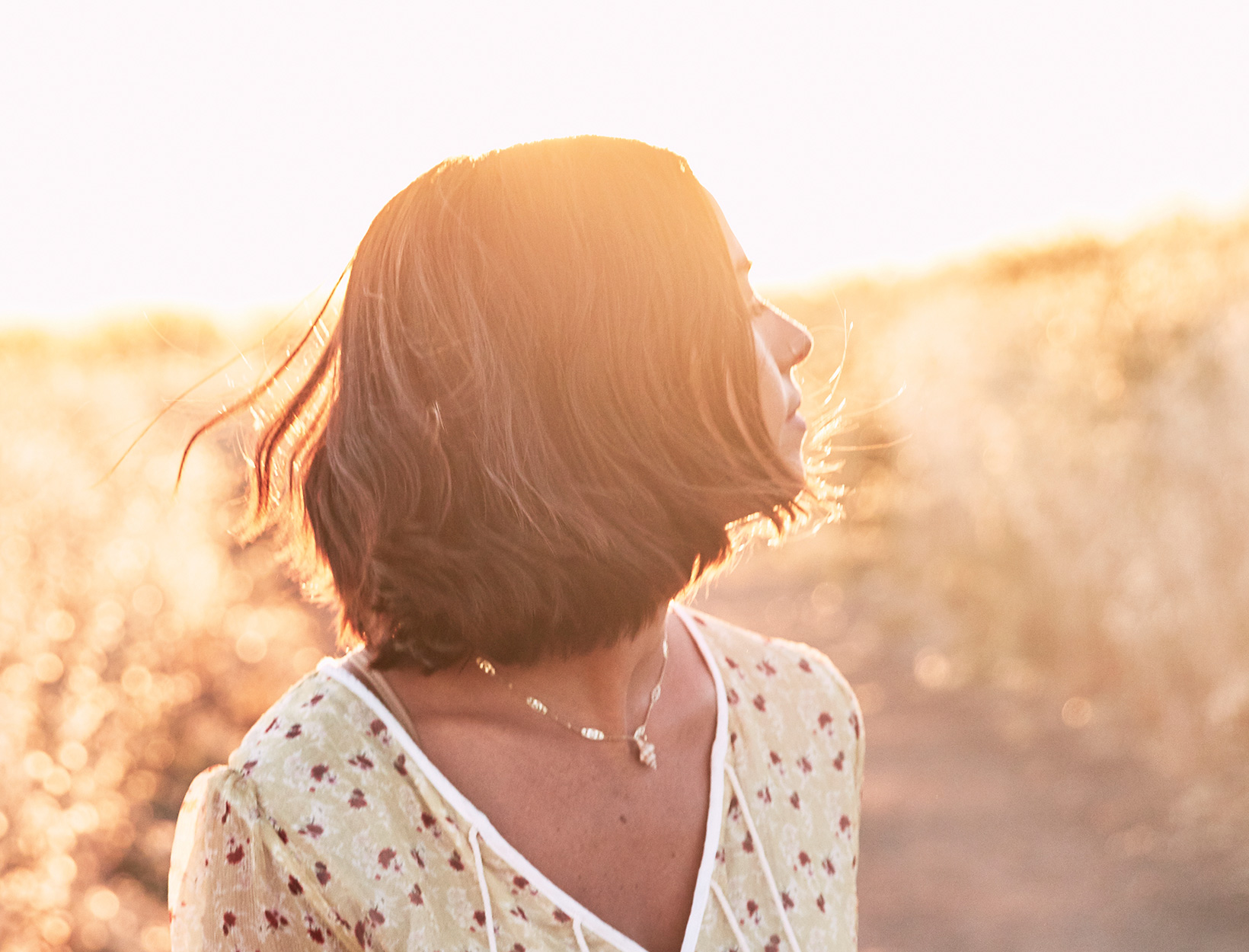 Easy Steps to
Sexier, Shinier, Healthier Hair
In partnership with our friends at Nutrafol
Maybe it's the prolonged daylight that makes our hair look glossier. Or maybe our hair really does grow faster this time of year. But whatever the reason, summer is the most rewarding time to focus on getting hair as shiny, bouncy, and healthy as it can be. The best strategy for hair health is a multipronged one, incorporating diet (including a game-changing hair vitamin designed to boost growth—more on that in a bit), heat, massage, and of course, some really great, clean, nontoxic products.
Daily stress, overstyling, hormonal changes, and inadequate nutrition can all compromise hair, as can the chlorine-sun-salt-water routines of summer. But whether your natural texture is curly, straight, kinky, or wavy—and whatever your age—these steps make nurturing your hair into shiny, healthy abundance easier than you might think.
1

Massage Your Scalp

It's totally anecdotal, but every hairstylist we talk to emphasizes the importance of getting in there with your fingers every time you shampoo and really scrubbing your scalp (the way they do when you have your hair washed at a salon). "It's important," says top New York hairstylist Harry Josh. "I do think it makes a difference." Plus, it feels fantastic. We like to amp up the massage with our whipped shampoo scrub, which is full of chunks of pink Himalayan salt and feels just as amazing on the scalp as you might imagine.
2

Nutrition Changes Everything

The best things you can do for your hair—and of course, your overall health—is to eat a nourishing diet full of antioxidants and colorful vegetables, particularly berries, broccoli, and green tea; get great sleep; and reduce stress. Supplements can also make a difference in getting the specific nutrients we need to boost hair health and wellness. Made with ashwagandha (an ayurvedic herb that may help the body regulate stress), North Atlantic cod marine collagen (collagen is the most abundant protein in our bodies and crucial to skin and bone health), and antioxidants like biocurcumin and vitamin E, Nutrafol is a hair supplement we love. The formula is clinically shown to support healthy hair growth, without soy, gluten, shellfish, binders, or any of the harsh chemicals. Instead, the ingredients in Nutrafol work on a holistic level to help balance the body and its stress response and metabolic systems that affect hair growth.* In fact, in a clinical double-blind, placebo-controlled, peer-reviewed study in which the subjects took Nutrafol for 180 days, 80 percent saw an improvement in hair growth and thickness, and 73 percent saw a boost in hair growth rate. Around the goop offices, a number of us have tried the formula and the results are super impressive (albeit anecdotal). One editor's friend kept asking her if she'd gotten a blow-dry or a new haircut. Bonus for goop readers: Get $20 off new subscriptions on Nutrafol.com with code GOOP (valid through July 31, 2019). *Results may vary.
3

Double Condition

Moisturize your hair in the shower and out, focusing on the lengths and ends (never the roots) to keep them supple and flexible. You'll have less breakage overall and tons more shine.
4

Heat Makes a Difference

The easiest way to bring shine and silkiness back to hair that's gone dull is a hot-oil or hot-mask treatment. Supercharge it with heat and the gleaming results can last through multiple shampoos. (Use a blow-dryer, go in the sauna, or wrap your moisturized hair in a hot towel, all for about twenty minutes.)
5

The Right Blow-Dryer Is Essential

Whether you're using your blow-dryer for the above to make a conditioning mask sink in more effectively or to style your hair, you always want a device that's easy to wield and smooths hair without exerting too intense a blast of heat. The one from Harry Josh is a dream (not to mention it comes in the coolest mint-green color). It has eight different settings—including a cold-shot button to amp up shine and soften frizz—and a kick-ass motor that cuts drying time in half. Plus it's amazingly lightweight.
6

Minimize Frizz (and Breakage) with Your Towel

Believe it or not, using the right towel for your hair can help boost shine and minimize damage. All hair is more vulnerable when it's wet, and rubbing it dry with a typical towel can tear the hair's protective cuticle. Made of super absorbent, ultrasoft, gentle-on-hair fibers, the towel from Aquis dries hair faster while minimizing breakage and frizz.
7

Boost Shine Even as You Brush

This combination of boar and nylon bristles can actually increase shine, and it's gentle on your hair, so you get fewer flyaways and less breakage.