How Do I Get That (Big, Beachy) Hair?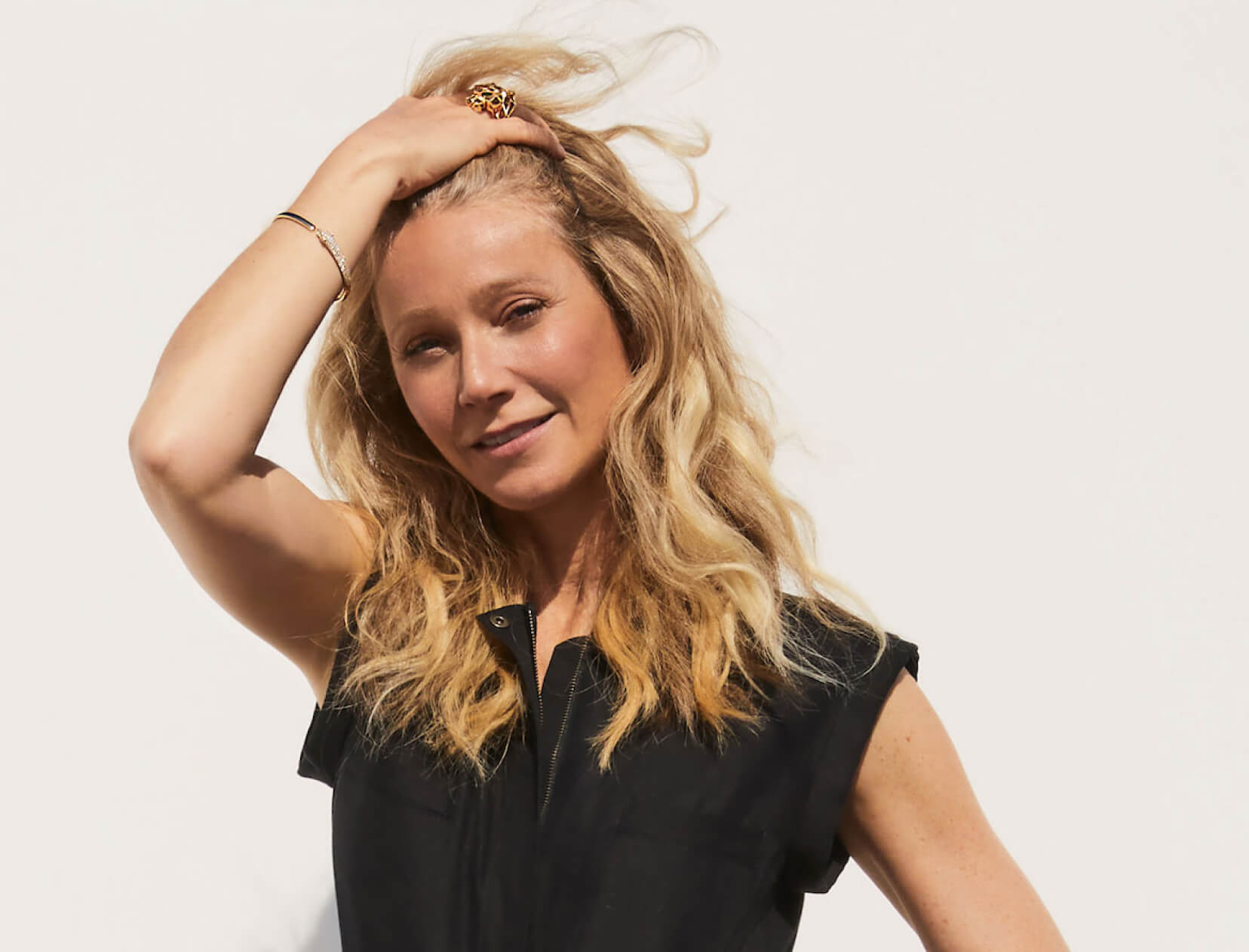 Hair on the runways is getting bigger and beachier, and for this shoot, Gwyneth worked with top Dove hairstylist Mark Townsend to get a just-woke-up-like-this look inspired by both the beach and—dare we say it—a sort of '80s big-hair feeling. "We talked about, 'Let's do the pretty version of that major big hair,'" laughs the LA-based Townsend. "With 'pretty' meaning we held back a little, tamed the frizz, and gave it a little polish."
"People think beach hair and they create big identical barrel curls around the front, which definitely isn't what you look like after a day at the beach," he says. Instead, Townsend focused on amping up volume, wave, and texture. His (incredibly easy) step-by-step guide to getting the look works whether you have wildly curly hair, thin hair with little body, or anything in between. "You don't need GP's actual hair to do this," he says. "It's great no matter what your hair type or texture. It takes some effort to look this effortless—but not that much."
Gwyneth's tip? What you wash your hair with makes a huge difference. "I use the Shinebath shampoo and conditioner in the shower first thing," she says. "It gives your hair the best texture to start with."
Like Gwyneth, start in the shower with great shampoo and conditioner, then follow Townsend's steps from the moment you're out of the shower.
1. COMB—DON'T BRUSH—YOUR HAIR
"I combed her hair through just once, with a wide-toothed comb," Townsend says. "A brush or even just extra combing causes frizz."
2. SMOOTH IN CURL CREAM
"Curl cream is brilliant—it brings the natural curl pattern right back after you've combed your hair," he says. "You don't want to lose any of your natural texture."
3. BLOW-DRY WITH A DIFFUSER
"The Harry Josh Pro Dryer is my favorite—I've always used one," says Townsend. "You can control the air and the heat, and I leave the ionic feature on to get rid of frizz. Use the diffuser to keep the curl pattern you've got."
4. DRY SHAMPOO: BEST STYLING PRODUCT ON THE PLANET
"To create any sort of volume, you need grit. And dry shampoo—keep it close to your roots—gives you that grit and that long-lasting volume," Townsend says. "People think hair spray is the way to get volume, but the problem is it clumps your hair together, while a powder, like dry shampoo, separates for great texture. It's amazing for curly hair, fine hair, long hair, short hair—it gives you lift that lasts all night."
"The other thing you can do with it at the start of any styling is absorb extra oil and even product in your hair," he says. "Spritz it through your hair and brush with a flat brush. I'm telling you, dry shampoo is the best styling product on the planet—and I love, love, love this Act + Acre one: It's so good."
5. ALMOST EVERYBODY LOOKS BETTER WITH A LITTLE BACK-COMBING
"A bit of back-combing at the crown elongates the face and makes you look a little taller—what's not to like?" Townsend says. "Hold up a section of hair at the top of your head, spritz dry shampoo into the roots, and back-comb, again just at the roots."
6. GO ROGUE WITH YOUR CURLING IRON
"Curling irons are where beach hair can go off the rails—it's a look that isn't about perfection in any way," Townsend says. "No perfect curls, no curls that match the curls on the other side of your face precisely. There's an R Session double-barreled iron I love—you wind your hair around the two barrels in a sort of figure eight, and it comes out as if you've been sleeping in big chunky braids (that's another option, if you've got the time). But no matter what kind of iron you use, go random."
7. FINISH WITH A SPRITZ OF SEA SPRAY
"If you've got wavy or curly hair, spritz salt spray through your midlengths and ends. If your hair tends to be flat, spritz just the tiniest bit on the ends—but do a little, because the texture is everything," Townsend says. "I took it on set with me once we started shooting, and every time GP changed, I'd spray in a little more and scrunch it in."
8. CLEAN UP WITH HAIR SPRAY
"If you get bits of frizz or flyaways, spritz a little hair spray on a natural-bristle toothbrush, then smooth the flyaways with the toothbrush," he says. "The clumping-together action of the hair spray works to your advantage in this case."
9. IF YOUR HAIR NEEDS VOLUME AND CURL
"Change out the curl cream for volumizer," Townsend says. "I love the Innersense foam: Work it into your roots, blow-dry, then go in with the dry shampoo again, just at the roots. Finish by spritzing on salt spray just at the ends."
10. IF YOUR HAIR IS EXTRA CURLY
"To do this look on very curly hair, it's really about turning the curl into a wave while keeping as much volume as you can. Air-dry it, then create waves using a curling iron with a clamp," Townsend says. "It's much easier than spending an hour blow-drying."