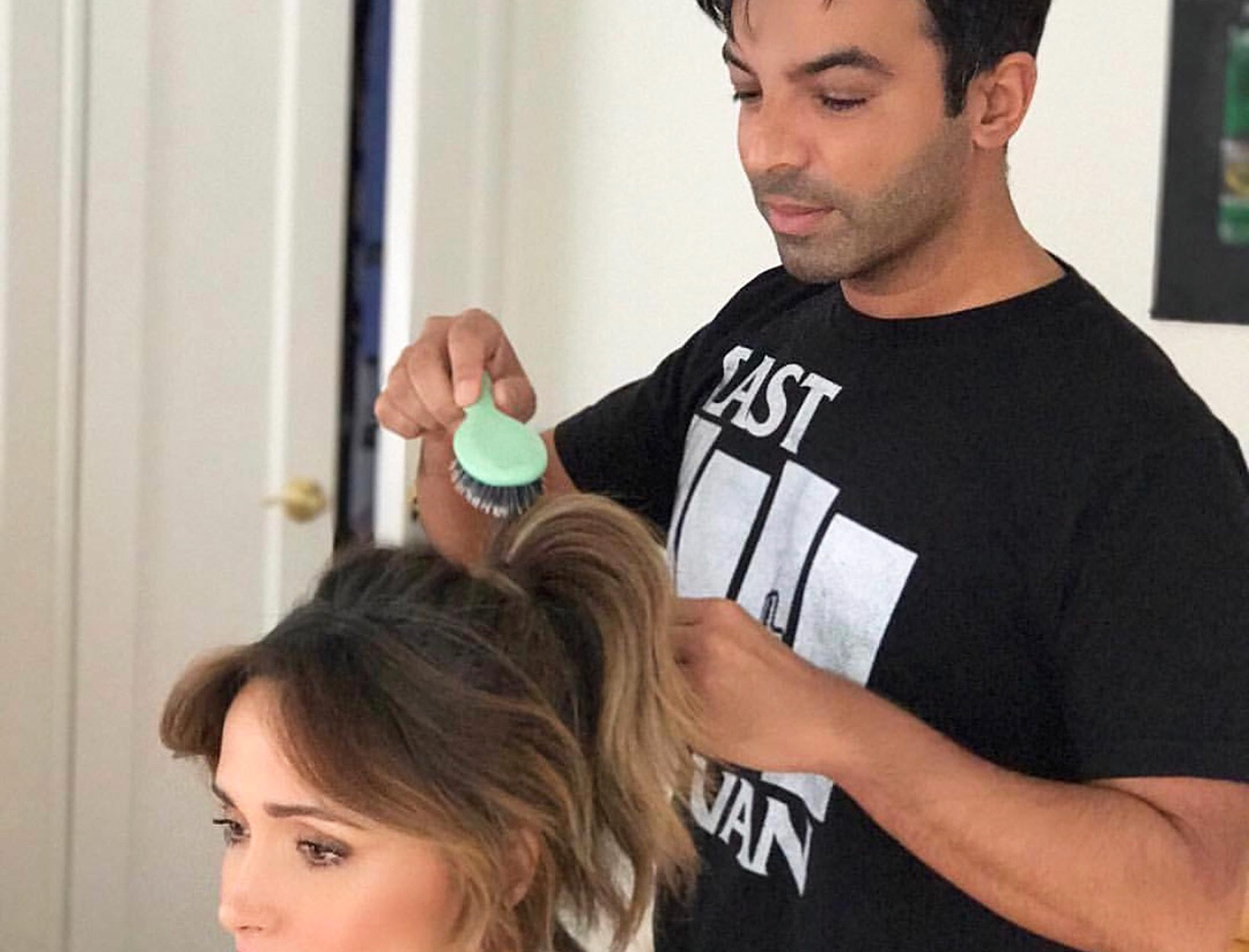 the beauty closet podcast
A World-Famous Hairstylist on How to Get Shiny, Healthy Hair
(No Matter What Your Hair Type)
goop beauty editors Jean Godfrey-June and Megan O'Neill love to ask—and answer—questions. In their podcast, The Beauty Closet, they're doing both. To familiarize you with each week's guest, we came up with a goop beauty (and life) questionnaire.
This week we're talking to:
Harry Josh, hairstylist and creator of
Harry Josh Pro Tools
Harry Josh is one of those rare people who looks as engaging as he actually is: There's a twinkle in his eye, his smile invites you in with a conspiratorial air, he laughs easily, and he gesticulates with generosity. Whether he's blow-drying your hair for the red carpet (as he's doing above for Rose Byrne and as he frequently does for GP) or telling you his wildly compelling, super inspiring story (as he did one recent Tuesday at our Beauty Closet podcast studio), that generosity invariably spills out.
The story of how he ended up as one of the most in-demand stylists on the planet (he's famous for Gisele's beachy waves along with some of GP's most iconic red-carpet looks) is incredible. So is his ability to explain how to do your hair at home, whether the look you want is sleek and shiny, wavy and beachy, soft and curly, just-woke-up-like-this or big-party polished. He's fascinating to listen to, and he gave us so many great hair tips—we can't wait to share them with you.
listen now
Afterward, we still had (many) more questions, so we had him fill out our beauty version of the goop questionnaire.
Estimated number of blow-dries you've given?

Well over 10,000.

Sexiest hairstyle?

Bedhead.




To scrunchy or not to scrunchy?

Scrunchy.

Go-to weeknight recipe?

Vegan tacos.




Secret for defined curls?

Make sure you apply product to wet hair.

When did you last use SPF?

This morning.




Tips for flatironing hair?

Work in small sections and use a top-notch, one-pass iron, like mine.

Can't-live-without skin-care product?

True Botanicals Pure Radiance Oil.

Favorite book?

A New Earth by Eckhart Tolle.




What would you put on your neon sign?

You get what you give.




Best career advice?

Enjoy the journey, don't be in a rush, and always put your best foot forward.




Hometown?

Vancouver.




Favorite hotel room?

A suite at the Chateau Marmont.




Hair looks best…

When it's slightly undone.
Best tip for taming frizz?

Use a clear brow gel to tame flyaways.

Wouldn't fly without?

My iPad.




Bath or shower?

Fifty-fifty.

goopiest moment?

When goop's founder (hello, GP!) helped me pick my signature green color for my brand.




First job?

I was a salad bar attendant for an all you can eat.




Preferred healing modality?

Acupuncture and cupping.




Healthiest thing you can do for hair?

Be diligent about treatments.

Preferred form of exercise?

Weight lifting and cardio.




Easiest trick for instant shiny hair?

Use the cold shot on my dryer and a serum.

Favorite cocktail?

Casamigos skinny margarita.




Drink of choice?

Soul Garden from Juice Press.




Favorite date-night activity?

Charades.




First celebrity crush?

Simon Le Bon.




Things you buy in bulk?

Juice Press.




Proudest moment?

Being on Oprah two times.




Mentor?

Serge Normant.