How to Take Care of Your Hair When You're Pregnant
Written by: Jean Godfrey-June
|
Published on: May 12, 2019
|
Updated on: January 3, 2023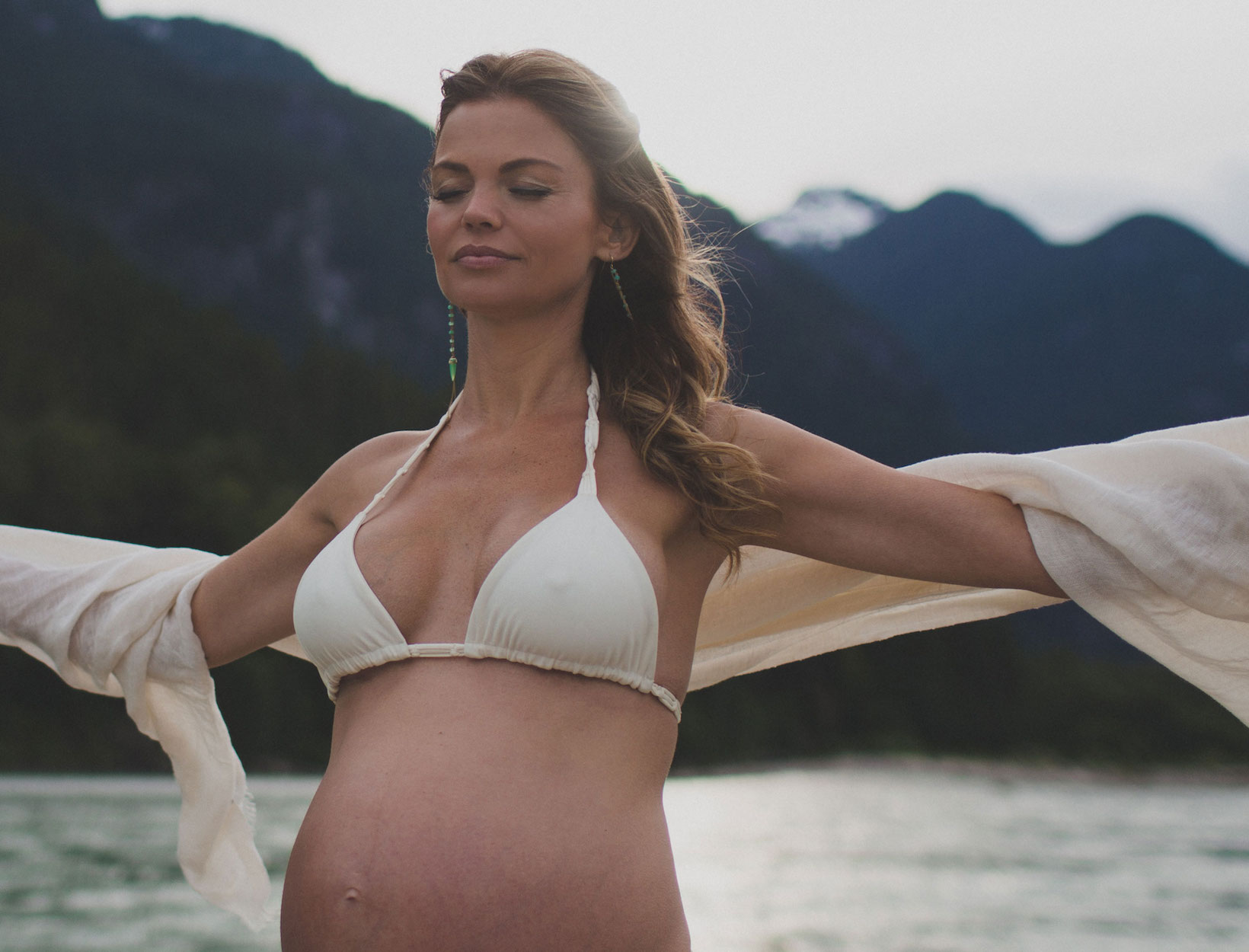 Photo courtesy of Robyn Penn
If ever there were a moment to go clean with just about everything in your life—food, cleaning products, and especially beauty and personal-care products—it's when you're considering getting pregnant. And because hair-care products, from color to plain old shampoo, are among the most potentially toxic in the beauty industry, your hair routine is an ideal place to start.
What's at Stake:
There are not known safe amounts of many of the endocrine disruptors present in many conventional beauty products; even small amounts can affect an adult's hormones, not to mention those of a (far more vulnerable) developing fetus. How bad could they be? Two such chemicals common in fragrance (they can be present in actual fragrances but also in any product that lists "fragrance" as an ingredient) are proven to cause specific birth defects in boys' reproductive systems. Avoiding endocrine disruptors is important, but pregnant women (okay, all humans, but especially pregnant women) should also avoid the powerful irritants, allergens, and carcinogens that conventional beauty products can legally contain. The industry defense is invariably that "the dose makes the poison," that these chemicals are present in such small amounts that they can't harm human health. But in the case of endocrine disruptors, there is no known safe dose. And in the case of many of the other problematic chemicals, the "dose" can involve many products, used multiple times a day, so we can't know what dose we (or our babies) are receiving. It's worth going clean, wherever you can.
Pregnancy-Safe Hair Color
Hair color is famously tricky for pregnant women, but colorist Marie Robinson, who owns airy, packed salons in New York and Miami, is used to navigating it for her clients. Since the most toxic dyes contain paraphenylenediamine (PPD), permanent and semipermanent color made with it (most of them are) are ruled out immediately. Whether you're coloring in the salon or at home, get really clear on what's in the formula. "Ask your colorist for hair color that is low in ammonia, with no parabens and no PPD," says Robinson, herself the mother of a six-year-old. "And I tell my clients to wait till after their first trimester and expose themselves to as few chemicals as possible as our general environment has risks between air, food, and pollution."
That said, there are definitely areas of less worry—highlights, for instance. "Highlights are completely safe, since generally the dye doesn't touch the skin or scalp," says Robinson. "Any color that is painted on individual strands of hair, such as balayage or foiling, is safe."
But whether they get highlights or not, women with darker hair (the darker the color of the dye, the higher the concentration of PPD) often have problems with roots, particularly if they're going grey. "A lot of women start to get some grey by their late twenties," says Robinson. "If grey hair really bothers you, a demipermanent color can blend greys away with low or no ammonia and no PPD. Alternatively, stick with your usually base color and apply it only to important spots that are really visible, like the part and around the face. Don't do your whole head till your second trimester, though, and the less you do, the better."
At goop, we love the no-ammonia, no-PPD at-home temporary color from Christophe Robin (it lasts seven shampoos and looks incredible) and the at-home permanent color Hairprint that's so clean, you can literally eat it (it takes a bit more effort than the Christophe Robin, but it covers most greys and is permanent). The root-obliterating temporary hair powder from Color Wow is full-on miraculous and lasts until you shampoo it out.
Relaxers, Chemical Straighteners, and Perms
The chemicals involved in these treatments are so potentially toxic that they should be avoided when you're pregnant (read more in our story on the toxic ingredients in black hair care specifically). "I would stay away smoothing treatments, curling treatments—anything that involves chemically altering your hair and has heavy fumes," says Robinson. And go with your gut. "During the first trimester, you will probably feel slightly nauseated, and certain smells might really get to you," says Robinson. "Go only to salons that are well ventilated—even if you're avoiding certain treatments, you don't want to be inhaling other people's treatments."
Pregnancy-Safe Shampoo & Conditioner
Shampoo and conditioner might seem relatively safe, but remember that conventional versions are typically packed with not just fragrance but also preservatives, both of which can be hormone-disrupting. Clean formulas are free of both (go clean with the rest of your shower supplies, too; like shampoo and conditioner, they come into contact with a large percentage of your skin as you shower, and they are infused into the steam you breathe into your lungs). Our favorites combine brilliant cleansing properties with moisturizing butters, oils, and botanicals.
Pregnancy-Safe Styling Products
Because conventional hair spray, hair creams, gels, and other styling products are full of the same problematic fragrances, preservatives, and plastics as conventional shampoos and conditioners (and often contain higher percentages of those chemicals), we avoid them. Clean styling products can make a real difference in how your hair looks and feels; a great brush or a brilliant blow-dryer can, too. Because hair is typically thicker and shinier during pregnancy, you may find you need less styling overall.
Indeed, Robinson says many of her clients do less to their hair in general for the whole nine months. "If you don't want to color your hair during pregnancy, it will be thick and healthy anyway because you're taking prenatal vitamins, which are full of folic acid and good stuff that will keep your hair looking shiny and great," she says. "That's the upside."