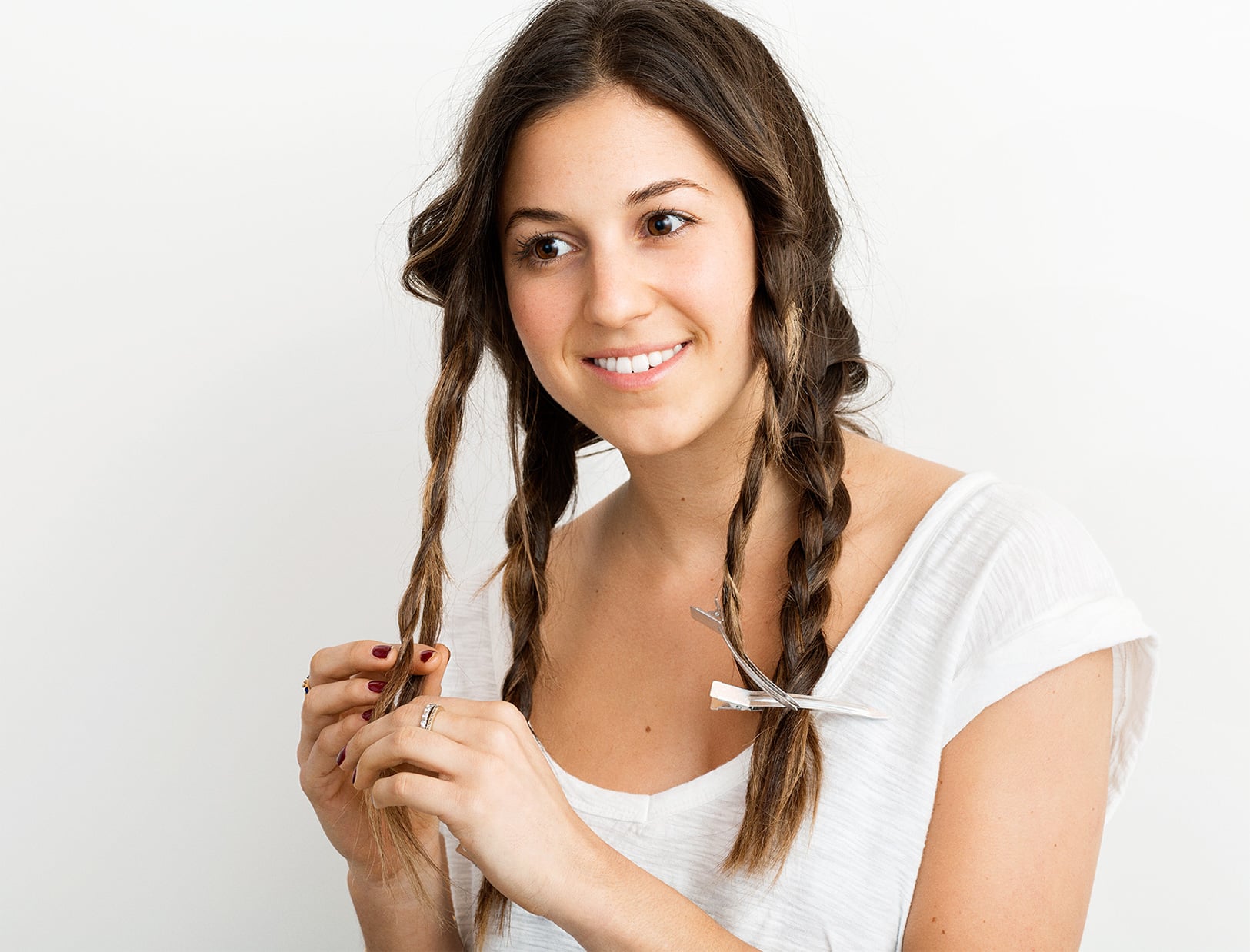 Effortless-Looking Hair, 3 Ways
Walk with Matt Fugate through the cobblestoned West Village/Meatpacking District streets that surround the airy, bustling Serge Normant at John Frieda salon downtown where he's a star stylist (and now, consulting hairstylist for Kérastase), and you'll be stopped, almost constantly, by incredibly good-looking women, at least half of whom are just coming from or on their way to the salon to see Matt. Even the ones who've just come from the salon have that model-off-duty, I-woke-up-like-this sort of hair—the opposite of what you think of as just-done, freshly styled, or newly colored. "It's the cool-girl thing right now," he says. "Nobody wants to look like they made an effort, had a blow-dry, curled or coiffed anything." Rest assured, he notes, waving at some happy clients across the street, hair styling tools aren't dead: They're all still there, just being use for less-polished purposes.
"People want less of the oily, silicone-y, perfect-curl, reality-star vibe," says Fugate. "It's more about natural oils, less stiff, more…off duty. The new Aura Botanica line from Kérastase is perfect for this look, whether you heat-style or air-dry. It's a pendulum, of course, between the natural look and the polished coif: Right now, it's all about effortless, quirky, individual—more natural."
There are many routes to an effortless look, however: Here, three of Matt's faves (illustrated by shots from our new book, GOOP CLEAN BEAUTY, where the styling was done by Adir Abergel):
Ultimate Natural: Air-Dry Perfection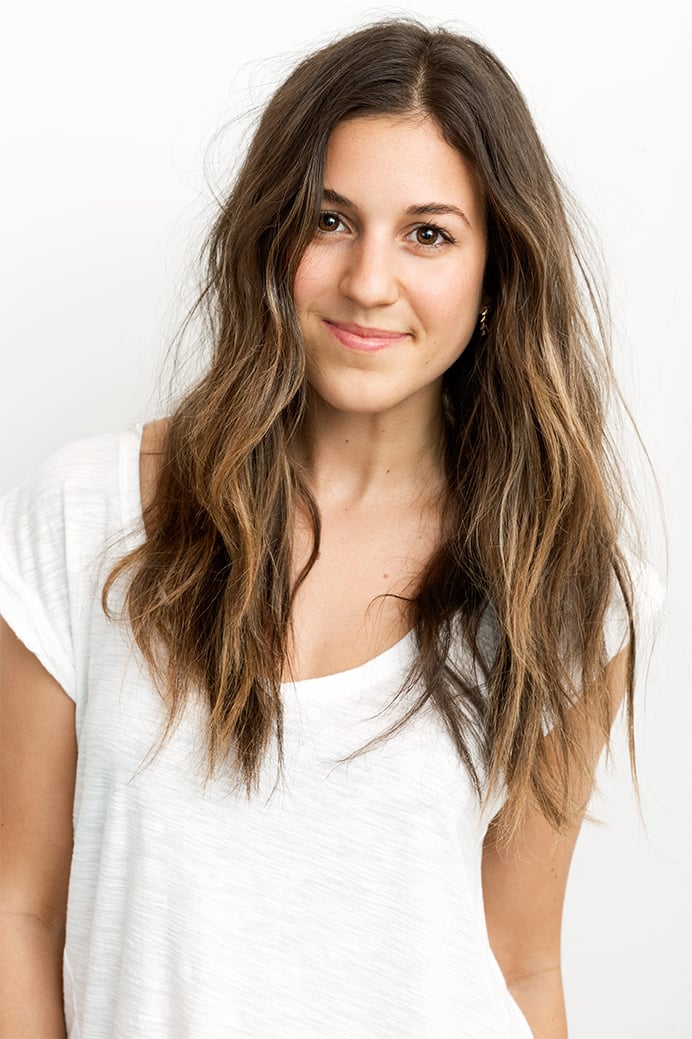 Goop's associate marketing manger Emily Alteri models a tousled, natural wave. (For more goop-staffer modeling, great hair how-tos, and the best beauty advice on the planet, get GOOP CLEAN BEAUTY.)
"The main thing is to aid yourself in your air-dry, to rid your hair of excess moisture, so this doesn't become a three-day process—and so you're not diluting the product you want to use," says Fugate. "So blot dry with a towel, or even wrap your hair in a towel and wring it, gently. I do like those microfiber towels—they absorb a lot more moisture, because they touch more surface area. There's no real downside to them—the only thing is, with any towel, you just don't want to be super vigorous, or you'll create frizz."
"If you're one of those girls who really frizzes, use paper towels to blot the hair, to be as un-abrasive as possible."
"You want your hair pretty dry before you go in with product," he explains. "Really thick hair can take creams or oils—but even if your hair's thick, use a small amount and spray it or smooth it into your hand, so you distribute it evenly. You can do an oil mist, too—I love the new Aura Botanica Essence D'eclat Hair Oil Mist from Kérastase—it's 99% natural, and it's absolutely incredible—kind of the ultimate product to get that cool-girl texture: Flip your hair over and mist from the mid-length to the ends. The mist is so fine it'll distribute perfectly on its own—I still like to mist it into my hand and then run through the hair, but see what works for you. I also love leave-in conditioner to keep hair moisturized and super healthy."
"If you want more of a bend in your hair, grab random sections of hair and wrap them around your fingers into a curl—then you can clip it, let it set a little bit," he says. "Another thing I like to do is make two sections on opposite sides your head, and twirl each piece to make a sort of rope, and then clip to two ends together so they don't unravel—it's so pretty when you take it out."
"To avoid too much frizz—the less you touch your hair the better—use a mist on your hand, then shape curls around your finger, and you can treat frizzy spots with a bit more product if you need," he explains. "If you overdo, blot with a paper towel so it's less oily and heavy."
For fine hair, mousses are great, but you use them differently than you would if you were blow-drying," he says. "Where you would normally slap it on at the roots for a blow dry, when you air dry, put it onto your paddle brush—I love Mason Pearson. This will distribute the mousse through ends better, which is where you need it. Mousse is a foam gel, and normally you have to activate it with heat right away or it turns into a sticky mess, but a very small amount into the mid-lengths and ends give an air-dry hold and texture."
"To give fine hair the body you want, turn your hair upside down and shake it around as it dries; then once it's dry put dry shampoo in—it gives it body and grit, and it prevents it getting flat and greasy later on."
The Un-Blow-Dry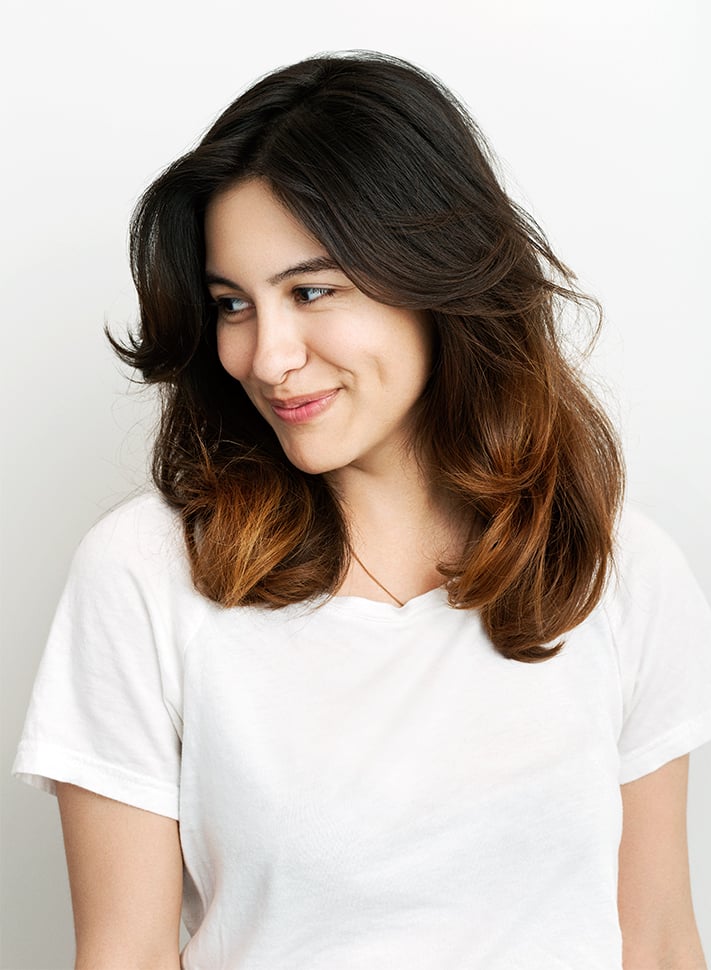 Social media guru Jasmin Perez.
Plenty of clients aren't ready to go full-on air dry, says Fugate; the idea here is the look of air-dry, but with the shine, shape, and control you get if you blow-dry. "As you dry your hair, think of doing a rough dry—flip it upside down, really move your hair around, spritz in a little texture—I like the Aura Botanica Essence oil mist—before you start, and the force of the air from the blow dryer will help create a cool texture. I also love to use salt sprays and surf sprays to give it a little guts, when it's still semi-wet. Then you really let it fly with the blow-dryer—remember a little frizz is what makes it look air dried—not that you want it like cotton candy, but that the almost oily-perfect ringlets we're used to are a little…reality-star."
There are lots of ways to manipulate it once it's dry—you can wrap it around things like a toilet-paper roll or even rags. "Braids are great for thick long hair if you make sure all the moisture's out first: Put it into a loose braid or even a loose-braid bun, then later you drop it down and it's cool, messy, and beachy," he says.
If you do want to add in curl, keep it just as offhand, says Fugate: "Pick up imprecise piece in the hair to curl, rather that perfect sections. Wrap just the middle of the piece around the iron, avoiding both the roots and the ends of the piece. The faster your wrap it around and release it, the cooler it will look. Think of creating a cool, messy rope, instead of a defined curl. Rake your fingers through it, let it drop a little—you can always do again. It's better to use a lower heat twice, instead of high heat once. Keep the iron on low, grab random pieces, curl a big piece, then split into two…That freedom will make it more Princess Bride less Jersey Shore, more French girl, you know?"
The New (Sophisticated) Straight Blow-out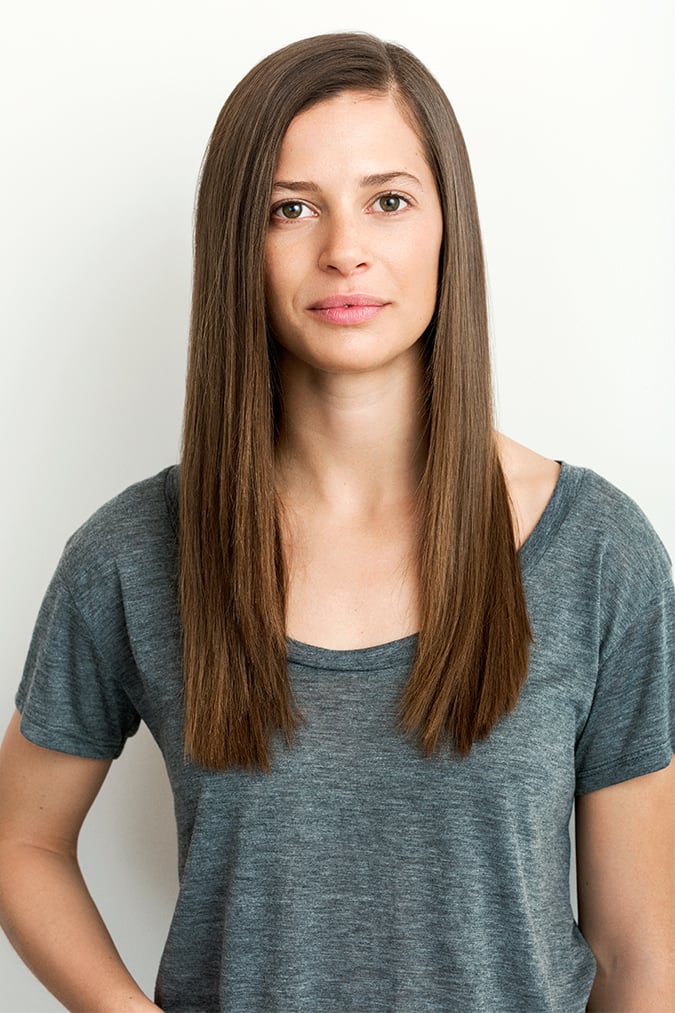 Goop editor Sonya Falcone.
For Fugate, the glassy-perfect blowouts of the past are a little too sleek: "That press-press-sizzle-sizzle process where you're trying to mimic a keratin treatment isn't really what's happening," he says. "Clean, straight, beautiful, polished hair still makes sense, but it's a little more relaxed, refined—not burnt into perfection. Women are more mindful of the amount of heat they're putting on their hair now; no one wants that fried look. It's a fine line between sophistication and overdone."
The good news is that the goal of a less-perfect finish makes it easier to achieve at home. "If you're good with your direction with your blow dryer, you're in great shape—you're just sort of taming it, getting the cuticle flat so you get shine and movement," says Fugate. "That section-by-section meticulous thing is not healthy for your hair, and the result doesn't look so modern. I like to use Kérastase's Aura Botanica Concentre Essentiel Hair Oil Blend—depending on your hair you can use it as a pre-shampoo, or use on mid lengths and ends before blow drying to prevent frizz—and then also mist a bit of the Essence in right before styling. Use a big boar-bristle brush as opposed to a ceramic or wire brush—they get too hot, and they have less give so when they hit snags, they rip through the hair and break it, cause split ends—make it more fried. If you've got really curly hair, you can use a flat-iron to touch up unruly pieces, or the concentrator on your blow dryer."
Related: How To Repair Damaged Hair