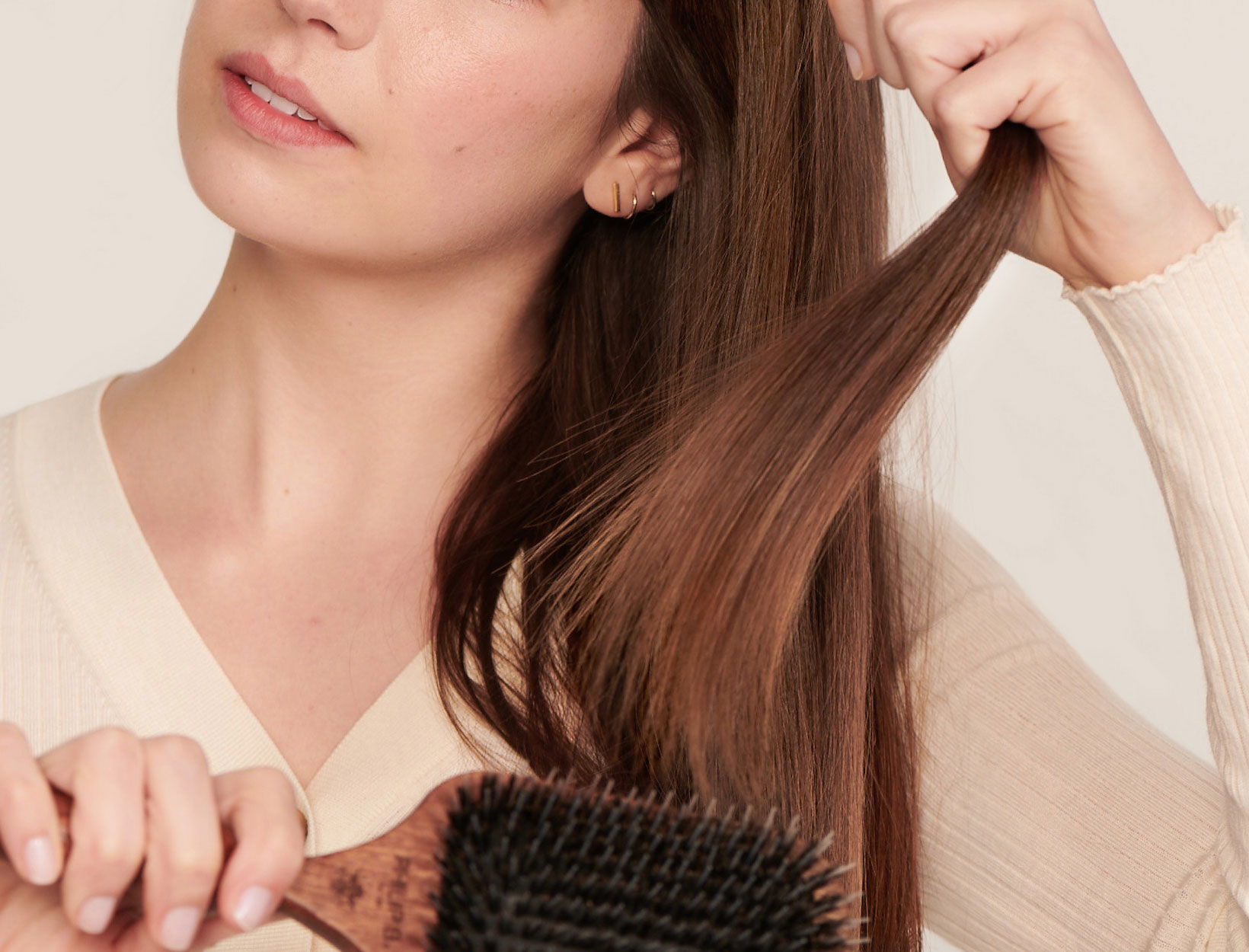 The Best Clean Conditioners
for Shiny, Sexy Hair
Whether your hair is kinky, curly, frizzy, straight, or super fine, keeping it healthy and shiny can be easier than you think: A great (clean of course) conditioner goes a really long way.
Different hair types need different degrees of moisture, which is why finding the right conditioner for your hair can make such a difference, whether you're looking to boost shine and softness, minimize frizz, eliminate tangles, or preserve and brighten your color. Weight and texture seem to be obvious indicators of the way a product's likely to behave in your hair: If you've got a fine texture, a light cream or lotion conditioner will give you shine without weight, and even a super light oil is probably going to be too much. But on the other hand, the relatively light cream conditioner from Sangre de Fruta may seem to be too little for hair with more texture or curl, but its high concentrations of botanical oils make even very kinky hair smoother and softer.
That said, if you've got curly, kinky, or coarse hair, the more conditioning, the better—so adding a hair mask to your routine in the shower (where the steam opens up the cuticle, allowing the nourishing ingredients to really sink in) is a way to amp up the shine even more. And add yet another moisturizing step—working in a leave-in cream or hair oil once you're out of the shower while curls are still damp—if you need more.
If you color your hair, conditioners tailored to protect color do make a noticeable difference (though any conditioner will help to some degree). Never condition directly after coloring—until color is really set, oil of any sort will dissolve it. After that, however, go crazy with conditioner to keep it vibrant and shiny (most coloring processes leech out shine like nobody's business, so you need to put it back in).
Like super textured or colored hair, dry hair benefits from layering conditioning treatments and—if you've got the time—a little heat. Before getting in the shower, work an oil like RMS's coconut cream through your ends and turn your blow-dryer on them for five minutes, as the heat will help the oil penetrate deeper. Use a rich conditioner in the shower, then finish with a leave-in or oil once you're out.
Whatever your hair type, making the shift to nontoxic hair care can make an incredible difference, if only because clean products, without all the fillers and texturizers to make your hair feel as if it's softened, use oils and butters to actually soften and condition your hair. But conventional hair care is an especially toxic-ingredient-laden category in beauty. And it's important to note that the parabens, preservatives, and synthetic fragrances (an ingredient in which brands can hide any number of undisclosed chemicals) common in conventional shampoos and conditioners are applied directly onto your scalp. When you go clean with your hair routine, in place of potentially harmful chemicals, you get hydrating oils, plant extracts, and nourishing butters that work to make hair healthy and radiant for smooth, shiny-hair days ahead.