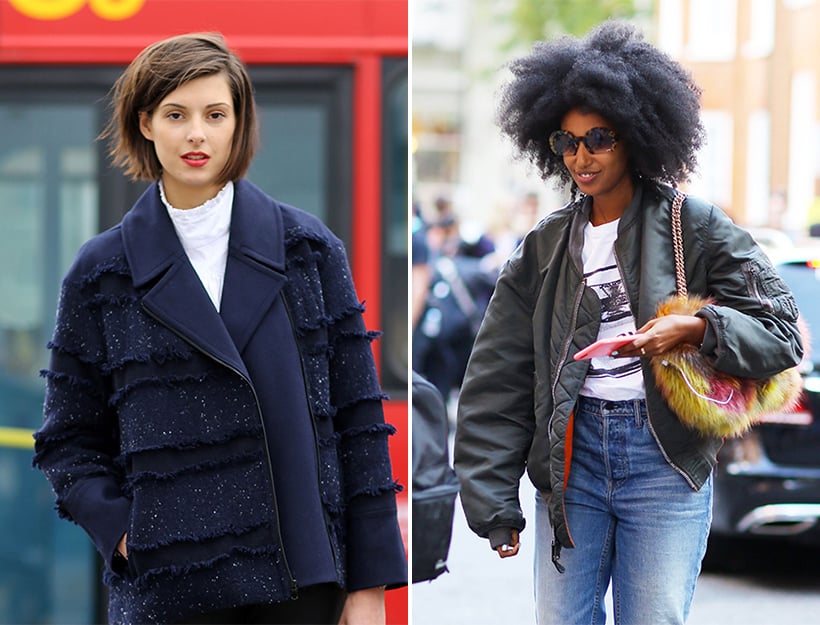 10 Life-Changing Haircuts
A truly amazing cut will change your life: Every single outfit looks better, for starters. Amortized over even a week, the price of a haircut, even an expensive one, is a serious bargain. Compared with a pair of shoes, or even a coat—you're going to wear the haircut more often, so invest in the best stylist you know.
The best stylist, it should be noted, is the one who really, really looks at you, and considers what's going to look best—not the person who gasps in horror at the cut you have now, or who you went to before. (If a new stylist is spending most of his/her time trashing the person who did your hair last, beware.)
The thing to bring is pictures, whether on your phone or torn from a magazine; they'll give the stylist an idea of what you like and what your general vibe is. Bring several, at least, so the stylist can see patterns in what you're choosing, and be vocal about what you like about each picture. Here, some great taste-makers with some of our favorite cuts:
Pixie

Adorable and super-confident, boyish yet incredibly feminine, the plus with this one is the low-maintenance day-to-day (it does need a trim more often, however). Parisian stylist Elisa Nalin's is super-cropped and so chic.

Long Afro

Wonderland Magazine's Fashion editor, Julia Sarr Jamois, has some of the most beautiful hair on earth, and her long, natural afro is the ultimate showcase for it. The look is attention-grabbing, gorgeous, and sophisticated all at once; frequent trims keep the shape and lots of conditioner keeps it soft.

Rumpled Waves

Waves need not be beachy—they can be tousled and French and artsy, as in exhibit A, actress/director Elisa Sednaoui, here. The best way to encourage waves, cut-wise, is with layers. (Of course, a judiciously-used curling iron is great, depending on your hair type. As is salt spray.) The key in styling this look is a bit of messiness.

Bob

Swingy and always-modern, a bob makes your hair look thicker and healthier instantly, and its neatness makes even old jeans look more dressed up. Daily Telegraph stylist and shopping editor Sophie Warburton's chin-length version is stunning. A blow dry increases both shine and swing.

Cropped Afro

Blogger and photographer Tamu McPherson's trim, clean style almost single-handedly brought back this chic, flattering cut. It all started when she let her hair go natural after years of straightening. Her secret: frequent trims, plus plenty of conditioner and coconut oil.

Bangs

Thick bangs frame your face like few other cuts—and whether your vibe is more Louise Brooks or Jane Birkin, they give you instant style, like this great looking girl, here. If your hair is super curly, you may need to style it a bit with a blow-dryer or hot iron, but don't go super-straight—you want the bangs to blend. Similarly, if your hair's super-straight, don't style bangs with major curl.

Long Curls

Long curls look good cut with strategic layers—as on designer Natasha Zinko, here—so there's volume where you want it, more control where you don't. Fewer washes keep curls in place, as do conditioners, masks, and oils.

Sleek Middle Part

This super-70s look is popping up everywhere right now, and works whether you like your hair super-straight (as on model Zhenya Katava here), wavy, or even curly. Focus the sleekness at the top of your head and avoid layers; the heaviness of your ends will help keep the top smooth and unrumpled.

Shag

Somewhere between chin- and shoulder-length, with lots of layers, this is the ultimate rocker-chick look, as shown by style blogger Irina Lakicevic, here. It flatters just about every type except super-curly or super straight—though the former will work with fewer layers lots of hair cream, the latter with lots of volumizer.

Long Bob

Chopped with a few layers, a little uneven or even wispy at the bottom, this look is sexy and cool on just about everyone; we love how this girl does it. A texture product—depending on your hair type, it could be hair cream, salt spray, or even pomade—helps you achieve the perfect mussed-up-ness.