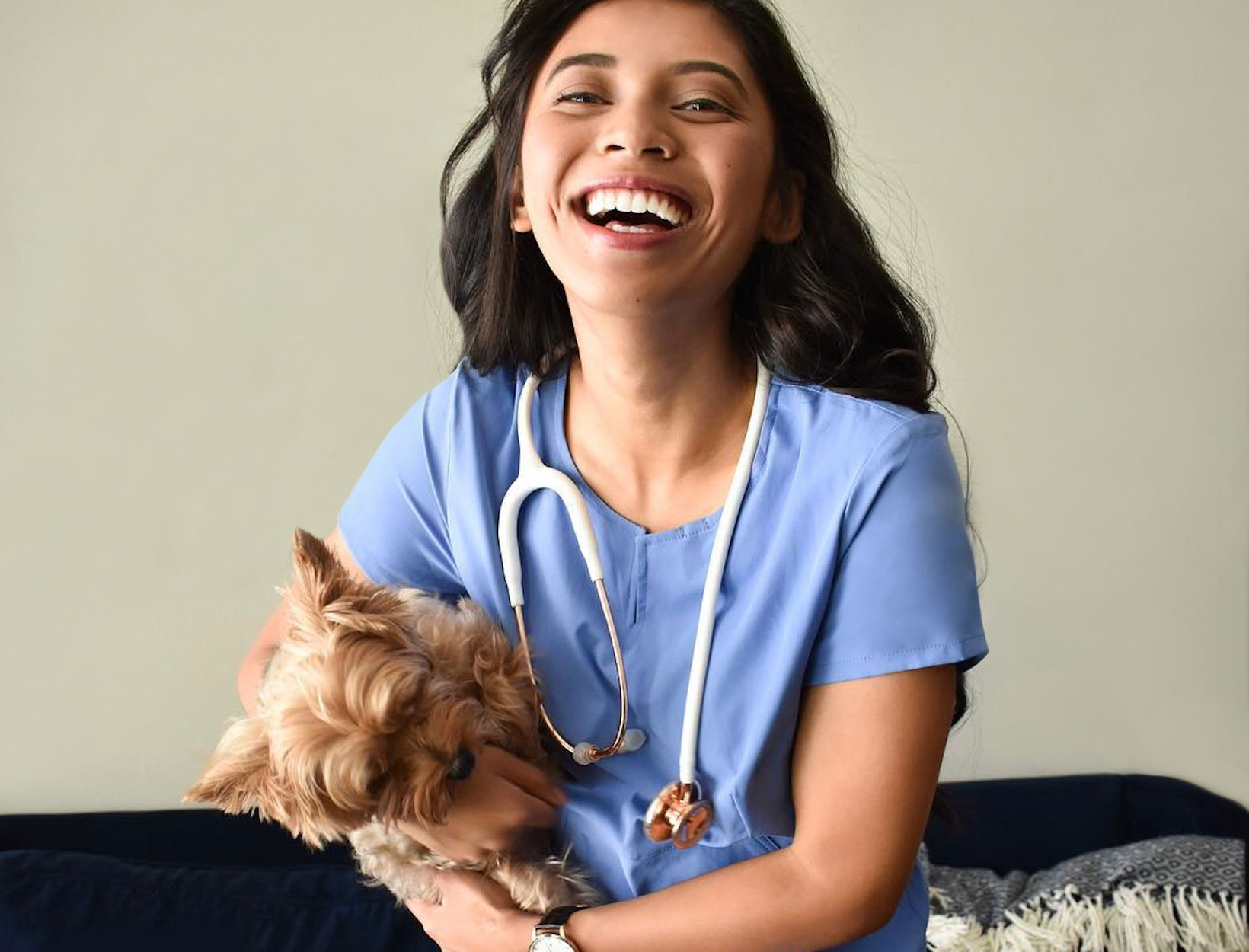 Patty Olino, R.N., in scrubs—and in the company of an adorable puppy.
We Sent Our goop Nurse! Bath
to an Actual Nurse
When the going gets rough, many of us at goop go home, put away the phone, and sink into a hot Nurse! bath. It's a mix of mustard powder, eucalyptus, manuka, Epsom salts, and all manner of essential oils and botanicals that just…makes us feel better.
Even the most stressful day at goop doesn't begin to approach what Patty Olino, R.N., experiences at her job on any given day. Olino works in an intensive care unit in Fresno, California, and she could not be happier about that. "I feel like the luckiest girl in the world to have been chosen to work in the ICU for my first position," she says. "This profession, at its core, serves critically ill patients in their most vulnerable times. Everything about the ICU is incredible. One day a patient is being sustained on machines, and the next week they're awake, talking with their families."
Easy, however, it is not. "I wake up at 5 a.m., come in to work, receive a report from the night shift, and then for the next twelve hours, anything goes," Olino says. "Our patients are on ventilators, heart monitors, you name it. Some days are tougher, when patients and their families are facing life-or-death situations, but it's a privilege to be at their side through it all."
If sustained caregiving requires one thing, Olino points out, it's that caretakers take care of themselves. "We give to others because this is what we love to do, but it's not uncommon for nurses to get burned out because we forget to take care of ourselves," she says. "I've seen a lot, including death and dying, and on the other end of the spectrum, I've seen miracles. It can take a toll on you if you let it, and if you don't take time for yourself."
Olino's strategies for self-care are wide-ranging: "It's spending time with my family and the people I love the most," she says. "My niece and nephew are the light of my world. I also run, do Pilates, or go to spin classes. All these things recharge me, even after the most difficult days."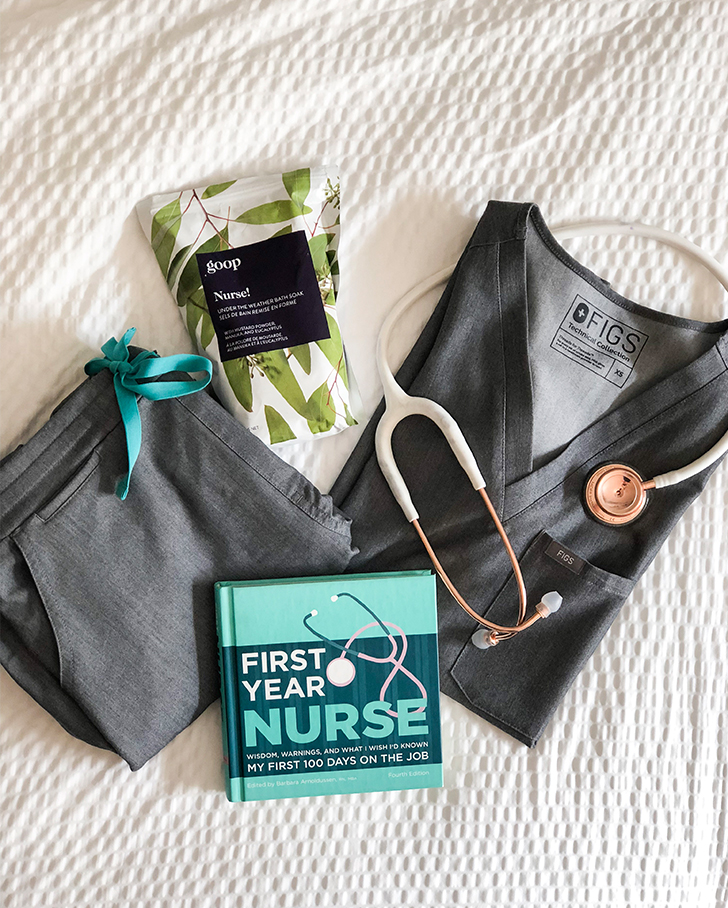 FIGS scrubs, goop Nurse!, and some required reading.
Olino had certainly taken baths before, but she didn't have a regular routine. So we sent her a bag of Nurse! to sample after work one day. The day had turned out to be a particularly challenging one. "I tried the bath soak after a really long shift on an especially difficult day—it was physically, mentally, and emotionally exhausting. I came home, and I ran the tub with the hot water, poured in a third of the bag, slipped in, and just felt like the weight of the world had lifted. All those essential oils—the eucalyptus, lavender, and rosemary—plus the rest of the ingredients, like the coconut oil, felt like a warm hug."
"I felt like it was someone taking the time to take care of me," she says. "Honestly, I didn't know it was something I needed until I tried it. Now it's a must-have to refresh. This bath is the first thing I'd use as a simple measure to treat myself after a long shift. I'm already scheduling another bath after my string of shifts this week."