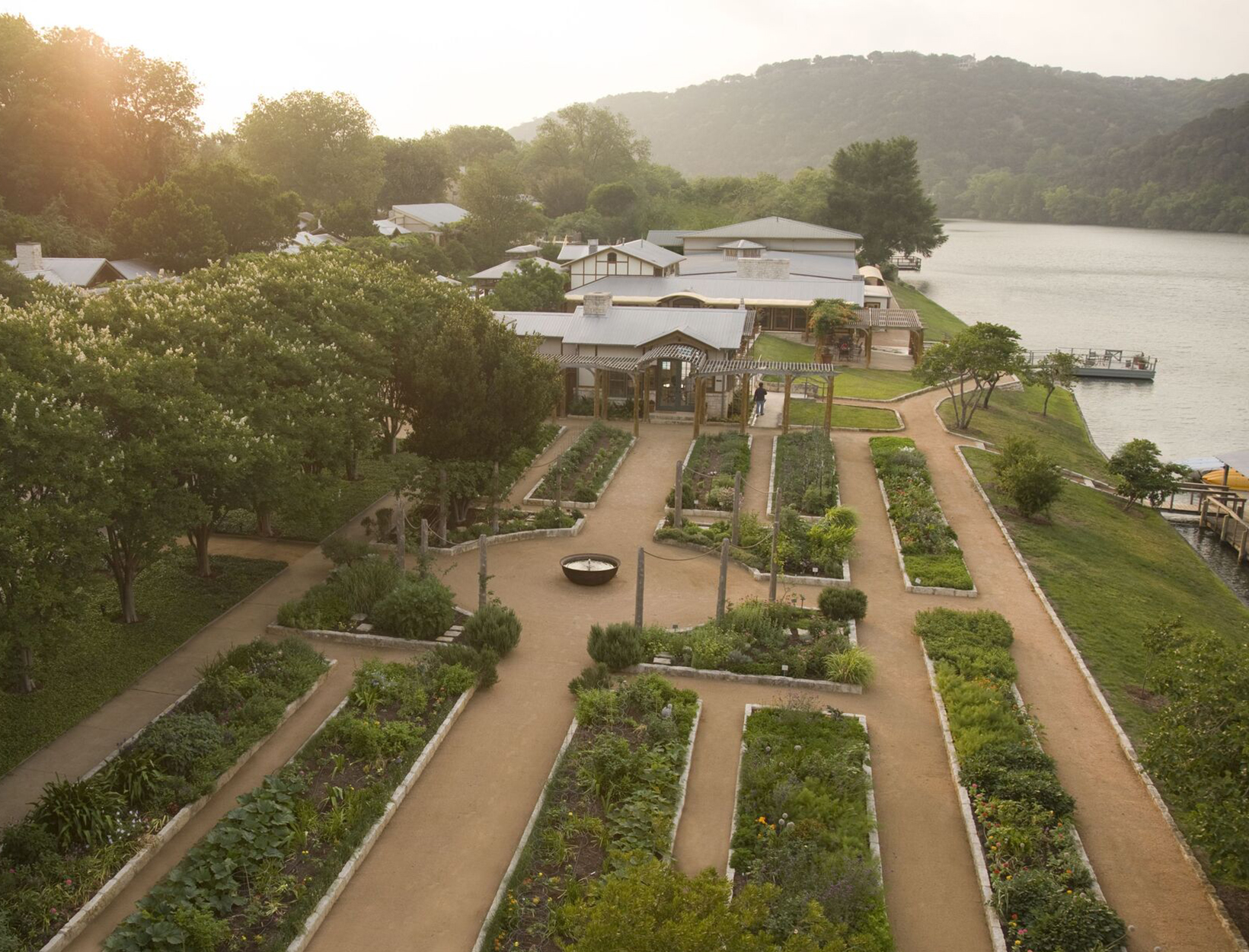 Water Is Therapy at the Lake Austin Spa Resort
Water is probably not the first thing that comes to mind when you think of Texas, but it's the incredibly relaxing/invigorating constant at the Lake Austin Spa Resort, which sits on an especially beautiful bend in the Colorado River about forty minutes outside Austin.
You arrive by boat, the almost rainforest-like steep hills on one shore, and the spa's rolling lawns, enormous trees (the most gigantic magnolia ever seen was in full bloom while we were there), and spectacular organic gardens on the other. Landing at a wide dock, you thread your way through racks of paddleboards, kayaks and canoes, plus hilarious-looking water-tricycle contraptions, rowboats, speedboats—any sort of water conveyance you can think of, they have. Past the waterfront pools, gardens, yoga studio, and restaurant, the individual, river-facing Craftsman-style cabins are arranged in a line that leads to the spa proper, with bubbling creeks, more outdoor pools and hot tubs, plus an incredible Pool Barn that's exactly what it sounds like. Up at the top of the hill, a giant wooden building houses, treatment and relaxation rooms, plus a spa restaurant. Everywhere there are outdoor patios, hammocks, docks—places to lull for a second or lounge for an afternoon.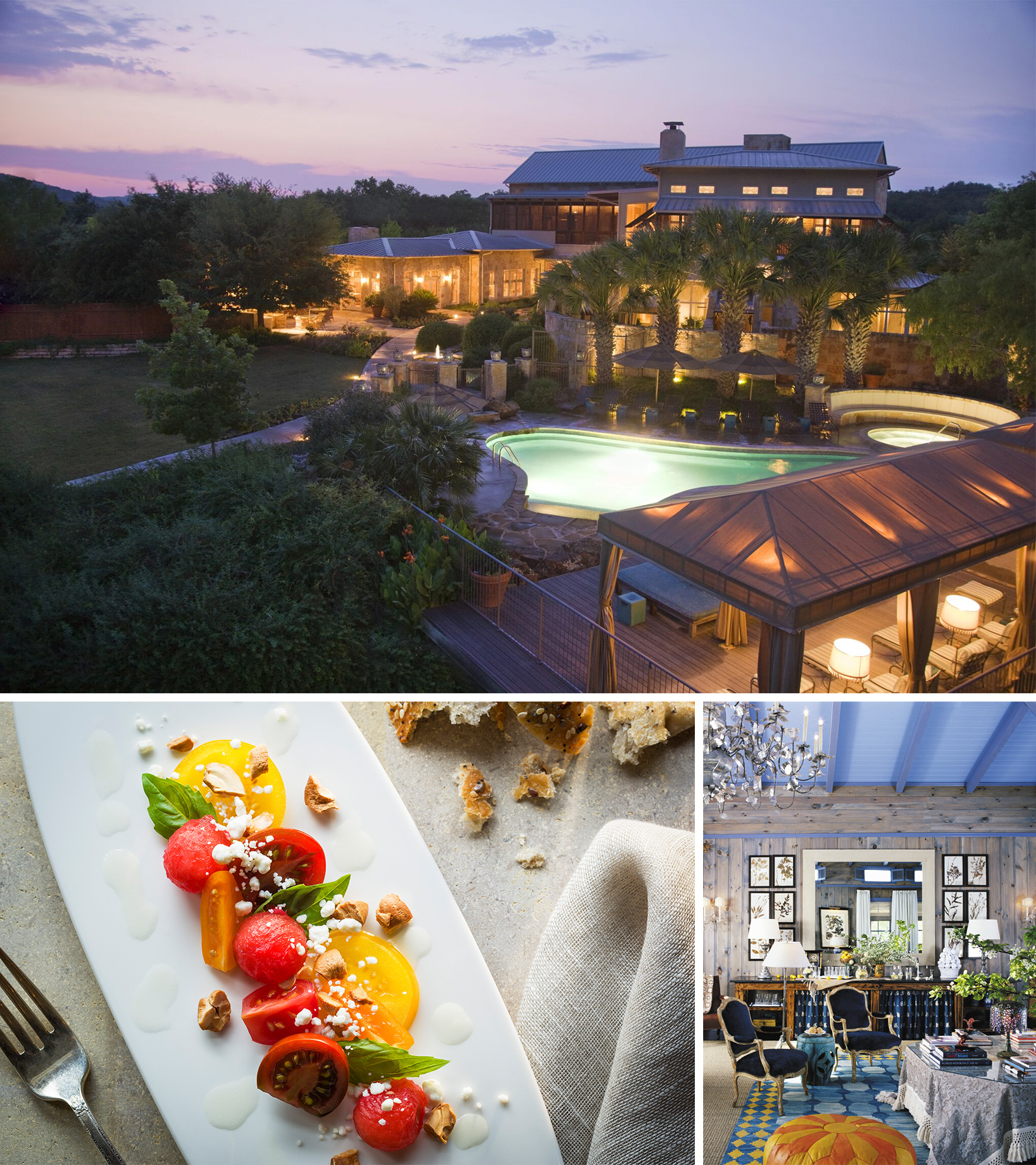 There are spas that drill-sergeant and calorie-restrict you into submission; there are spas that shock-and-awe you with luxury; Lake Austin Spa Resort is neither of those. It's a retreat—a healthy, happiness-inducing, easygoing one—from the world. Much the way the actually-powerful river manages to look as if it's inching slowly, lazily around the bend, the easy pace at Lake Austin is deceiving: Did I just spend all day eating clean, drinking lemon water, and relaxing in a way that's gotten me seriously back in touch with myself? Did I do yoga on a paddleboard in the middle of the river (you use about 70 billion more core muscles to accomplish this than you would in a regular yoga class, but the sun and the breeze and the butterflies wafting by make it seem like significantly less work), address fascia issues with a foam roller class plus an innovative water-fascia-therapy session? And did I really also squeeze in a hike in there, right before water-skiing?
Mom-and-daughters stroll by in their robes; entire wedding parties and countless groups of of reunited friends sit around tables; the place is as great for couples (there's the option of a dinner alone in the greenhouse-like garden library, as well as couples massages) as it is for singles (there's such a range of activities from mellow to intense that it's impossible not to both meet and bond with people on your particular wavelength).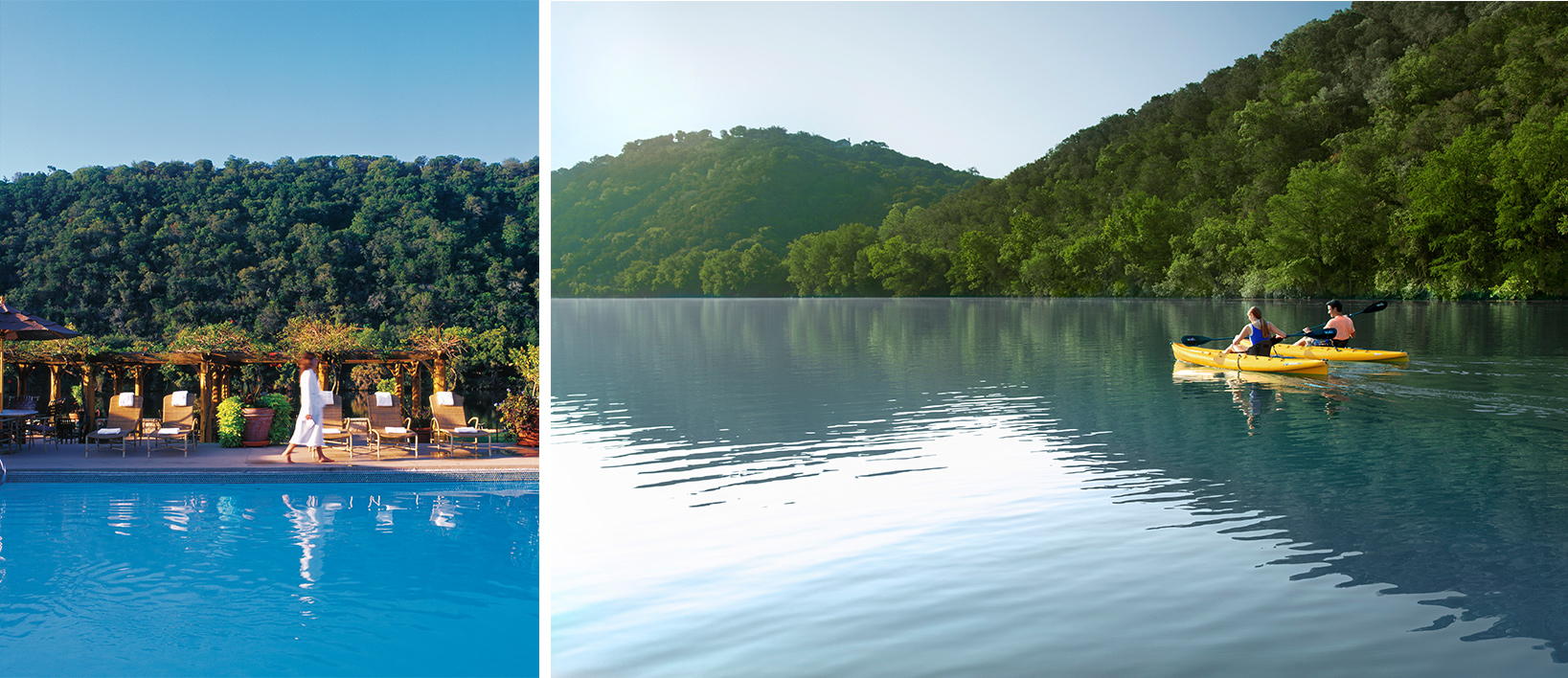 You can reward yourself with a glass of wine, or stick to clear, tart hibiscus tea; you can press the all-day-all-the-time call button by the kitchen for homemade frozen yogurt; you can go high-protein, totally vegan—whatever appeals. Similarly, the spa treatments range from the luxe standards—pedicures, massages—to the less-expected, more goop-y Chinese tapping/cupping treatment and the aforementioned (incredible) water fascia treatment.
The retreat-ness means you've got to go into town if you're looking for full-Linklater, music-palooza Austin—easy to do by boat or car—we suggest going before or after your stay, so as not to break up the total immersion that is the actual magic of the place.