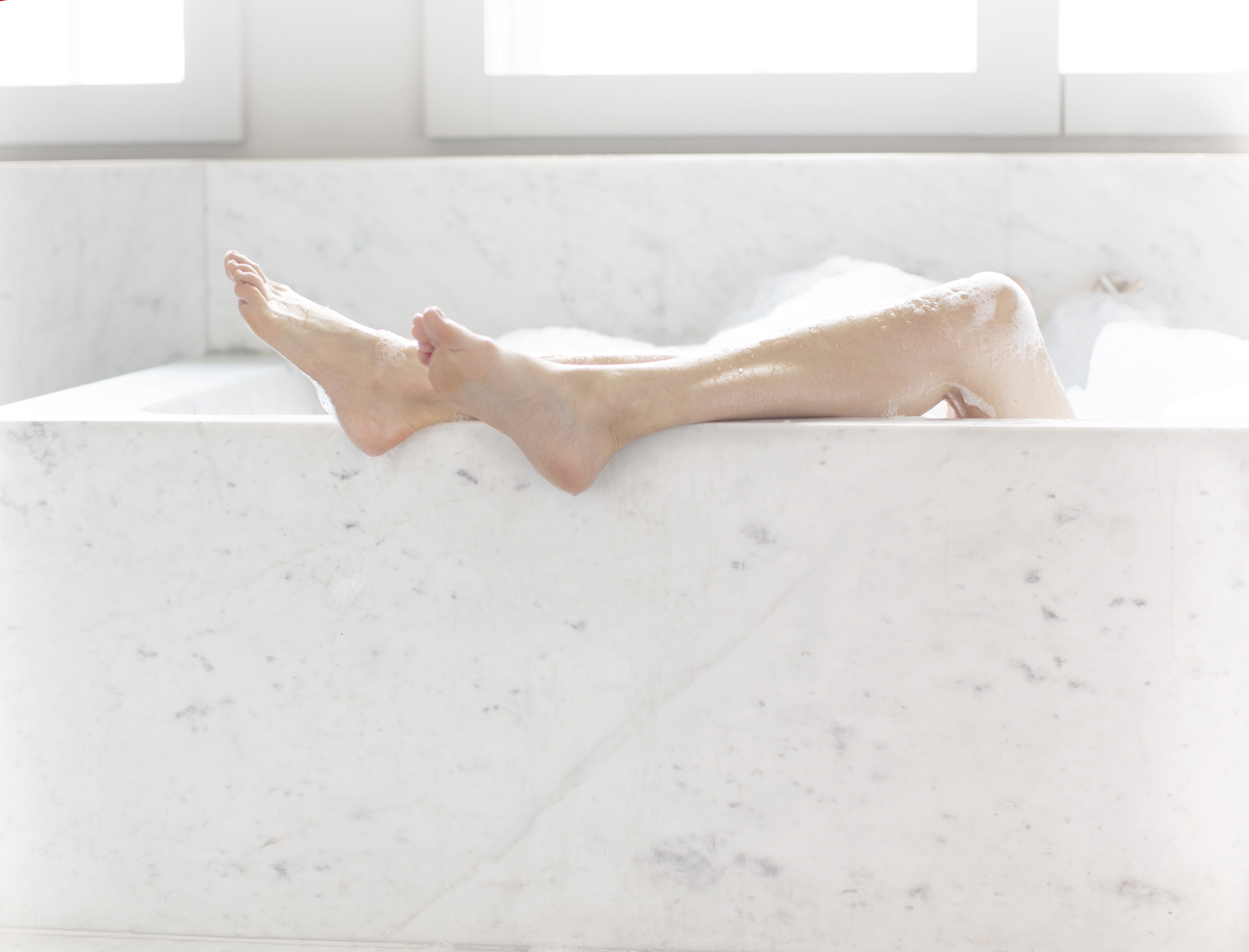 The Ultimate Bath Detox
The cliché about putting the oxygen mask on yourself first is a cliché because it has to be repeated so strenuously, and so often. Giving to others is nourishing, absolutely, but it is the moment of self-nourishment that enables all the rest: Before we can finish that work project, cut up whatever's in the fridge and put it on a wood board for everyone else to eat, or even cross another present off of our to-buy lists—we need a minute (okay, 40 minutes) for ourselves. A bathtub and time are the primary ingredients, to which we've added some amazing plant-based, totally nontoxic, super-rejuvenating miracle products we love, all in service of pressing the pause button—and, as we emerge replenished, detoxified, moisturized, and even glowy, pressing the full reset. The active treatment time is 40 minutes or so, but set aside about an hour all told—it will feel (blissfully) much longer.
1. Dry brush While you fill up the tub, brush your skin. It feels absolutely incredible and has all sorts of benefits. Even if it did nothing at all besides feel good, this step is totally worth it.
2. Turn your bath into a full-on treatment Dump all the wet-harvested salts, clays, and wild seaweed from this chic envelope into your tub, and follow the directions assiduously. You'll emerge having successfully pressed "re-set"—and deeply hydrated all at once.
3. Revivify skin as you soak To treat your face to the same detox/moisturize/renew action your body's getting, mix this cinnamon-colored mask with your favorite face oil and let it sit for 20 minutes—conveniently, the same amount of time you need to stay in the Pursoma bath for maximum benefits.
4. After a good sweat, finish with more detox + moisture Once out of the Pursoma bath, you're supposed to "rest and sweat" for 20 more minutes. Depending on how alert you are (those baths have the power turn a person into a temporary zombie), work some detoxifying oils into your skin, either before or, if need be, after the sweat phase.