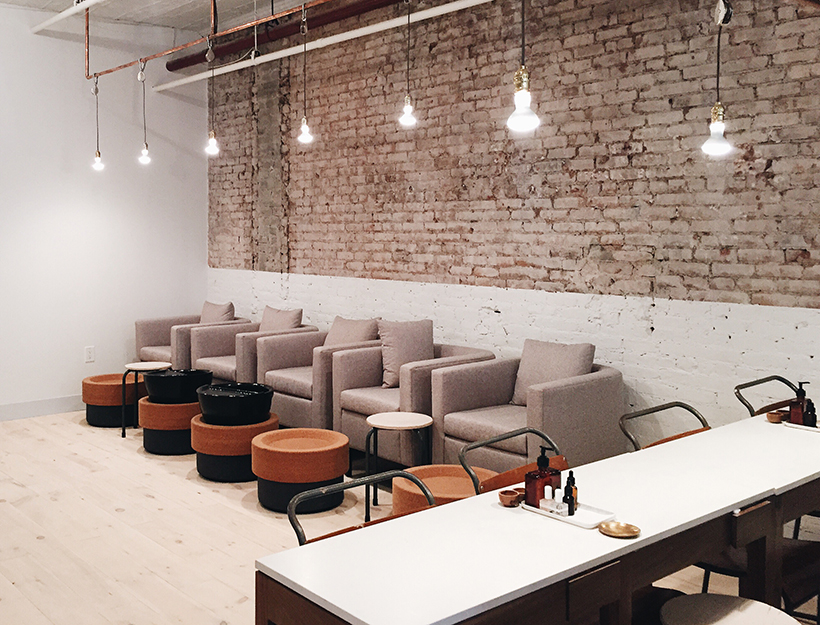 The Future of the Mani/Pedi
Whether you like to do manicures and pedicures at home, or have them done for you at a salon, the future of nailcare is non-toxic, socially responsible, and undoubtedly, a little more chic. Walk through the new tenoverten salon in New York's financial district, past flickering candles from Woodlot and mani-pedi stations stocked with tenoverten's 8-free nail polishes, paraben-free lotions, hot stones, and Weleda Skin Food (the latter two are used in the brand's Luxe services), and you'll never want to return to the chemical-fume-infused alternatives. (Have a meeting there in the new, 20-guest meeting room equipped with all manner of communications technology, along with pedicure and manicure stations fitted with ipad/phone charging docks and you'll never want to return to a conventional conference room, either.) It's the fifth location for tenoverten founders Nadine Abramcyk and Adair Ilyinsky Goodyear's ever-expanding, ultra-luxurious, and deeply clean nailcare empire (read more about them here).

Famously one of the least-clean categories in the beauty industry, the products and services involved in nailcare are in the middle of serious, consumer-mandated change. There's the issue of personal exposure and toxic load, and the additional one of unprotected salon workers' much more significant exposure to the same toxins; neither is acceptable. At JINSoon in the East Village, one of top manicurist Jin Soon Choi's three New York salons, cucumber-mint and milk-and-honey pedicures are performed in giant ceramic bowls and the focus is on safe formulas (the company's 5-free polishes are sold on goop.com, including a color she created exclusively for us, a classic, modern red called Vanity) and on proper ventilation, as well as masks and gloves for workers. Choi says her clients appreciate knowing that both they and their nail technicians are safe.
Nail Polish
Polishes themselves have cleaned up dramatically. Companies have taken out many of the toxins once associated with nail polish—but trying to parse through the marketing surrounding those changes is still a challenge. "Unfortunately, the terminology has become confusing because different companies use the same terms to mean different things," explains Abramcyk. "3-free and 5-free are the most commonly used, and tend to cover the same toxic ingredient list." But in some cases, in formulas that claim 7- and even 9-free, Abramcyk says that companies differ on what they're excluding, and that they cover marketing points that go beyond what the consumer is asking for in regards to actual toxic ingredients. In other cases, "excluded" ingredients are being called out that haven't been used in nail polish formulas for a long time. And how toxin-free a polish should be is ideally a matter of serious debate; there are "natural"-labelled products that turn out to have more toxic ingredients than traditional brands like Chanel, Dior, and OPI.

"It's tricky," says Abramcyk. "Some terminology has definitely become a marketing tool, which in turn can force other brands to try to keep up. However, it also allows brands who are honoring a non-toxic approach to state that claim in honest disclosure, listing ingredients that could be of concern. This will be an ongoing conversation as the consumers interest in less toxic and more natural products continues to grow," she continues. "For example, there was recently a new concern about TPHP, TriPHenyl Phosphate. We don't use TPHP, but we also don't call it out as an excluded ingredient."

You definitely want polish (and salons that use polish) that's 3-free. 3-free polishes have no pthlalates (DBP is one of them), toluene, or formaldehyde, none of which are healthy to inhale, touch, or otherwise come into contact with. All polish used to be made with these ingredients, so activism has absolutely paid off; cosmetic companies traditionally argued, as they did and still do with other beauty product categories, that each exposure is so minute as to be non-toxic. Not true for salon workers, who work with the stuff all day, or even women who are exposed through myriad other micro-amounts of toxins through the day (a.k.a. most human beings). Fortunately, most polishes are now 3-free—but it's absolutely worth checking the label to be sure (few self-respecting marketers will fail to mention their 3-free-ness).

Five-free polishes, beyond cutting out the original three, also delete formaldehyde resin and camphor. On goop, 5-free is our minimum. Others, from Chanel and Dior to OPI and Sally Hansen make gorgeous, also-5-free options. "It's a legitimate claim," says Choi. "Polishes that make it exclude the five most commonly used harsh ingredients in nail polish."

Beyond 5-free, things start to get muddled. "Much beyond 5-free it becomes a bit of a marketing ploy," says Choi. "Some of the additional excluded ingredients are rarely, if ever, used in nail polish. In fact, European Union compliance agencies don't allow manufacturers to list excluded ingredients that would generally not be used in nail polish."

For instance, the lesser-known 6-free category eliminates parabens—a laudable action, except that parabens aren't used in nail polish formulas. 7-free cuts out xylene, a solvent never traditionally used in nail-polish formulas—it used to be used in making permanent markers. 9-free, has no ethyl tosylamide, a plasticizer labeled a 3 (not terribly toxic) by ewg.org but banned in the EU for its potential to contribute to antibiotic resistance, and also no lead, banned in cosmetics in both the EU and Canada. Jacava, Butter London, and Scotch claim 9-free. "We recently changed our statement from 5-free to 8-free to make sure we address any of the toxic ingredients our customers might be concerned about and to reassure them of their exclusion," says Abramcyk. "We've never used any of the 8 excluded ingredients [all of the aforementioned except lead, which it also doesn't contain] in our formulations even when we used a 5-free statement. But it has become relevant and we want our customers to feel safe and informed."
Removers
Even polish remover is no longer the wince-and-hold-your-breath affair that it's been for decades. Acetone, both incredibly drying and seriously toxic (it's used in paint thinner if that gives you an idea), was long the active ingredient in remover—and still is in most conventional brands. "It's a harsh chemical solvent that's extremely drying on nails and often leaves a white residue," says tenoverten's Abramcyk, who explains that non-acetone removers still use solvents—but less aggressive ones that don't strip nails of natural moisture and oils, or leave a white residue. They do take longer to work, but they do work: One trick is to hold the remover over the nail longer before attempting to wipe it away—some manicurists advise using tinfoil to hold the remover-soaked tissue or pad onto your fingers, others simply advise patience.

Priti 916 Soy Nail Polish Remover with Lemongrass is so moisturizing it feels like an oil going on ($13, pritinyc.com); the formula comes in wipes, too. Tenoverten is coming out with their own remover infused with vitamin E, aloe, horsetail extract, and essential oils next year; Abramcyk also loves RGB's remover wipes ($28, rgbcosmetics.com).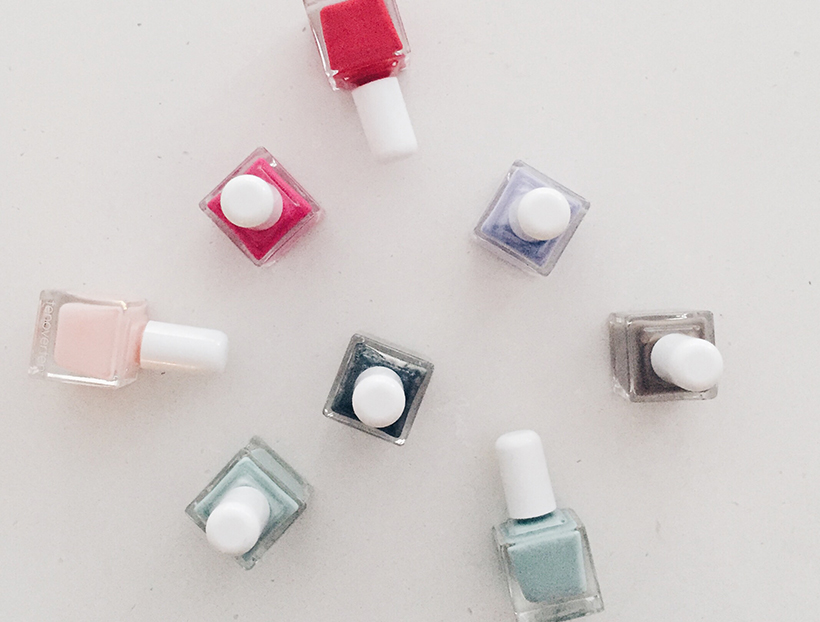 The Ultimate At-Home Mani/Pedi
This should be a relaxing moment of indulgence so take your time and enjoy inhaling essential oils, not toxic chemicals.
Step #1
Take a bath or a shower (few people have the setup at home to soak only their feet). Toward the end—when your skin is wettest—do a scrub. Depending on how dry your hands and/or callused your feet, a body scrub like Ila's Energizing and Detoxifying one ($78, goop.com) or Organic Pharmacy Cleopatra Body Scrub ($82, goop.com) can both exfoliate and moisturize; if you need more intensity, use a loofah, scrub brush, or, for feet, the amazing Clarisonic Pedi ($119, clarisonic.com, it feels as fantastic as it sounds and it leaves your feet incredibly soft).
Step #2
While your feet are still damp, massage in a rich cream like the jasmine-and-neroli-scented, balm-like Crema hand and body cream from Rodin ($84, goop.com). This is the pure-pleasure moment; enjoy the feeling. Sit and let the cream sink in for a few minutes; for extra conditioning, work a bit of oil (anything from argan to olive to coconut) or ointment (like Pure Papaya Ointment, $27, goop.com) into cuticles.
Step #3
Once everything has sunk in, push back cuticles with an orange stick, and cut them only if you must—but really, don't cut them unless you really, really have to (the area can get infected).
Step #4
Swipe each nail bed with polish remover, just to get all the oils off—they can cause polish to peel prematurely.
Step #5
Basecoat makes an enormous difference in how your polish lasts and looks. Perhaps most importantly, it protects your nail beds from getting stained by colored polish (reds, especially, can leech yellow onto the nails). The 5-free Le Base Protecting and Smoothing basecoat from Chanel ($27, chanel.com) is especially glamorous and fun to use—and along with filling in and smoothing nails, it leaves a soft, ultra-natural-looking pink glow on nails, so it can be worn alone, too.
Step #6
Color comes next. Do a classic French-girl red—JINSoon and goop collaborated on a fantastic trio of 5-free reds from bright to ultra-deep ($48 for three polishes, goop.com), a clean and natural neutral in pink (the perfect Muguet by Dior is $27 and 5-free on dior.com), clear white (RGB's Liquid Buff is gorgeous and 5-free, $20, rgbcosmetics.com) or taupe (the new 8-free Fulton Street from tenoverten is the ideal mushroomy beige, $18, tenoverten.com). The best chunky glitters come from 7-free Deborah Lippman (Happy Birthday, $20 on deborahlippman.com is especially amazing layered over grey polish) or green manicurist Jenna Hipp (The 5-free Hollywood Reporter is dark and sparkling).
Step #7
Topcoat allows you to get on with your day quicker—and if you reapply it every several days, your polish will last significantly longer. Some truly great ones (all 5-free or above): Chanel Le Top Coat ($27, chanel.com) is ultra-shiny and comes in the sleekest bottle, Pacifica makes a fantastic matte one ($9, pacificabeauty.com) and tenoverten's The Shield ($18, tenoverten.com) is ultra-strengthening.

Related: At-Home Pedicure Made Easy