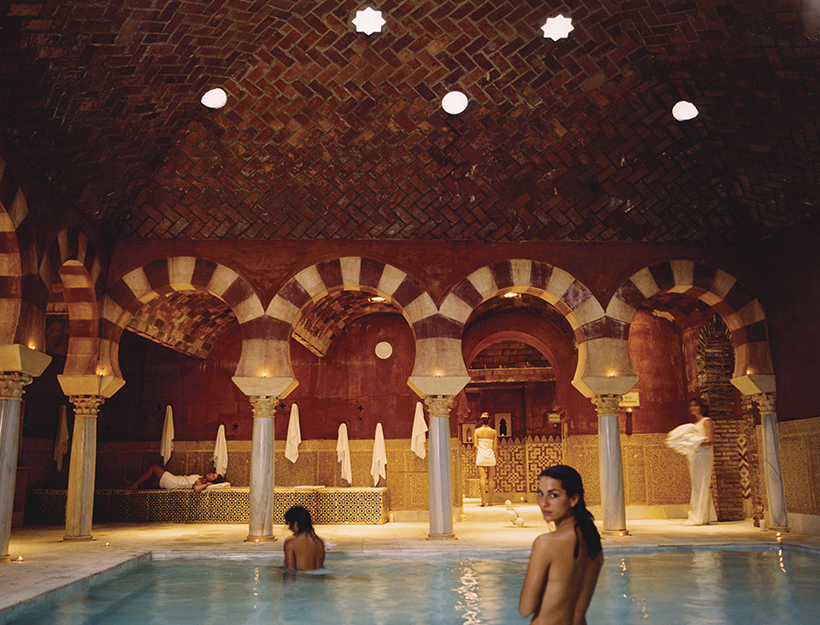 The Bath-Based Detox
From offsetting EMF exposure or seriously soothing sore muscles to life-changing meditations, the bath is re-emerging as a health treatment in its own right, as well as a powerful antidote to stress, both at home and in spas across the country.
While it's not news that baths—particularly when conducted in gorgeous tubs—are relaxing, most of America never takes them. Showers are faster, less drying to skin, and dramatically more water-efficient; the American Institute of Architects reports that bigger showers, not bigger tubs, have become the bathroom renovation of choice; realtors say home buyers request them more often now, too.
But size isn't the point of the bathtubs at the Inn of the Five Graces in Santa Fe, gigantic though some of them are: It's that they're tiled—sides, walls, even ceilings—in an explosion of handworked, original designs: One is covered with what looks like pieces from a broken bowl of stars, another is studded with sunflowers, another looks like an arched courtyard straight out of Westeros. The idea, says founder (and designer) Sylvia Seret, was to nurture reflection and rejuvenation: "We wanted to create a contemplative journey to delight the eye and pamper the body," she says.
Part of the stress-releasing power of a bath comes from the simple fact that as you emerge from it and your body cools, it automatically triggers your body's relaxation response. Soak in one of Pursoma's super-powered clay-and-sea-salt baths, though, and you'll experience a whole new level of barely-able-to-stumble-from-tub-to-bed. Beyond relaxation, a soak in hot water has a unique ability to deliver nurturing ingredients to the body, says Shannon Vaughn, Pursoma's founder. "Think of it as a treatment that happens to be delivered via a bath," says Vaughn. "People carry toxic body burdens from sitting in front of a computer, being constantly on the phone or iPad, from illness, from chemical overload, even chemotherapy."
Vaughn developed Pursoma after treating herself holistically during a major illness; she found that when in the throes of (dietary) detox, evenings were always the hardest: "You're missing your regular food, alcohol, the social activity that happens around those two things, and your sleep is often disrupted," she says. "My nutritionist had me do these detox baths—not only did they make the evenings easier, I'd sleep better. I'd get out, put on some oil—coconut, argan—sweat and rest, then put on a t-shirt and go bed."
The right clays and salts were hard to get and came in bulk, so Vaughn began tinkering with ways to package an easier (yet just as powerful) DIY bath. She insists on wet-harvested sea salt from off the coast of Brittany: "Think of buying fresh kale versus a kale chip," she says by way of analogy with regular dry salts. "The chip isn't bad, nutritionally, but you get a lot more from the fresh." Because the mineral-rich wet salts can't be mixed with the dry clay—French green clay that Vaughn feels is the most active, ultra-ventilated so it won't clog your drain—the two come in separate bags within each bath package, to be mixed together in the bathwater. (Premixed, she explains, the elements would be much weaker in terms of effects.)
The clay draws out and hangs onto toxins, Vaughn says, but it's important to soak for only the 20 minutes specified: "Timing is important. It's true even with clay face masks: Don't let them dry all the way, when they get cracked like the desert. Not only could that cause irritation, it could allow the toxins—and oil, and everything else the clay's absorbed—to be transferred back into your skin."
The transfer of elements from water to skin is also the reason to add salt to a bath, explains Alexis Rose, founder of Lilfox Botanicals, which makes clean bath and body products as well as skincare. "A Himalayan or Dead Sea salt bath can improve the overall texture and tone of your skin, combat water retention, ease muscle soreness, aid in restful sleep, and decrease stress," she says. (Lilfox's Ylang Bang salt bath combines both Himalayan and Dead Sea salts.)
Salts make a bath significantly less drying, says New York dermatologist Dr. Robert Anolik. "Baths with salts have proven helpful, even in conditions where people tend to have very dry skin. As long as you don't scrub your skin, even people with dry and sensitive skin can enjoy the occasional bath." The sweet birch magnesium salts from Naturopathica come in big pale pink flakes and seriously soothe sore muscles and injuries; Jane, Inc. makes an effervescent bath cube ($10, goop.com) specifically for tired muscles that uses epsom salts that relax and soothe the entire body.
Anolik recommends applying oils and other emollients right as you get out of the bath: "They're very helpful if applied within the first minute of patting your skin dry with a towel," he says. "You'll prevent evaporation of water from the drying skin." Tata Harper's Revitalizing Body Oil is made with borage and calendula oils; Kypris Body Elixer, with prickly pear, tamanu, and bitter orange blossom; whether you smooth them on after, or add them to plain or already-salt-infused bathwater, they moisturize like crazy.
Oil-saturated body scrubs are another way to make a bath more moisturizing, says Rose, who uses her own Lilfox Orange Blossom Ylang Bang Sugar Body Polish to make a bath ultra-moisturizing. "I take a scoop or two of it and add to the hot bathwater while also applying it to my skin," she says. French Girl Organics's Sea Polish in menthe/romarin or rose/ylang work as similar magic, as does the goop Body G.Tox 5 Salt Detox Body Scrub and Herbivore's Coco Rose Body Polish.
Keeping your bath on the more-warm, less-hot side also decreases moisture loss; at Gurney's Montauk spa on eastern Long Island, filtered seawater is infused with micronized algae, then heated only to 94 degrees—warm, not hot—for ultimate moisturizing and absorption of minerals.
But some new baths involve no water whatsoever. At the Mayflower Grace hotel in Washington, CT, something called "forest bathing," modeled after similar treatments in Japan, is sort of like a guided meditation deep in the woods that's been shown to lower blood pressure and heart rate, as well as boost immunity. At Rancho La Puerta spa in Baja California, there's a bath of pure sound; moon bathing—basking, meditating, or doing yoga by the full moon—is on the menu at spas from Madinat Jumeirah in Dubai to The Palms in Turks and Caicos.
Hot or tepid, moon or sound, salt, clay or oil, every person interviewed for this story pointed out a single, common reason why baths are so curative, especially in our current, over-engaged culture: A nice long soak is a decidedly unhealthy treatment for just about everyone's constant companion, the phone.
Shop the Story