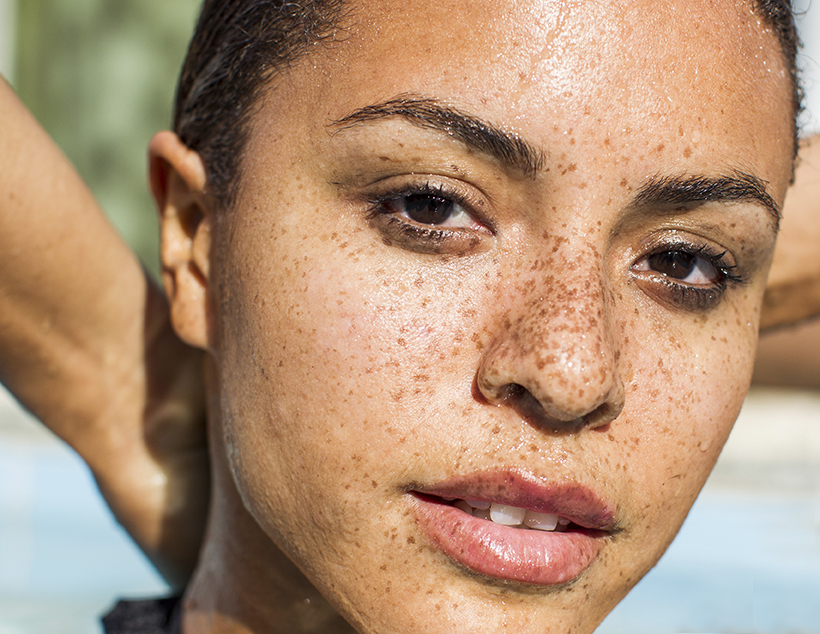 The 7-Step, At-Home Face & Body Summer Tune-Up
The get-in-shape-for-summer effort is always on something of a time lag: How did it suddenly become the summer? This short, targeted tune-up for face and body works for just about any skin type, and should take less than an hour (or two, if you feel like luxuriating). We've focused on the most crucial element: glow-y, happy, healthy skin; the rest of it, from firmer limbs and softer, shinier hair to a chic polish switch, is icing on the cake.
1. Take it all off.
This step is the linchpin of the entire thing, and it takes about a minute, for most people. Exfoliating your skin leaves it glowing and smooth to begin with; it also leaves it ready to better absorb treatment ingredients. Dermatologists have been returning in droves to the simplicity and safety of the chemical peel, as they exfoliate evenly—as opposed to physical scrubs, which, can tear at skin. The same is true for at-home peels and exfoliants: the best are powerful and gentle at the same time. The goop by Juice Beauty Instant Facial is designed to sweep away every last dead skin cell: An intense cocktail of natural alpha- and beta-hydroxy acids, plus all-natural, spherical cellulose beads that dissolve as they work, it leaves skin porcelain-smooth, baby-soft, and glowing. The even, thorough exfoliation means that whatever you put on next is going to sink in much deeper, so it'll be that much more powerful on skin. GP uses it every night, though once or twice a week is probably a good pace for most.
2. Vitamin C.
Practically every skin type, from acne prone to aging, benefits from a good soaking of brightening, clarifying, all-around skin-perfecting Vitamin C serum. Drunk Elephant's is made with Vitamins C, E, and ferulic acid, and the texture is beautifully hydrating, unlike many conventional Vitamin C serums (it's also missing all the usual toxic crap, of course, so it's pure and super-effective).
3. Oil.
Plan to leave this on and let it really sink into skin, almost like a mask. Because the Drunk Elephant C Serum is somewhat moisturizing, it's probably enough if you have oily or combination skin, though Herbivore's Lapis Facial Oil is a brilliant addition if you feel you want additional calming power. goop by Juice Beauty one is amazing; so is the Spring Oil from de Mamiel. For a serious treatment, the Vintner's Daughter formula is incredibly active (we like to use it at night for that reason).
4. Restorative Bath.
A tub infused with Orange Blossom Ylang Bang crystal sea salts from LilFox restores the body and spirit with Himalayan, French, and Dead Sea Salts. It's one of those formulas that's calming and energizing all at once, and leaves you feeling super-feminine and sexy, with beyond-smooth, plumped skin.
To turbo-charge your bath, energize, and super-smooth skin, dry-brush beforehand (again, take a minute, learn how here) with an Organic Pharmacy brush.
5. Hair Mask.
While you're in the bath, work the transformative hair oil from Rodin into you hair (just ends if you just need a little shine, your whole head for all-over-softness and gleam). Or lie in the sun for a few minutes with it on—heat helps the oil really absorb.
6. Body Oil.
Seal in all the benefits of the bath by smoothing on body oil right afterwards. goop's G.Day Body Oil blends black pepper, rose hip, and ginseng into a luxurious and lightweight body oil that is compeltely uplifting. It's especially amazing to do if you're wearing something that shows off your legs or arms (it's incredible pre-bikini, as you might imagine), it smells fantastic, and it plumps, smoothes, and hydrates your skin, leaving you radiant all over.
7. Shorthand pedicure.
The ultimate luxury is scrubbing your feet with the incredible Sea Siren Scrub from Shiva Rose—it's an all-over body scrub, one worth using in every shower for the way it leaves your skin thoroughly exfoliated, deeply moisturized (you rarely need to moisturize afterward), and faintly, gorgeously scented. As a foot scrub, it's just heaven. Scrub your feet, fix any glaring issues, and swipe on whatever polish suits your mood.
Shop the Beauty Shelf