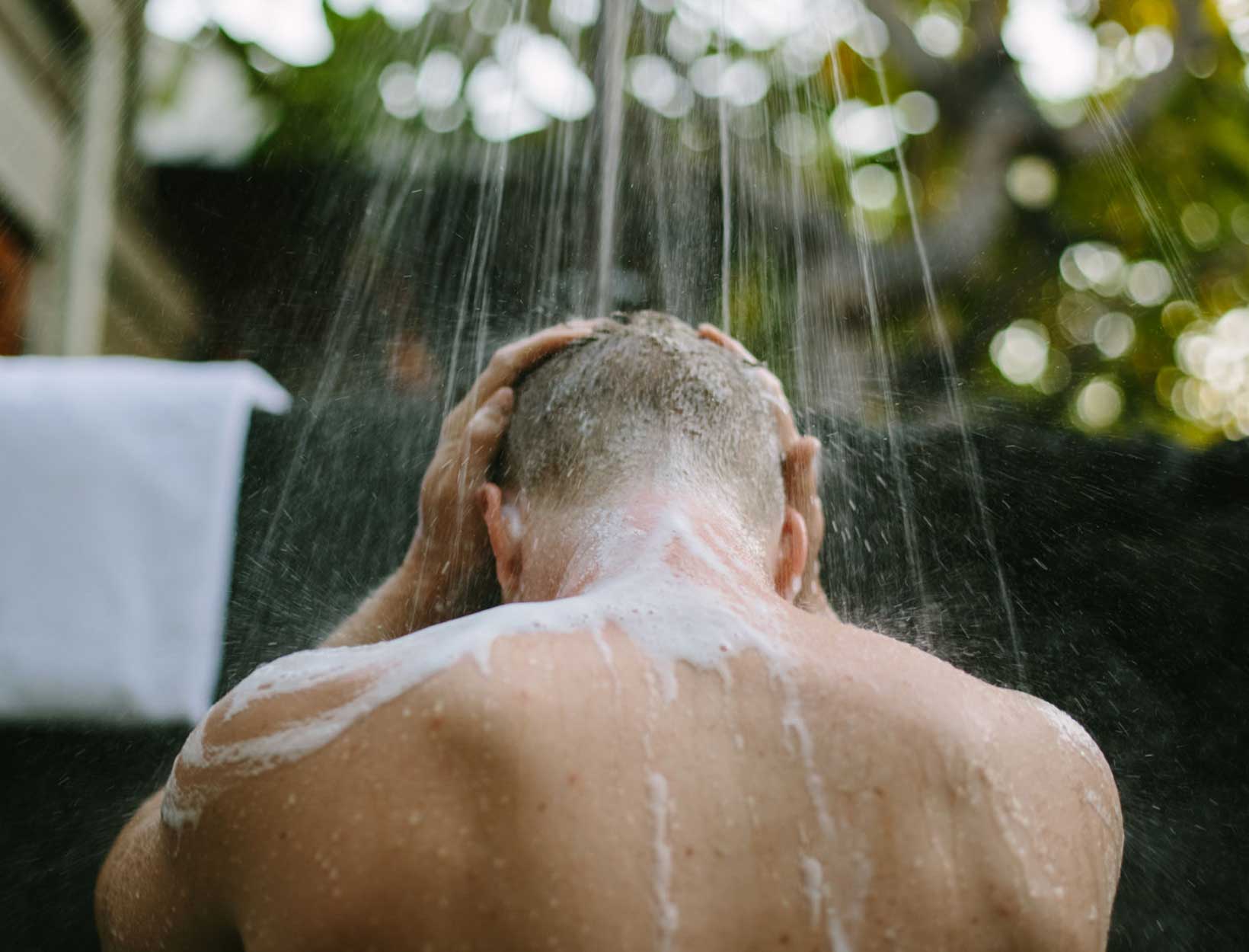 The Shower Makeover (for Men)
Skin is skin, no matter your gender. Up to 60 percent of whatever you put on your skin goes into it, and the simple act of getting your skin wet makes it even more permeable. Going clean with your every-time-you-shower, all-over-your-body essentials is a step that adds up quickly in terms of potential health benefits. Conventional shower gels, scrubs, hair products, and shaving creams can contain all manner of hormone disruptors (some known to affect men in particular), irritants, and other potentially toxic ingredients, so making the shift is absolutely worth it.
One of the best things about cleaning up your shower products has nothing to do with your health: Without all the heavy-duty perfumes, surfactants, and texturizers in conventional products, you're left with pure botanical extracts and essential oils that both smell fantastic and make you feel amazing. Intense synthetic surfactants strip the skin of its natural protective barrier—that squeaky-clean feeling means the skin is more vulnerable to bad bacteria, irritation, and essential moisture loss—so conventional products often compensate with occlusive ingredients, like viscous silicones, heavy waxes, and even plastics. Then added fragrance and dyes can further sensitize and aggravate. Clean, nontoxic alternatives get you clean, fresh, and smelling good without all the needless additives and potentially toxic ingredients.
1

SHOWER GEL AND SOAP

Ursa Major

Morning Mojo Bar Soap

goop, $14

SHOP NOW

Peppermint and grapefruit scent this bracing bar, which gently exfoliates with volcanic rock and cleanses with coconut extracts. It smells incredible, it feels incredible, and anyone who tries it loves it.
2

SHAMPOO AND CONDITIONER

goop Beauty

G.Tox Himalayan Salt Scalp Scrub

goop, $42

SHOP NOW

goopfellas hosts Seamus Mullen and Will Cole both love this super invigorating, texturizing, whipped salt-scrub shampoo. It cleanses hair and scalp of product buildup, dirt, and oil, and the scent—rosemary, geranium, orange, and peppermint—is just so good.
3

FACE WASH

goop Beauty

G.Tox Malachite + Fruit Acid Pore Purifying Cleanser

goop, $48

SHOP NOW

This foaming gel cleanser with detoxifying malachite and fruit acids lathers to a rich, dense foam to remove dirt, oil, pollution, and other impurities.
4

SHAVING CREAM

Ursa Major

Stellar Shave Cream

goop, $24

SHOP NOW

This skin-nourishing shave cream contains soothing botanicals for a close, nick-minimizing shave that cushions against razor burn and feels truly fantastic. It doesn't lather, doesn't require a brush, and smells like cedar, spruce, ginger, vetiver, and bergamot.