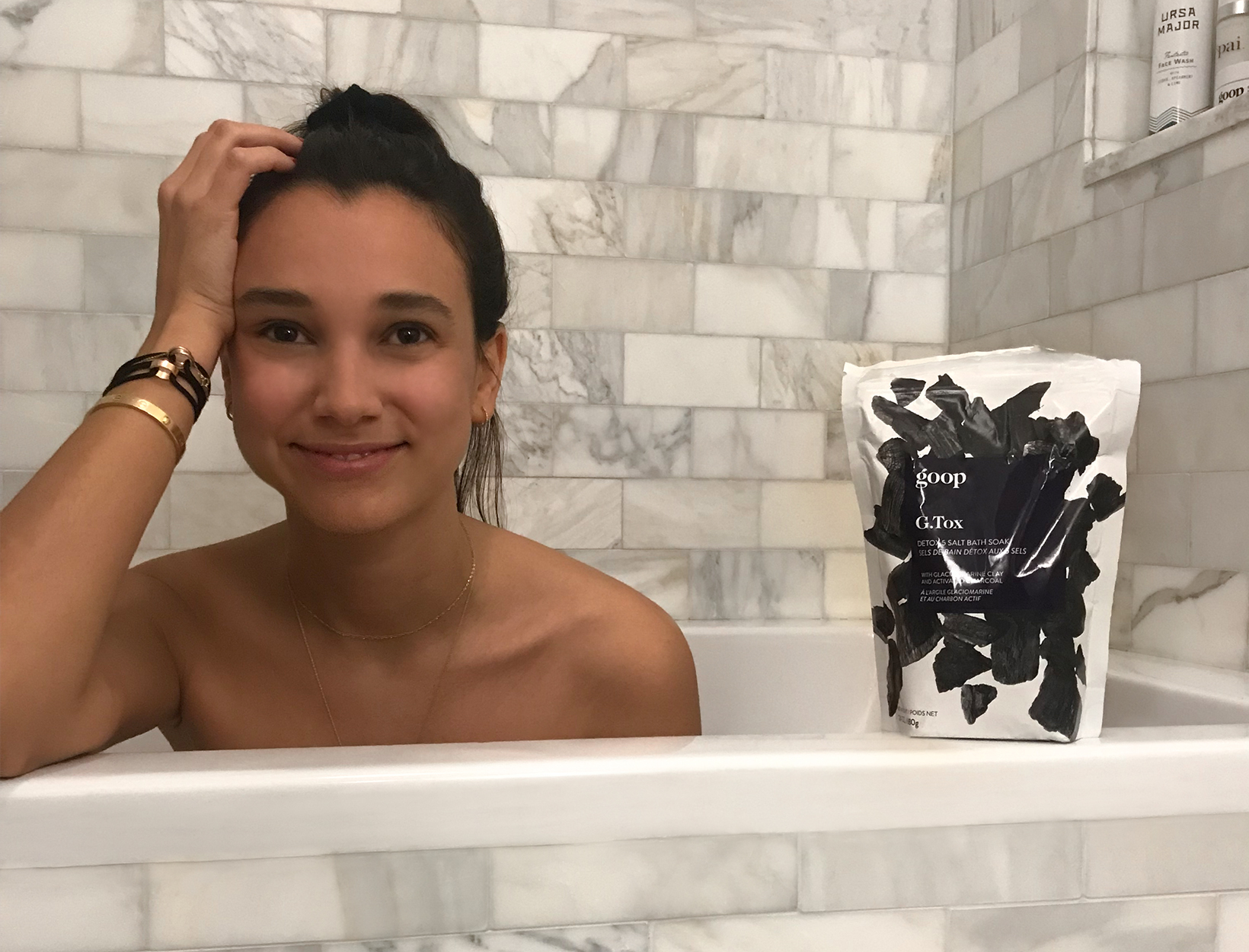 My Nighttime Routine: A Paris Work Trip, a Friends Download, and a Bath for a Nonbeliever
Olivia Nathanson
| associate buyer, fashion
I was never a bath person. Taking a bath always felt awkward to me. I sort of didn't know what to do in there! My routine has always been a shower at night. It's enough of a ritual that it makes me sleepy and clues my body in to the fact that it's bedtime.
But now, I'm a for-real convert. I love the G.Tox: I tried it initially after a long day of market appointments in New York, and it really made a difference. It smelled light and pretty, it felt great, and it's just a little exfoliating. It was an amazing wind-down ritual—(I watched an episode of Friends on my computer)—but my skin also felt incredibly soft and clean afterward.
I finally switched to a clean beauty routine in January. I'd just cut all gluten, dairy, and eggs after finding out I had an allergy, so I figured, I have all this knowledge—there's no excuse not to do it. So I went cold turkey on chemicals, and I feel so much better. My energy is higher; I sleep better; I'm not as tired, not as sluggish.
So I brought all my new clean beauty, including the G.Tox, with me on my recent work trip to Paris. I knew how good it would feel after a jet-lagged day of fashion shows and appointments. I brought the rest of my nighttime-routine favorites, too.
I use the rose bar soap from Los Poblanos in the shower, then jump in the tub with G.Tox. Twenty minutes is perfect to put me in the mood for bed. I wash my face with Ursa Major's cleanser—I'm absolutely obsessed with it. Then I put on pomegranate body lotion from Grown Alchemist: I love the texture and the scent. I smooth on face lotion from Pai, and last of all, roll on French Girl undereye oil.
I do the goop Instant Facial in place of my regular cleanser once a week—it's my favorite, and now there's a travel size, so it definitely came to Paris with me.
The bath makes it even easier for me to go to sleep than my previous shower routine did. Even when I'm in the wrong time zone. Finally, I understand why people like baths!