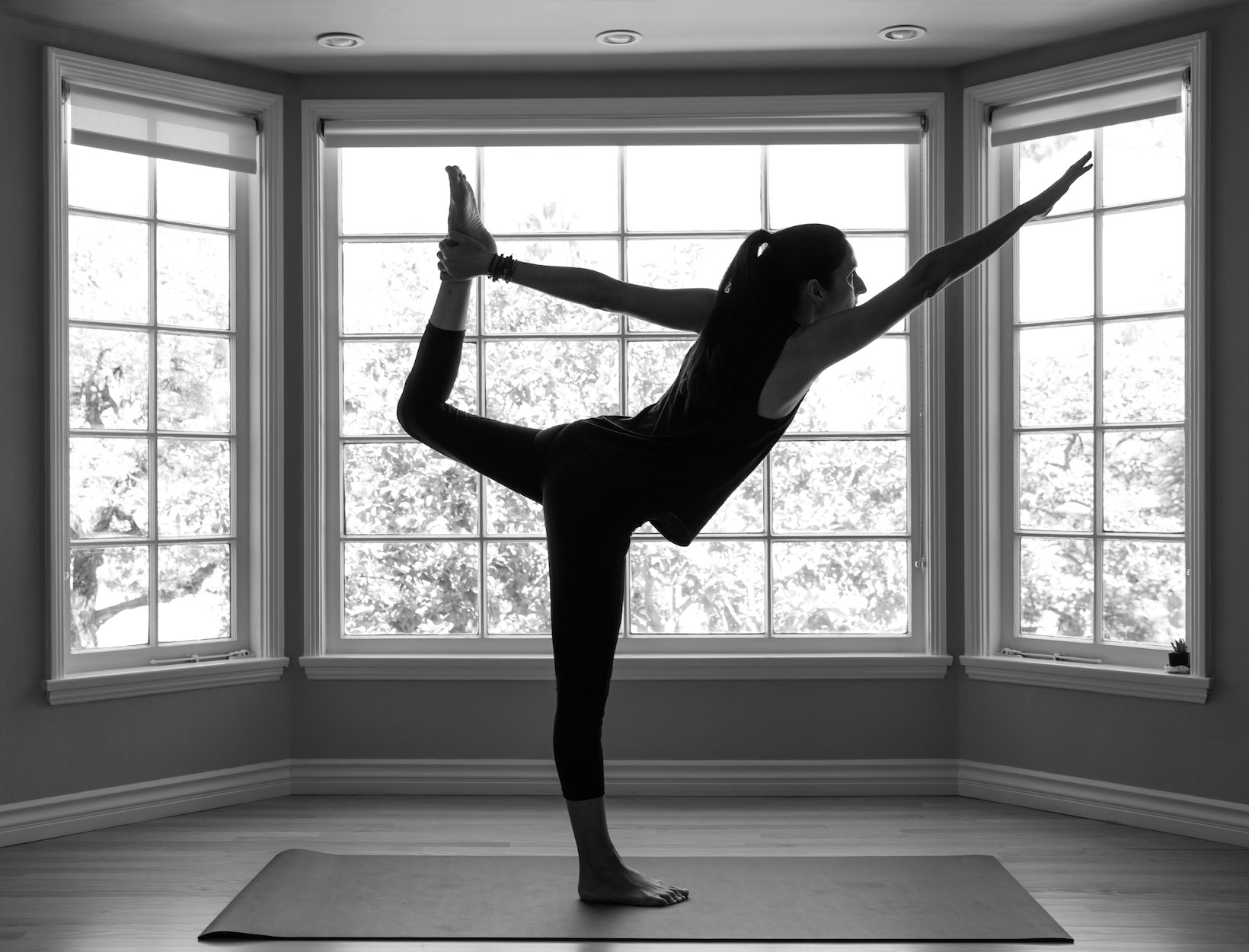 my morning routine
Predawn Yoga, Tiny Butlers,
and Smoking Tires
Danielle Pergament | editor in chief
My family and I moved to Los Angeles from Brooklyn a couple months ago. You'd think the pace of life would be slower and more relaxed, like, "Hey, we're chill beach people now." But I'm still a New Yorker to my core. Meaning I set an alarm for 5:30 a.m., but it's a formality: My brain wakes me up around 5 a.m. every day.
5 a.m.: I used to lie in bed and read the paper on my phone or stare at my husband, Devin, willing him to wake up. A few years ago, I realized this was not the best use of my time, so even though I'd done yoga for twenty years, I got religious about it. I started going to the earliest class I could find. It became a habit—I fell in love with waking up before sunrise, being alone in the darkness. That hour of the morning is so quiet and still, it's meditative.

Once I'm up, I throw on my G. Sport pants and top. (The black muscle tee is so incredibly flattering that it inspires me to work out; I own two and am considering a third.) This is maybe a weird use of the new goop body oil, but I love putting a little on before I leave the house. It smells so freaking amazing—it's the scent of calm and optimism. I could drink the stuff.

5:45 a.m.: I'm in the car (god, that's so LA of me). I keep an Olio E Osso No. 1 lip balm in the car (and on my night table, and in the bathroom, and at my office, and in my bag). There's something about the super wide shape of the balm and the natural, smoothing formula that has made it utterly indispensable—I just bought one for my nine-year-old daughter.
My other predawn ritual is the New York Times podcast The Daily. (If you don't listen, you have to—I'm constantly amazed and impressed by the stories and the reporting.) And just when the news of the world throws me all out of whack: Hot 8 Yoga studio in Beverly Hills. If I have an early meeting and can't make it to the studio, I do a class with the ALO yoga app at home for sixty or ninety minutes. Either way, after I've been sweating for an hour, I'm convinced I can leap tall buildings in a single bound.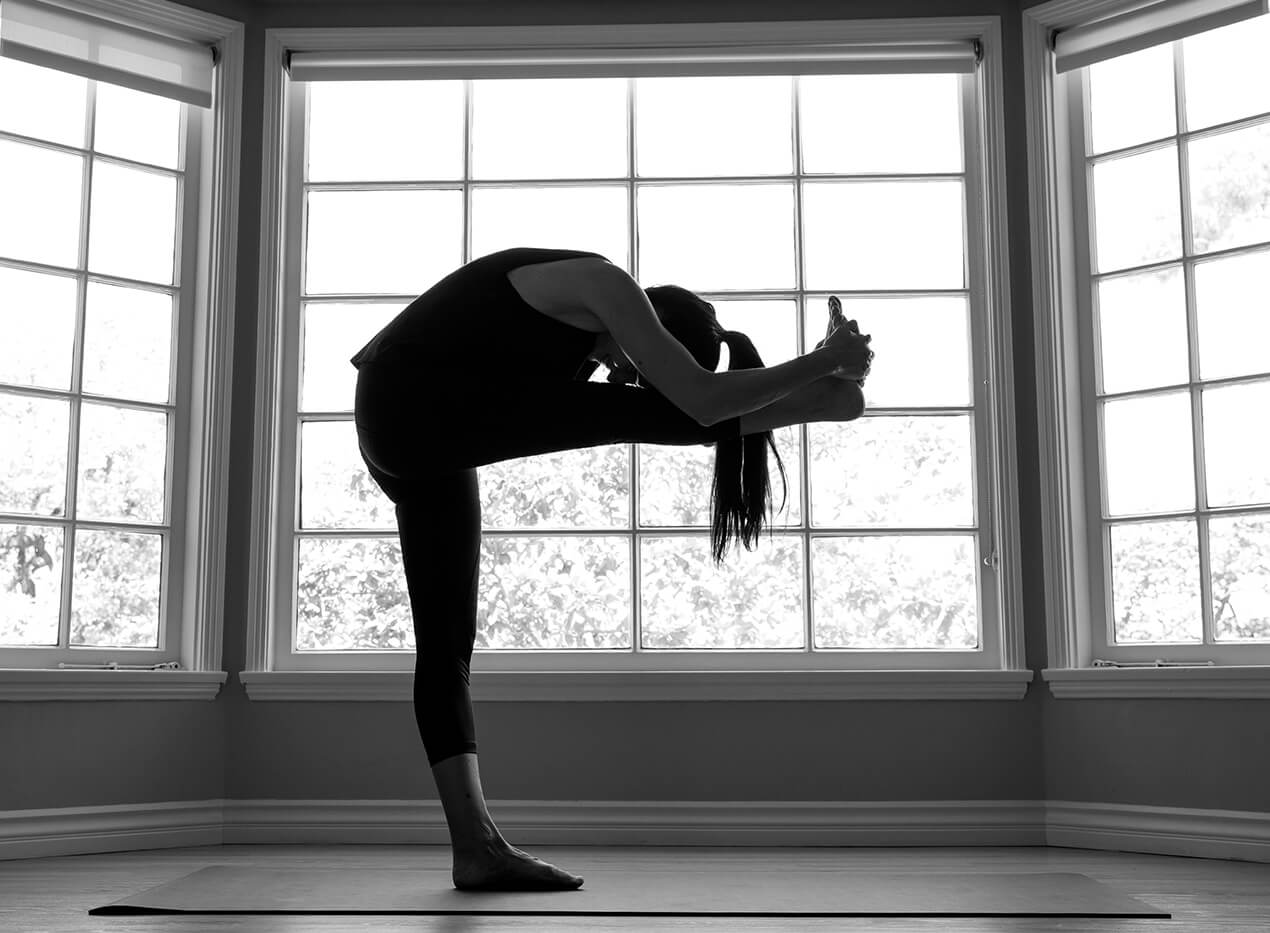 7:30 a.m.: I'm back home, and the kids (Finn, seven, and Kiki, nine) are on their third breakfast (they've been having growth spurts since we moved). Devin is a master of cinnamon French toast and smoothies (the fruit in LA is no joke). If there's time, I make the kids Swedish pancakes, which are sort of like nonsweet crepes—it's their hands down favorite.

7:45 a.m.: I jump in the shower. If I could, I'd stay in there for three days with the new goop body wash—the ginger and the pepper in the formula are…transcendent. Which is not something I'm prone to saying about body washes. I keep one goop Luminous Melting Cleanser in the shower and one next to the sink for the evenings—it's so hydrating and gentle, you barely need to follow with moisturizer.

Since I've moved to LA, everything about me has gotten drier—my nails, my skin, my hair—so my morning routine is really a study in hydration. Post-shower it's (more) G.Day body oil from neck to toes. It absorbs beautifully and leaves my skin so soft.

On my face, I love Vintner's Daughter Active Botanical Serum—this oil feels so calming and makes my skin perfectly dewy, not greasy. Then I smooth down and rein in what Finn calls my "witchy hair" with hair cream from Innersense.

8 a.m.: A new tradition has recently taken shape, and I'm totally digging it: Devin makes me an almond latte and sends Finn or Kiki to bring it to me as I'm getting dressed. They're like the world's cutest short butlers. I don't wear makeup or blow-dry my hair (though I often braid Kiki's hair for school), so all that's left is making lunch: an organic avocado, organic cheese, organic sumpin' sumpin' sandwich for Kiki, and anything as long as there's also Pirate's Booty on the side for Finn.

By this point, I've been up for about three hours. It seems like there should have been ample time to get everything done that needs to get done, but by the time we leave for school, we're definitely smoking the tires.