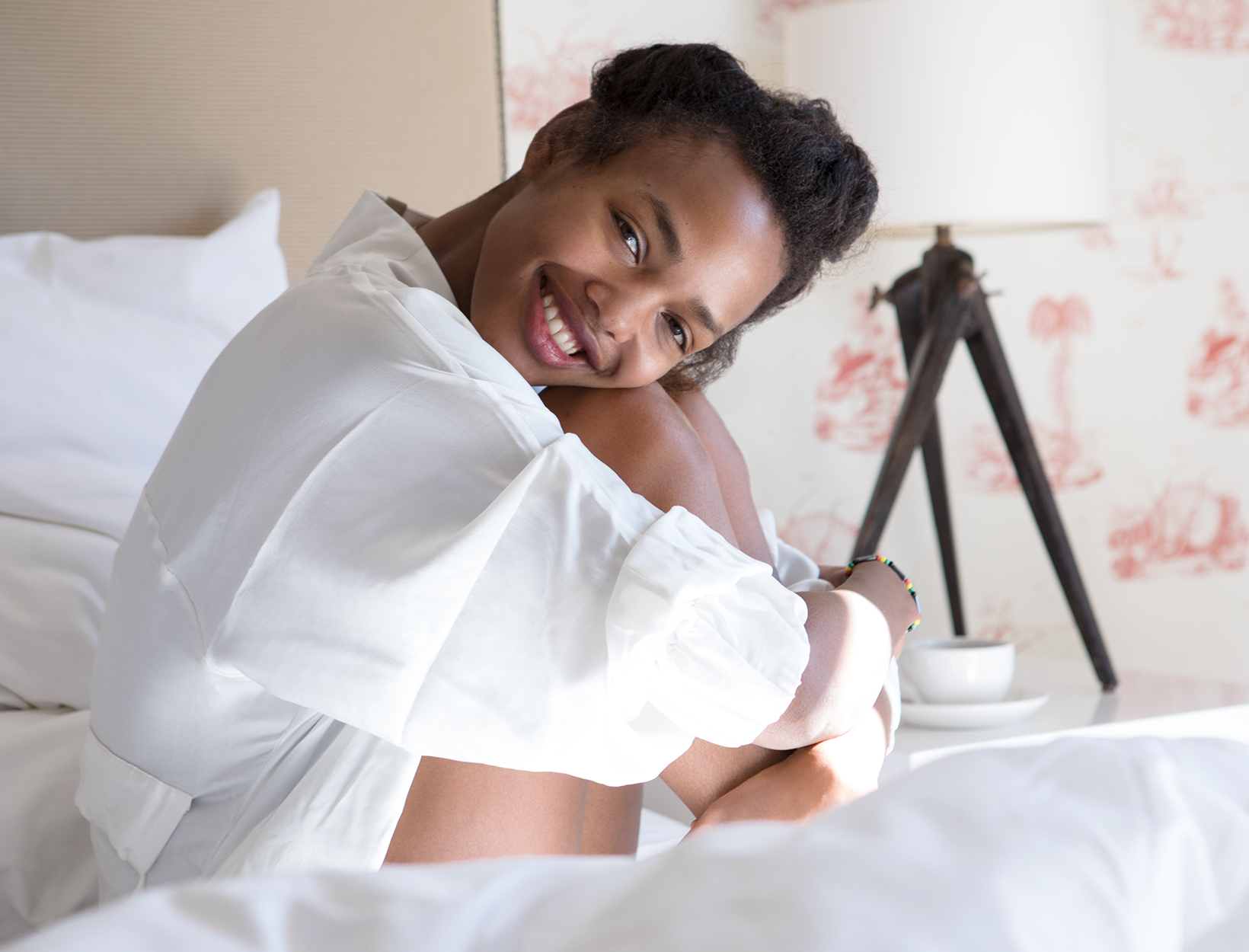 Megan, in a silk robe from Lunya, ready (almost) for bed at Palihouse Santa Monica
Chic Braids, Luminous Skin, and an
Over-the-Top Soak
In partnership with our friends at


My marriage is great, but it would probably be even better if I weren't so obsessed with my before-bed rituals. I love going through my nightly routine like I love cooking, dancing, and sauntering around Brooklyn—it feels extraordinary to have that little bit of time devoted to myself.
Lately, the first part of the ritual is devoted to soothing my sore muscles. I've started taking weight-lifting classes at Liftonic in the city—weight-lifting can be key for maintaining muscle and bone density as you age—and God, am I sore most nights. The introduction of goop's new Phys.Ed. bath soak could not have been more perfectly timed; I dump in about a cup of the arnica/turmeric/ginger/wintergreen essential-oil-infused sea salts into the hottest bath I can stand.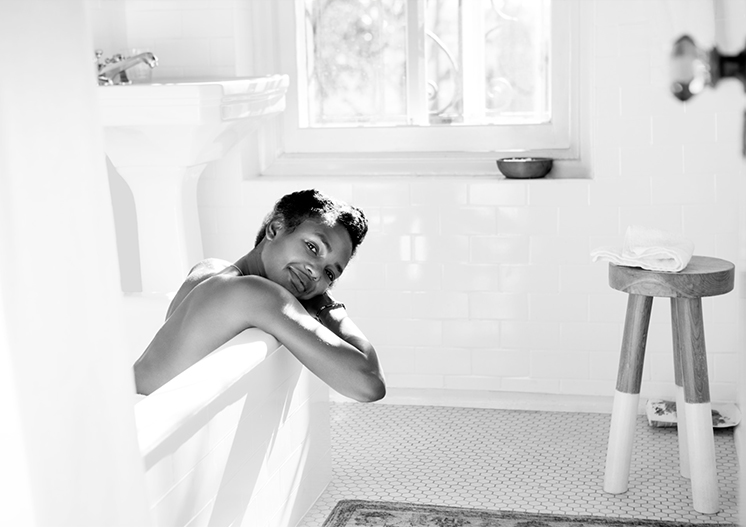 Dream tub scenario: Palihouse Santa Monica
The combination of the hot water, the therapeutic oils, and the slight breeze swirling in from the bathroom window feels transporting. Steeping in that tub, I shed the day's frustrations, gaze at my outstretched body, and all does become more right with the world.
goop Body
PHYS.ED.
RECOVERY
BATH SOAK
goop, $35/ $32 with subcription
I soak for the requisite 20 minutes, sweat in my robe for 15 more, and then get into what I believe to be the chicest PJs (see below): They're soft and drapey, and the cut of the cotton shorts is so flattering. (Believe it or not, I sometimes wear them out on morning runs.)
Then I start: I smooth in Luxury Hair Oil from Rodin, an intensely hydrating blend of apricot, sweet almond, and orange-flower oils. I use a good amount because my hair is kinky and coarse and endlessly dry. The oil seeps in, it's instantly softening—and the scent! I twist my hair into tiny braids—my best trick for waking up with mussed-up, crinkly-perfect texture. I roll each braid into a knot and secure it with a bobby pin so I have little buns all over my head.
Once I'm asleep, I'm one of those rare excellent sleepers—I don't think a robbery in my apartment would rouse me. But if I haven't gotten enough sleep repeatedly the past few nights, I make a golden milk with Sleep Inner Beauty Powder from The Beauty Chef—it's got lemon balm, passionflower, and sour cherry along with turmeric and probiotics. Mixed with warm milk—I do almond—it's a cozy tonic that's beyond delicious (especially with a dram of honey).
I brush my teeth and wash my face at the sink, and massage a dab of night cream from goop by Juice Beauty into my still-damp skin, smoothing some onto my neck and chest. I almost feel wasteful using it at night, because the brightening blend of sandalwood nut oil, peptides, and macadamia seed oil makes skin so good that I want to save it for day (I do often wear it during the day and always for plane rides).

When my skin needs an extra jolt, I smooth four to six drops of Vintner's Daughter between my palms and press that in over the night cream. It's spiked with evening primrose, lavender, and turmeric oils. (Also great used in the morning for glow—which somehow lasts all day.)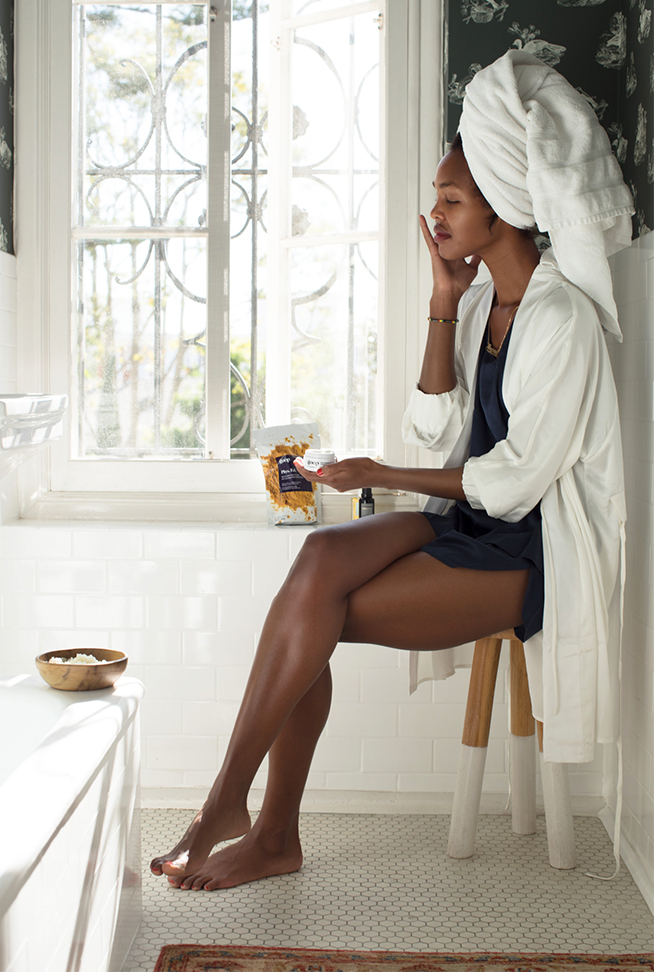 Lounging in Lunya, post tub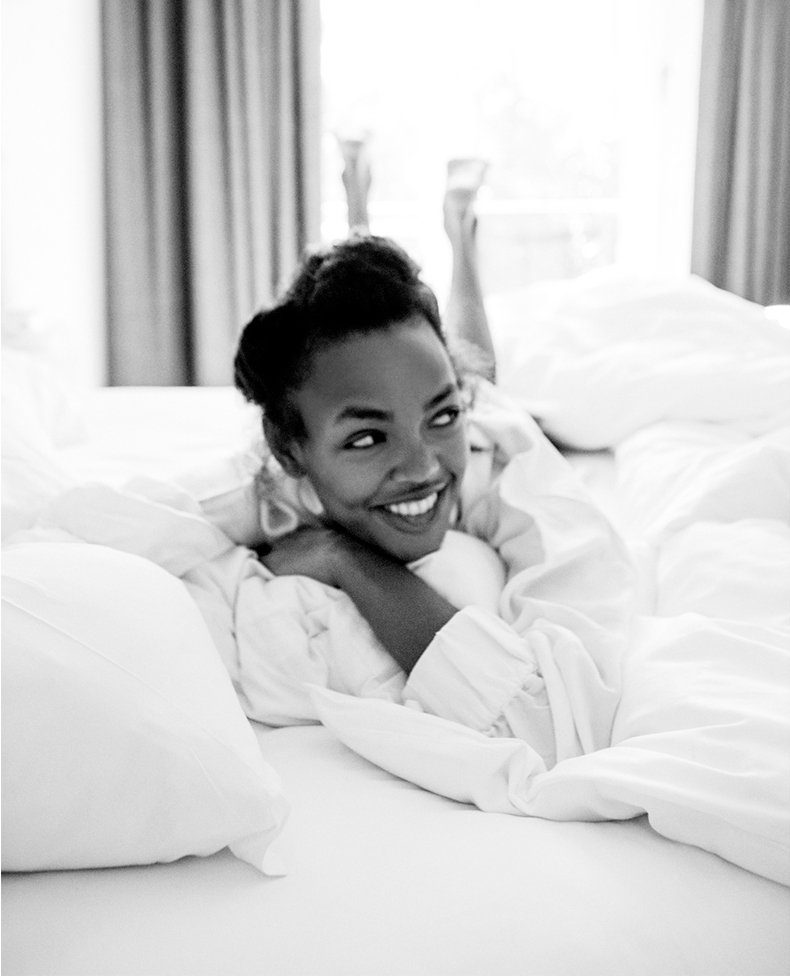 Some days are meant to be whiled away…in bed…looking glamorous
By the time I curl into bed alongside my usually already sleeping husband, I've smelled and immersed myself in beautiful things that are also good for me, and for the first time all day, truly lived in the moment. I'm so relaxed, I'm practically already in dreamland. I vow that tomorrow night I'll try to start my whole getting-ready shebang an hour earlier. But part of the magic, I realize, is the late night-ness of it all, the feeling that for a moment, I might be the only one awake in all of Brooklyn.
GET THE LOOK