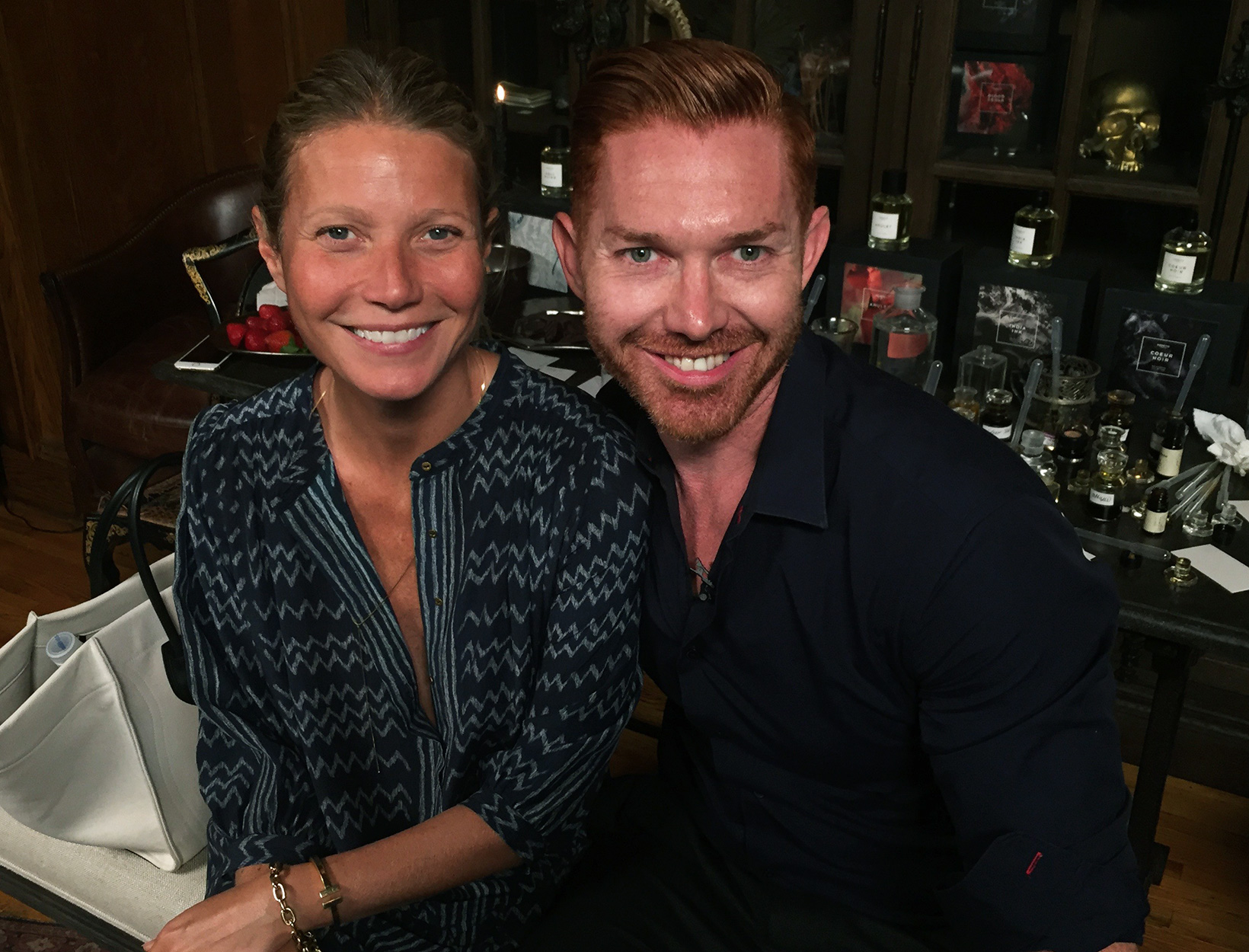 the beauty closet
The Maker of
Flower Porn on
the
Mysteries
of Perfume
goop beauty editors Jean Godfrey-June and Megan O'Neill love to ask—and answer—questions. In their new podcast, The Beauty Closet, they're doing both. To familiarize you with each week's guest, we came up with a goop beauty (and life) questionnaire.
This week we're talking to:
Douglas Little, perfumer, Heretic Parfum
If you think of clean beauty as a bit too…sensible, you have yet to encounter the scents made by the talented perfumer Douglas Little. He's the creator of Heretic fragrances and goop fragrances, all of them wildly imaginative, super sophisticated, and as clean as can be.
Sex, mystery, alchemy, obscure botanicals, romance, magic, and more than a little dirt come into play with just about anything he turns his attention to—including his (wild) conversation with us on goop's Beauty Closet podcast. "Nature has always felt more than a little naughty to me," he told us. Wear, say, a scent from his gorgeous set called Flower Porn or his exquisite, fresh, sexy Dirty Lemon or goop's spring-in-a-Japanese-forest Edition 02 – Shiso and you'll know exactly what he's talking about.
To hear what it's like to make a perfume with GP (they actually sit on the floor and mix essences together), how the alchemy of botanical perfumes is both an ancient tradition and totally magical, and why organic sugarcane alcohol makes for such a sophisticated scent, you've got to hear our conversation with Little—it's funny, unexpected, and sexy. And it'll definitely put you in the mood for a new scent.
listen now
Little's answers to our beauty version of the goop questionnaire are, of course, as fascinating as his perfumes.
Favorite clean beauty product(s) you don't make?

Lavido Ultra Daily Moisture Cream—I live and die by this miracle moisture magic!

Life as of late has been planes, trains, and automobiles. The G.Tox travel kit makes the transit less tragic and scrubs away the physical and emotional baggage claims.

Favorite date-night activity?

Finding the best taco joint in town.

Preferred healing modality?

Traditional Chinese medicine all the way.

Hometown?

Los Angeles.

Proudest moment?

Working with GP on the goop fragrances and being nominated by the Fragrance Foundation for their Parfum Extraordinaire award for our work together.

First celebrity crush?

Elvira.

Favorite book?

A Natural History of the Senses by Diane Ackerman and À Rebours by J. K. Huysmans.

Preferred form of exercise?

Weight lifting and sex.
Go-to weeknight recipe?

BBQ salmon on crispy kale with homemade ratatouille. (Or Postmates.)

First job?

Candlemaker at the Renaissance Pleasure Faire (I was eleven…don't judge).

Mentor?

Linda Fargo.

Things you buy in bulk?

Wine. 🙂

Favorite movie?

Rear Window by Alfred Hitchcock.

Drink of choice?

Extra-dirty martini with olives.

Wouldn't leave home without?

My Smudge fragrance and a credit card.

Wouldn't fly without?

Headphones, frankincense disinfectant wipes, chocolate, Ambien.

Drink of choice?

Alkaline water, and I love Yogi teas.

Current goop shop obsession(s)?

NERD ALERT!

goopiest moment?

A seven-day juice fast during Vipassana, followed by cedar enzyme and sound baths.