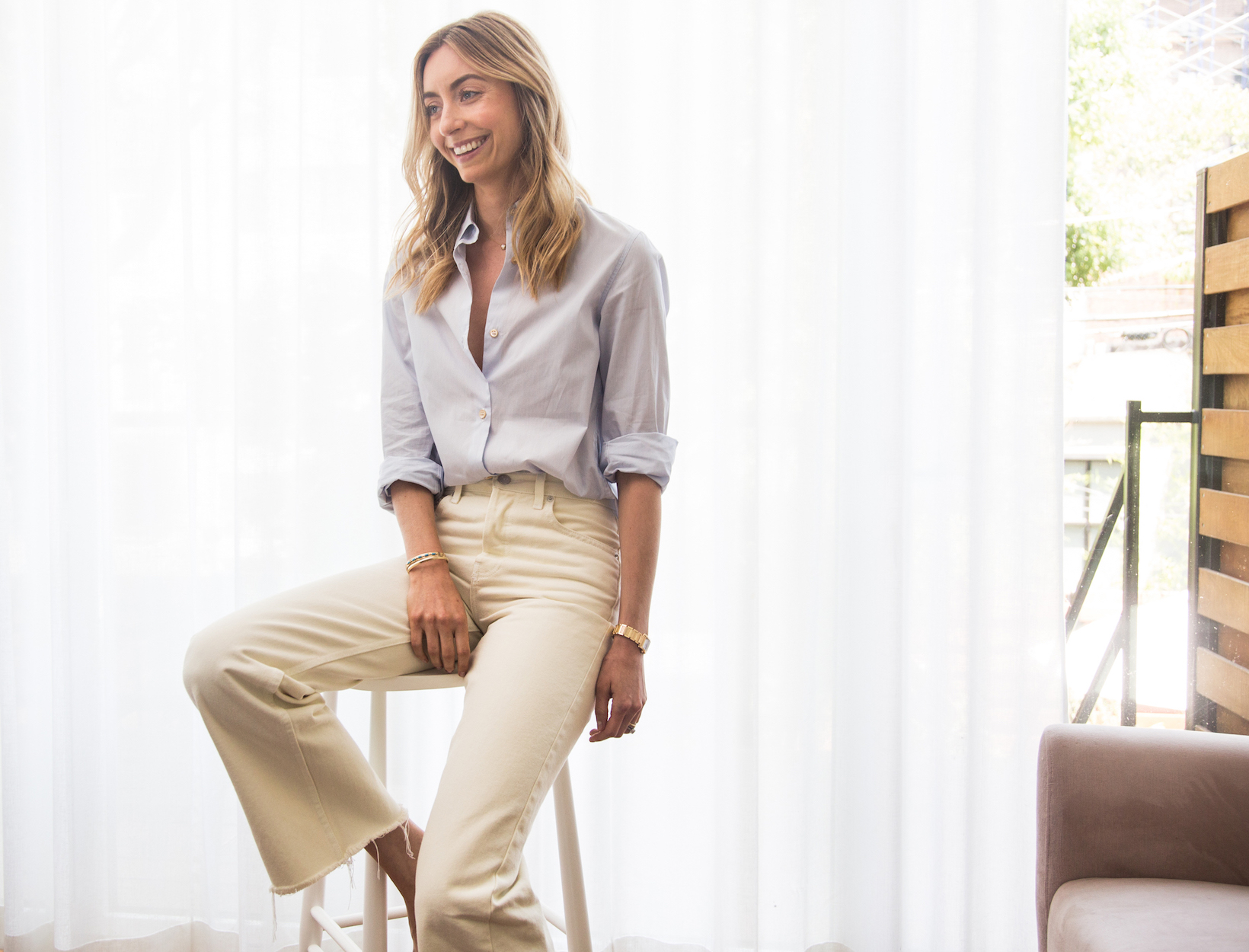 Clean Swap:
A Pro's Top Beauty and Home Picks
When then fashion publicist Jenna Coviello made the switch to clean beauty six years ago, the results blew her away. "I knew I was doing something good for myself," she says. "But I didn't expect the effects on my skin." Coviello, who's prone to breakouts, says her skin cleared significantly. "But also, that glow-from-within thing is real," she says. "Even if I get a spot once in a while, my skin looks so much better overall that it matters a lot less."
As she began shifting gears career-wise in 2015, Coviello worked for CAP Beauty in the West Village, where she took a deeper dive into nontoxic. "I learned so much about all the incredible clean products out there, and I also discovered I really love to help people," she says. So she founded Take Good Care, a personalized "clean swap" service for home and beauty.
The job takes her into people's houses—either in person or via FaceTime or Skype—and into their medicine chests and cleaning closets. "I give everybody a detailed questionnaire about their goals and current practices: what they're using, what they want to get to, what their nonnegotiables are," she says.
Even though her clients are all interested in a less toxic, more sustainable life, Coviello says they are still surprised to learn where potential toxins commonly lurk. "People will be pretty clean, but they'll have scented candles all around their houses," she says. "When they find out some conventional scented candles' effect on air quality, they're pretty shocked." Coviello usually develops a three- to ten-page protocol for each client, depending on their needs.
The ingredient that concerns Coviello the most is present in conventional candles—and practically every other conventional beauty or home-care product: fragrance. "People are surprised to learn that 'fragrance' or 'parfum' on an ingredient label can be used to hide ingredients companies don't want people to see," she says. "So as ingredients go, it's the scariest. It's a nonnegotiable for me."
Coviello loves clean candles though: "I think they're a great way to try out a scent you're not sure about. I thought goop Edition 2 – Shiso was gorgeous, but it wasn't like anything I've ever smelled, so I bought the candle first. Then I really fell in love—and got the perfume, too. It's a great way to sample something, especially if you're buying online, which I often am. I work up to it: first the candle, then a small bottle, then a bigger one."
The next perfume she's trying, however, doesn't (yet) have a candle: Dirty Lemon from Heretic. "I'll start with the small bottle, but I love citrus, so I think I'm going to be super into it. I'm excited for that one," she says.
On days she isn't wearing full-on fragrance, Coviello still smells good: "I get this body oil called Everyday oil. It smells like palo santo, and it's inexpensive, so I get the big eight-ounce bottle, and I use it all over. Sometimes I wear the CAP beauty Captivator oil rollerball, too."
Her clean body lotions are also scented. "It's critical to go clean with anything you use all over your body," she says. "You expose such a large portion of your surface area to it. I love the one from Beautycounter—it's sort of citrusy—and the lavender one from Los Poblanos."
Though she's passionate about fragrance, the first clean swap she recommends for clients is deodorant. "Deodorant is the most important swap, I like Native's sensitive-skin version in coconut and vanilla. They have great men's, too."
For makeup, skin care, and hair, Coviello keeps it simple. She loves the essential-oil-free oil cleanser from Kristina Holey and Marie Veronique: "It's amazing for sensitive skin." Her latest addition is the new Hydration shampoo from Rahua, which she praises for its scent and lather; below, her top five products on goop:
Related: How To Detox Your Makeup Bag