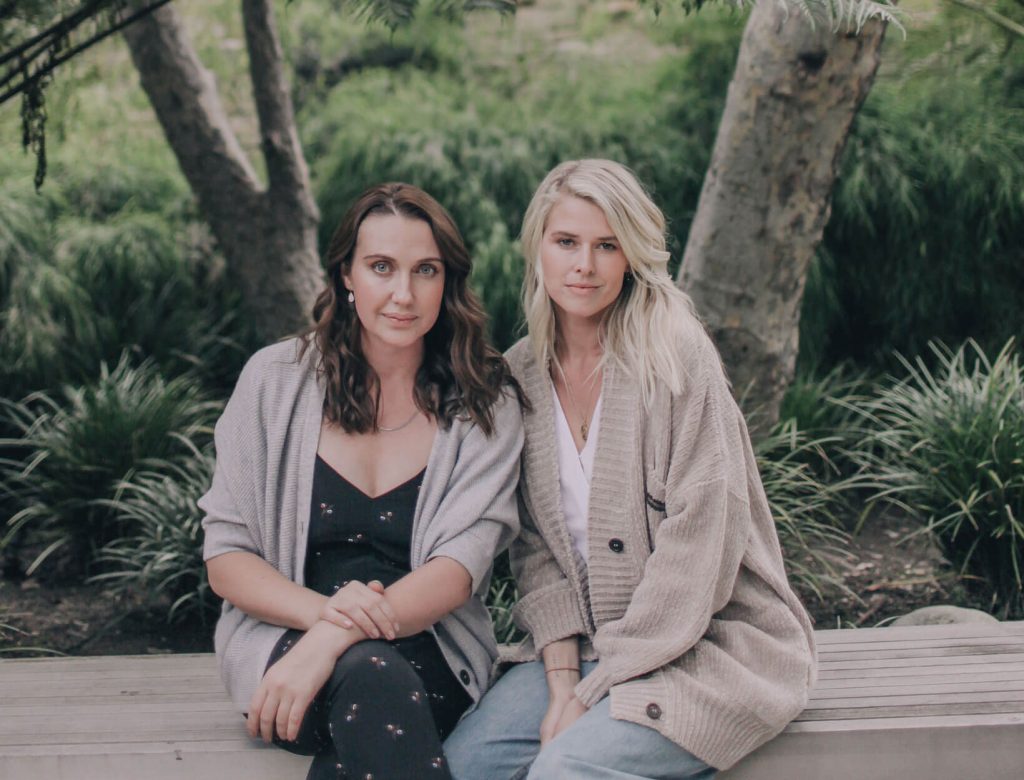 A New Line of Plant-Based, Eco-Friendly, and Great-Smelling Balms for Baby and Family
FEMALE FOUNDERS
A New Line of Plant-Based,
Eco-Friendly, and Great-Smelling
Balms for Baby and Family
Perhaps the only upside to workplace inequality is it has driven a lot of amazing women out of corporate America—and straight to the helm of their own companies. At goop, we don't want to just cheer on these courageous women. We want to meet them and interview them and write about them. With that, we give you: Female Founders, a column featuring women who create, design, and inspire.
As with so many new mothers, when Sarah Olsen, Anna Schafer, and Sara Geittmann would get together shortly after becoming mothers, they would talk about the products they'd been using (on themselves and on their kids). They reached the conclusion that there were basically two kinds of products available: products that smelled great but weren't organic, and products that were organic but ineffective.
So Geittmann, who had just adopted her newborn son from Ethiopia, started making things in her kitchen and would mail samples to Olsen and Schafer. Three years (and many manufacturing companies later), Bāeo, a line of clean, nontoxic skin care for babies and families, was born. It started as a homespun solution for three mamas who wanted what was right for their little ones, but as it grew, they came to believe that the products should also be multipurpose, easy, and for everyone.
As a company, Bāeo has taken that commitment even further. The cofounders are mindful about packaging and use sustainable, reusable, and 100 percent recyclable materials. And 1 percent of the net profits go to a Los Angeles–based nonprofit, Baby2Baby, that's dedicated to providing basic necessities, like diapers and clothing, to low-income children.
A Q&A with Sarah Olsen and Anna Schafer
Q
How did you come together to create your company?
A
Olsen: When we were pregnant and becoming mamas, we were looking for products that were fully organic and clean but also smelled really good and were effective. That was something that we realized was missing in the market. Sometimes we'd find an organic product, but it didn't work that well, and we'd have to go back to our old faithful that wasn't organic.
We wanted to create balms that we could use for the whole family, something that's right for a baby's sensitive skin, but something that a mom could also use on her own body. We wanted a multiuse product line: easy products that you could take with you when you traveled or pop into a diaper bag.
---
Q
How do the three of you divide responsibilities?
A
Olsen: We are all cofounders, but we each bring something different to the table. When we first started, we were all on the creative side of things. We were all going through the research and development phase, where we were figuring out what smelled the best and what was the best consistency and then figuring out how to make it. Sara [Geittmann] was our cook in the kitchen, and Anna is really good at the business side of things.
Schafer: My weaknesses are definitely Sarah's strengths, and her weaknesses are my strengths. I like numbers, and I like doing budgets. Sarah's very creative. She runs our social, and she has really great notes on our packaging. It's a nice partnership that we have, but we had to figure that out as time went on because when we first started the business, we had no idea what our strengths and weaknesses were.
---
Q
What were some of your early challenges?
A
Schafer: Finding a manufacturing company that was able to create exactly what we wanted. That's the reason we went through so many. They were basically delivering what was on the market: It was either a great balm but it didn't work, or it was organic but it didn't smell that great. A lot of the samples were grainy, or they were too hard, or they were clumpy. They were not the smooth, buttery consistency we wanted.
Olsen: A lot of balms on the market now are very hard. They're heavy with beeswax, so when you try to put your fingers in there, you really have to dig, and then you have to rub it in your hands to warm it up and then rub it on the baby or on your body. We wanted balms with a whipped-butter feel so that when you put your fingers in the balm, it's soft enough that if you're holding a baby, you can use one hand to rub it all over the baby.
---
Q
Why was it important for the line to be multiuse?
A
Olsen: We don't want to come out with 500 products and have all of these things on the shelf. First of all, that's a lot of waste, and being eco-friendly is a part of our company values. We want to minimize waste, we want to make things as easy as possible, and we want to decrease our footprint across the board. This is why we say it's great for the whole family.
Schafer: It is important to set an example for the entire family, and I think that's the reason that we wanted our line to be not just for babies. I use all of it. My husband uses all of it. Why would you want separate products for everyone? We can all be using it if it's a clean product, if it's organic, and if we can read every ingredient and know what's going into our systems.
---
Q
What products do you gravitate toward the most?
A
Schafer: For me, it's the Bare Booty because I put it on my face all the time—it's what I use after I get a facial. I love how it smells, and it's really soothing and calming. I have a nine-month-old who is currently not sleeping, and I have a five-year-old who is also not sleeping. When I use the Bare Booty, they go to sleep, and I take a bath. I put that on because it has the essential oils that you typically smell at a spa, like lavender, and for a minute, I just feel like I'm not a sleep-deprived mess.
Olsen: I love using Bare Suds because when I give my kids a bath or when I take a shower and use it, my whole bathroom smells like a spa. It's like my little getaway at home. It smells like lemon and ginger, and it's really fresh and clean. It's not one of those body washes that makes you feel dry afterward. The Bare Butter has the same smell as the Bare Suds, and right now I'm using it all over my face and all over my body for travel because my skin gets really dry.
Q
Have you learned any lessons from running your own company and balancing motherhood?
A
Schafer: Never jump the gun and have patience. Get to know the customers and the business before you start making big moves. At the beginning, we were so excited get on the market, but we learned a big lesson in taking our time and doing things one step at a time. We've had offers to go to big places, but it's not right for us at this moment. We launched in October, and so we've been live for only five months. There are a lot of shiny opportunities that you could jump on and then maybe regret down the road.
Olsen: We still have to remind ourselves to slow down a little bit. As moms, that is something that's really hard to do. You're always balancing and juggling everything with your kids, so you're going to be like, "Yes! I want to approve that. I want to do this." And you just want to knock things off your task list, right? But if you're not being very thorough about every single step of the process, mistakes will cost you time and money. Sometimes that will set you back a few weeks instead of pushing you forward.
---
Q
What are you most proud of so far?
A
Schafer: The feedback from our customers. They'll send us before-and-after pictures from eczema or rashes or sunburn. We even had a woman who uses our products but doesn't have kids. So many people use our products on their arms for dry skin or dry elbows.
Olsen: Every piece of feedback we've gotten has been insane. Not only do people love the products; they love the packaging, and they love the way they smells. They actually work, and we know they work because we tested them. They're allergy- and dermatologist-tested. We did years of work on the products, and it's gratifying to hear your customer saying they put the Booty Balm on a diaper rash and then overnight the diaper rash was gone. If people love our products as much as we do, that's all you can ask for when you create something. You're just hoping that people appreciate it for what it was made for.
---
Q
Where do you hope to take the business next?
A
Schafer: There are a few things in the works. One thing is our SPF sun stick. We have the formulation, but it's in a little bit of a holding pattern right now because the FDA just changed some regulations. We have to retest it, but we cannot wait to put it on the market.
Olsen: We are working on our mom line, which is going to be three products for now. There's a facial oil. There's a cleanser, which is a cleansing balm that will take your makeup off. And then there's Bare Belly, a belly balm for pregnant women.
Schafer: We're working on a couple of limited-edition products. My husband will not stop bothering me every week about Bare Slumber, which is his favorite product so far. It's a butter that you can use all over at night, and it's super soothing for sleep. It has all the essential oils that you want for a relaxed, restful night.
---
Q
How do you educate your own children about using organic, clean, and nontoxic products at home?
A
Olsen: For us, it's everything across the board. We talk about the food we eat, the products we put on our body, and also the things that we put back into the earth, so we are able to recycle and be thoughtful about our footprint. This is something that you can start from the very beginning with your kids.
If you're recycling when your kid's a baby, and they're growing up and seeing recycling, guess what? They're going to recycle. They're going see that that's just what you do in your family, and that it's important. The same goes for your products. You talk about it, and you tell your kids that there are chemicals in products that are not safe in your body. It's good for them to know and to learn and grow from knowing.
Schafer: Another dream of ours is to make our own farm. I grew up in Russia, and everything I ate came from my grandmother's garden: celery, potatoes, berries, apples, raspberries, and pears. Our neighbors had goats, and I drank fresh goat's milk. I want my kid to have that. You need to teach your kids. Your kids see what you do, and they will do the same, hopefully. We were just in New York, and my niece and nephew who live there were drinking out of plastic straws. My daughter was like, "Guys. Not that." She schooled her cousins.